To be honest, I was a little hesitant when I first downloaded the Pepi Ride app. But then I turned it over to my 5-and-half-year-old son, and this doubting mama loved his reaction.
Pepi Ride is a fun intro to video games. There's no real educational piece to it, but that didn't really bother me. Just watching my kid getting excited and cheering for himself as he steered his souped-up car through volcanos and deserts and all the other terrain on Pepi Island was good enough. Listen, the little guy literally yelled: Mom, this is so. much. fun!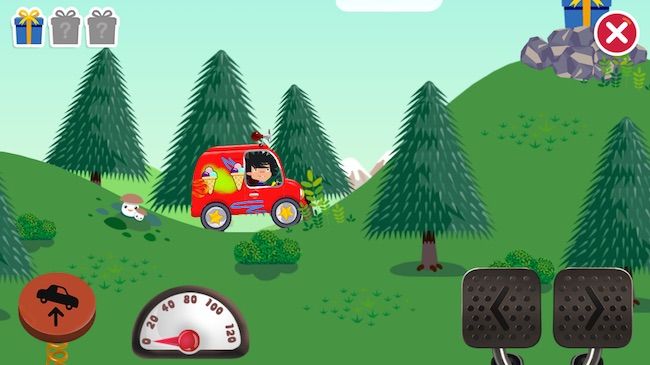 Kids can choose one of four cars with different characters at the wheel, then customize their ride with spray paint, stickers, and cool wheels. Then it's time to hit the road, with nine different driving courses to experience. As you move along the mapped locations, the level of difficulty increases. The goal is to maneuver the course — turbo jumping out of ditches or lava or pitfalls — and make it to the end, while also nabbing three wrapped presents along the way.
My youngster was happily playing this app over the weekend for a solid 40 minutes, even going back to different courses that were tough to see if he could "do better."
One thing to note: I can see the very repetitive music and "cool — oh-oh — wow" exclamations from the driving characters getting on some parents' nerves. But then again, show me one of these kids' games that doesn't do this, and I'll show you someone with selective hearing. Heh.
Pepi Ride app is available on iTunes for $2.99.