It didn't take long for those of us attending CES 2015 last week to figure out one of the hottest tech trends of the year: Stylish fitness trackers that look absolutely nothing like fitness trackers. And trust me, I'm not complaining.
Updated: The Withings Activité Pop (see below) is now available for purchase, whoo!
It's not that there aren't stylish fitness trackers out there, but let's be honest, it's all relative; they don't generally pass for the accessories you'd wear on a date night or out to a party. So much so, that we even started seeing products designed to cover up fitness bands last year. But that's definitely changing now that so many companies are finding ways to blend the hugely popular fitness tracker trend, and the great style that so many women are looking for. Here, some of the gorgeous finds from our CES trip.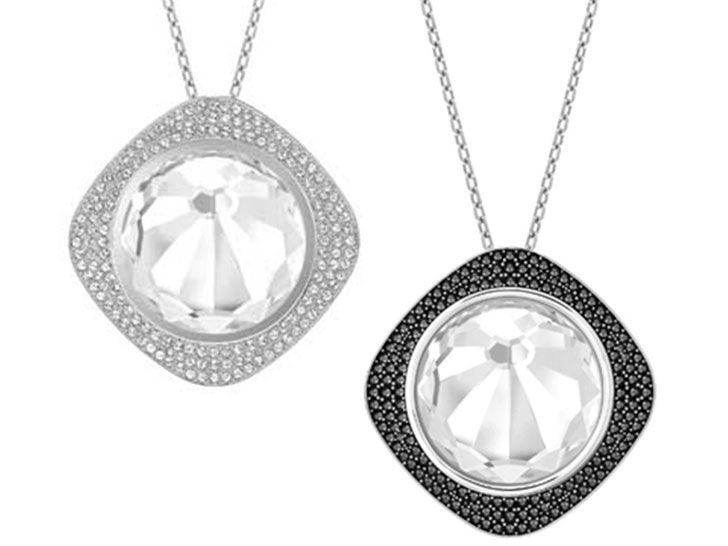 The new Swarovski Shine collection, now on preorder, is a collaboration with Misfit Shine activity trackers that we featured last year on Cool Mom Tech. They caught our eye right away because, hello bling! You can wear the gorgeous tracking crystal as a leather bracelet (at very top), in a more traditional wristband, or even as a pendant, making it quite a versatile and stylish way to track your activity using the Misfit app, or even popular third party apps like My Fitness Pal, something so many people, including me, already use to track my diet.
And evidently, you can sync data by simply pacing the Swarovski Shine Activity Tracking Crystal right on your phone's screen.
Like the original Misfit Shine fitness tracker, the tracker itself is waterproof, though it's not like you'll be swimming in a rhinestone pendant. Use the sports band if you want to track swimming. It also has a coin cell battery so you're not charging it all the time; or keep an eye out for the very cool solar-powered crystal coming out later in the year. This bright sapphire-colored tracker features embedded solar panels, and the reps told us it powers fully in just 15 minutes and keeps a charge for several days, even in the dark, which is pretty amazing.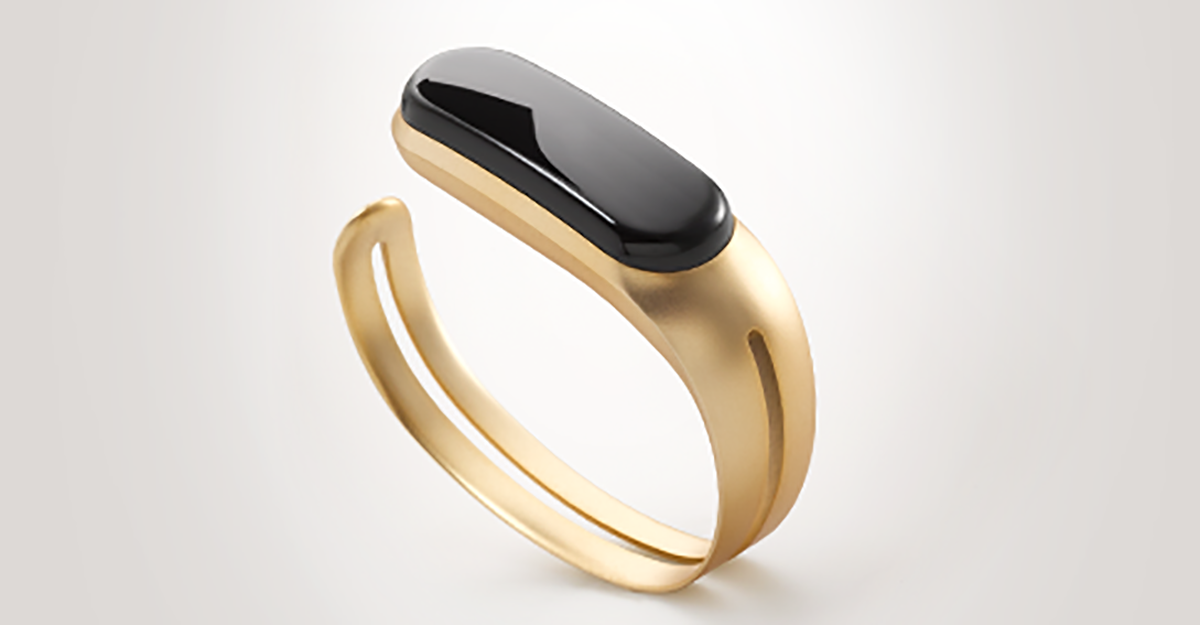 Similarly, the Mira fitness tracker looks nothing like a fitness tracker band, but more than just a pretty face. The device tracks your activity, steps, and calorie burn through a companion app like most popular bands, but it also gives you inspiration in the form of "boosts" that you can take or leave, depending on how you're feeling that day. You'll also get real-time feedback to help you take advantage of your most active times. Just know you can't get it wet though it's evidently sweat resistant.
The Mira is specifically designed so that you can pop the actual tracker out of the bracelet and stash it into a pocket if want to go bare-wristed while still tracking your progress, though I'd say a tracker this small could be easily lost. (Especially for those of you with curious children attracted to shiny things they see lying around the house.) I'm also wondering whether the bracelet will get caught on shirts when you take it on and off, but wow, it's gorgeous.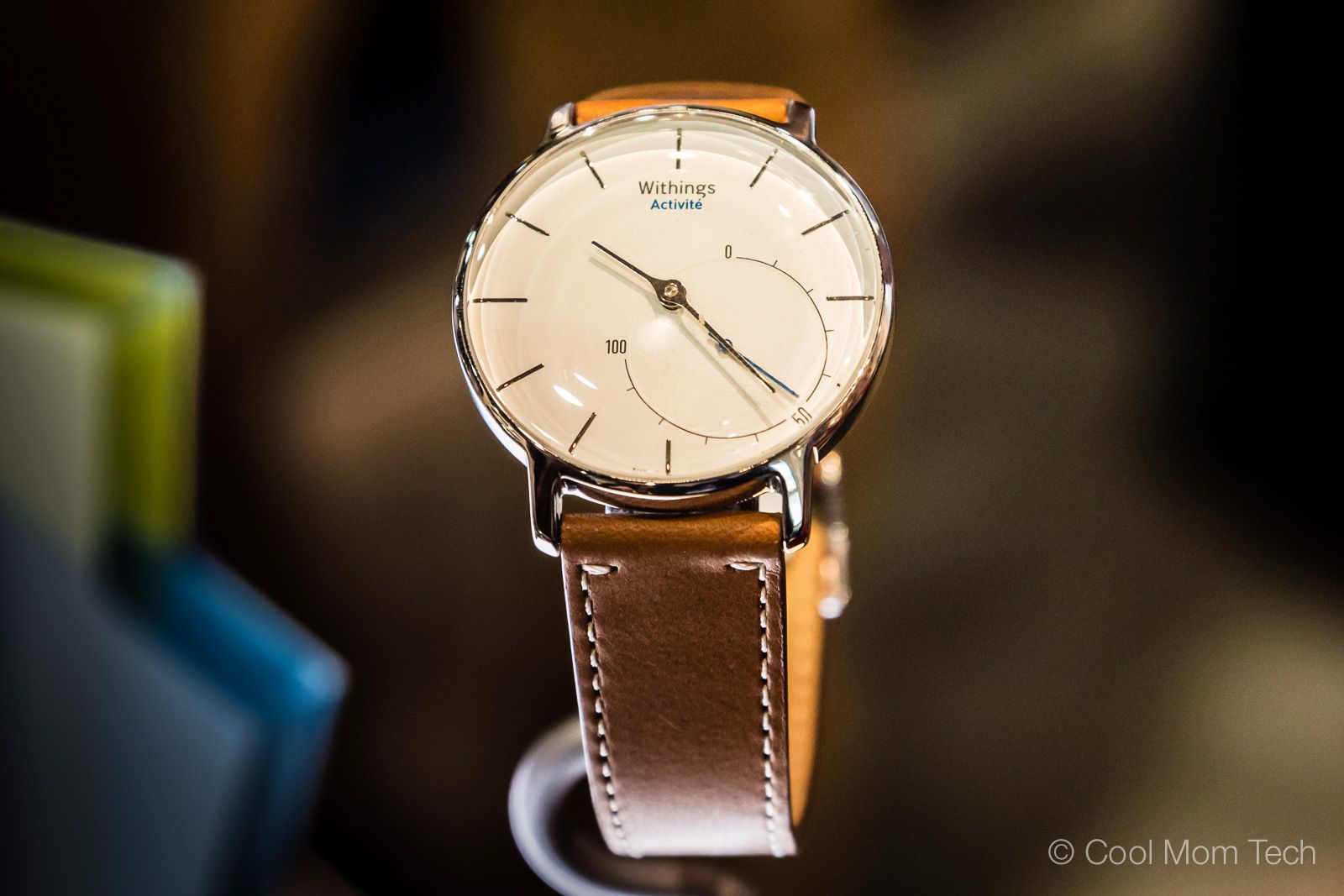 We featured the Withings home monitoring system a few months back, and you can see how the company has taken the same French design sense and engineering expertise and applied it to the fitness category with the brand new Withings Activité. It looks just like a high-end, stylish, Swiss-made watch (I know, I'm stating the obvious here) and functions like one, as well as a fitness tracker. Not surprisingly, this was one of the most buzzed-about products at the whole CES show.
The tracker functionality keeps tabs on your steps and sleep patterns–but get this–it even counts laps for you swimmers, which is amazing. Just be sure to swap out the leather band for the waterproof silicone band that the tracker comes with.  And like the Misfit Shine, there's no battery charging required; you'll get a good eight months of use before having to replace it. Which is simply awesome. Right now it's compatible with an iOS app, but they promise that Android is on its way.
Keep in mind, this new generation of stylish fitness trackers does not come cheap. The Mira retails for $169, and Swarovski Shine starts at $249, with the Shine adding up when you add the various accessories. You'll drop $450 on the Withings Activité. But if you consider how all of these really do function as accessories (and in the case of the Withings Activité, a gorgeous watch) as well as fitness trackers, you're getting a gadget and a fabulous piece of jewelry all in one. Maybe even one you would have bought anyway, if all it did was sit there and look pretty.
For more of our favorite CES 2015 finds visit our archives.
Withings Activité photo by Jon Armstrong for Cool Mom Tech.