The best part of hosting parties in the spring and summer is that everyone can be outside, so you don't have to do a full clean-up of your house the next day. But if you tend to rely on a big indoor sound system, you may not just be able to turn those speakers outward in the windows. Instead, check out some of these terrific speakers for outdoor entertaining that I've found. I like them because they're portable, colorful (don't underestimate the importance of good design), and waterproof or resistant to varying degrees.
Whether you're entertaining near a pool, or just near messy kids, you're going to be safe with these 4 cool outdoor speakers.
CMT is an rstyle affiliate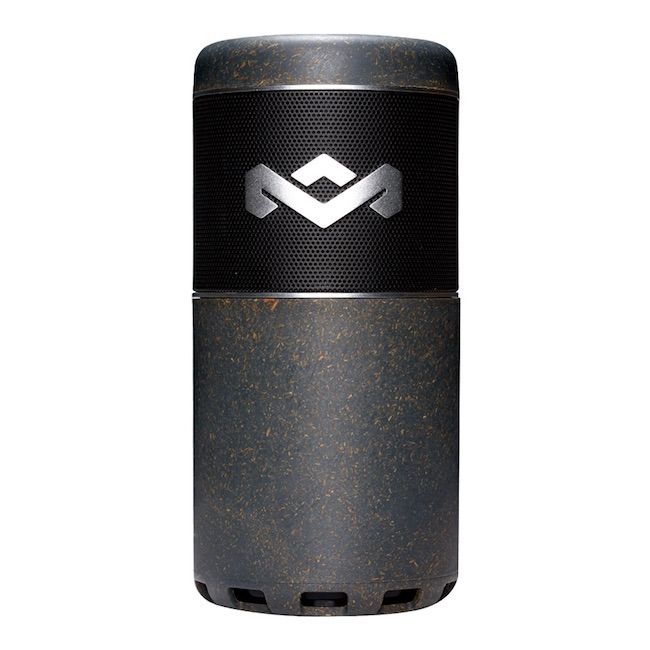 So Waterproof it Floats Outdoor Speaker: JBL Charge 2+
We've been big fans of the rugged, earthy, but still modern designs of House of Marley speakers and headphones since they launched, and their new Chant Sport Speaker is no exception. This speaker is not only waterproof , it's designed to float! So clearly it's perfect for an afternoon at the pool, canoeing down a river, or relaxing at the beach. That said, this speaker has some serious power to it too, so it's probably best for private parties and not the crowded public beach. And all this comes in just under $100.
Splashproof Outdoor Speaker: JBL Charge 2+
The JBL Charge 2+ splashproof speaker is perfect for hanging all day at the pool, because not only can it get wet without problem but the battery lasts an insane 12 hours and also charges your phone. You can set up three different devices to stream music to the speaker, which makes it great for parties — guests (including those wannabe deejays) can take turns domineering the music. And since this speaker is small enough to toss in your tote bag, it's great for travel, too.
Also be sure to compare with the JBL Flip 3 Splashproof Portable Speaker which cuts out a few of the benefits and saves you some money too.
Related: 6 cool waterproof Bluetooth Speakers for sporty (or sweaty) dad gifts
Water-Resistant Outdoor Speaker: UE BOOM Bluetooth Speakers
The UE BOOM 360-Degree Bluetooth speakers are completely water-resistant and projects your music in every direction with its cool 360 degree speakers. But we also love that, through the BOOM smartphone app, you can connect multiple speakers to work together for some really huge sound. Just warn the neighbors first, because the batteries on these last up to 15 hours — that's a party you'll remember.

Washable Outdoor Speakers (really): Libratone Zipp Mini Speakers
I am loving the brand new Zipp Mini speakers from Libratone because they're so fun and colorful. This one isn't waterproof, so don't drop it in the pool, but we had to include it because it's washable! Should your kids get their sticky fingers on the cover, you just zip off the gray cover that comes with it (also shown at top) and zip on a new color while you throw the dirty one in your delicates cycle.
(Yes, a speaker you can launder. Will wonders never cease?)
In terms of sound, the Zipp Mini blasts your music with crisp high notes and a rumbling bass in 360-degrees, so you can clearly hear it wherever you are in relation to the speaker. Plus, as with most portable speakers, you can stream content from your devices and control it all through the Libratone app, from movies to podcasts to your favorite playlist on Apple Music or Spotify. One more cool thing: The Hush feature. Just hold your hand over the button on top to mute the sound, so you can hear the kids calling for more lemonade.