Remember those awesome choose-your-own-adventure books we all loved as kids? Well Netflix has just launched their first in a series of choose-your-own-adventure TV shows, and mama? It's so much fun!
The first episode, Puss in Book: Trapped in an Epic Tale stars my favorite movie spin-off character ever, and is full of his signature wit, sarcasm and delightfully awkward moments, with plenty of jokes for the adults too. But this is no ordinary animated series.
Periodically throughout the episode — 13 times, to be exact — a narrator (who totally reminds me of John Cleese) will stop the story and ask you to choose what happens to Puss next. Fight a knight? Fight a tree? Meet  giant? Dress up like Goldilocks?
Like I said: So. much. fun.
Related: 9 fantastic girl-power movies for kids, streaming right now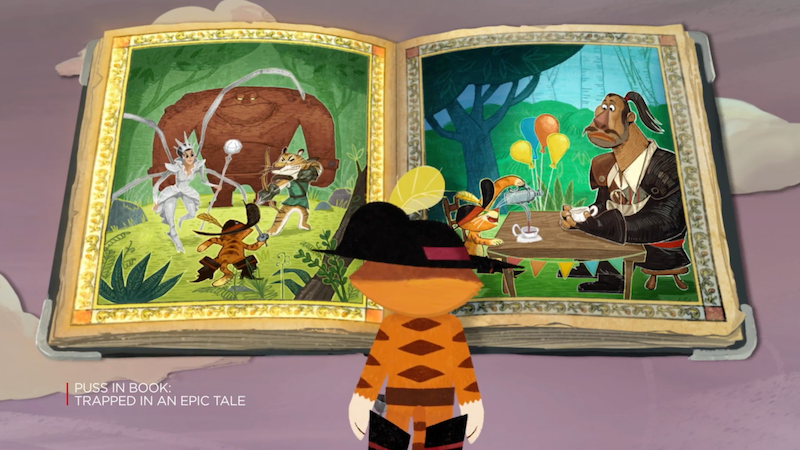 The format makes the episode fun to watch over and over again, something kids are apt to do anyway. That said, there was a little more repetition than I had expected. Also, I've heard the technology can create some lag time after you tap the screen and choose your option — but I had no problems at all.
Just be sure to tell the kids to make a choice quickly — because if they don't, the show will decide for them!
Related: This free app lets you access all kinds of movies and tv shows right from your tablet.
Before you get your kids jonesing to tune in, just know that Puss in Book is currently available on limited devices.  You actually can't use it on the Netflix website, Android devices, Chromecast or Apple TV, though other smart TVs should be fine.
You can also use streaming media players like Roku, game consoles, and any iOS device like an iPad, installed with the latest version of Netflix.
Overall, I really am excited about this choose-your-own adventure technology, because it makes screen time a little more engaging, a little more interactive, and honestly, it's just fun. Brace yourself: Family movie night is about to get loud.
If you enjoy Puss in Book, the choose-your-own-adventure style interactive Netflix show, keep an eye out for additional stories: Buddy Thunderstruck: The Maybe Pile will be out July 14, and Stretch Armstrong: The Breakout is slated for 2018.