I admit, Yelp drives me crazy for a number of reasons. And now, just in time for the holiday shopping and travel, comes a truly viable app alternative.
Let's say you live in Silverlake, you like comedy shows and galleries, and four of your friends have recently written reviews about the new bubble tea joint in Los Feliz. Like magic, the new Local from Facebook app (iOS and Android) is going to suggest some weekend comedy shows, point out some artsy events you may not have known about, and nudge you to check out the menu at Pine & Crane.
Okay, so it's not magic. It's Facebook.
Seeing as how Facebook already knows a whole lot about your interests, hobbies and local favorites it makes sense that they'd put it all to use besides selling it to advertisers. (Ha.) Which is why they've ditched the Events app in favor of the new Local app.
So far, it really seems smart if you're already on Facebook. The app can give you notifications (if you choose) about invitations and events that you're interested in, which is awesome. Turn on location and you can see what's happening around you. Or if you're not big on sharing location, you can choose your local city and see friends' updates.
You can also explore your interests by category, including arts/culture, causes/fundraisers, nightlife, shopping, movies, food, fitness and more.
I think the Local app could easily be a Yelp killer.
On my first log-in, the Local app showed me events that are trending in my area that seem to be based on my interests (oh a political meet-up…you don't say); events my friends have RSVP'd to (Yay, Renegade Craft Fair NY!) and well-curated local lists including Macy's Thanksgiving parade info, and new eats around New York City. It's all ready-made for sharing. Of course. Plus I can see friends' comments in the feed about an upcoming party, which is kind of cool.
I also like that it helps me plan — type in a time frame and specific date and suddenly weekend planning gets easier, especially with an autosync to your calendar.
The one HUGE thing that's missing though: Family!
Come on, Events team! Those of us with kids are planning wildly different weekend events than our swingin' single or sans-child friends.
Not that I wouldn't take them to the Renegade Craft Fair. Especially now seeing I have a few friends who have RSVP'd. But still.
Could you please add that filter to the algorithm? Because I think parents will really, really like the ease of use, convenience, and connectivity of the app, considering how many parents are already living on Facebook.
That said, I definitely would trust this more than Yelp as far as general recommendations. If I'm in another neighborhood, I like the idea of going to a café that six of my friends have ranked highly, as opposed to trusting some anon user who writes snarky reviews for the lolz — or business owners who game the system with sockpuppet accounts or pay for premium placement.
(Oh, we know all about it, Yelp. Trust us.)
I also really hate how the sponsored listings on Yelp are totally unrelated. When I want "Oysters in Brooklyn," I don't want to learn more about a fish & chips bar in the East Village. Sigh.
Now Could Facebook end up doing that with Local? Sure. But I hope they won't.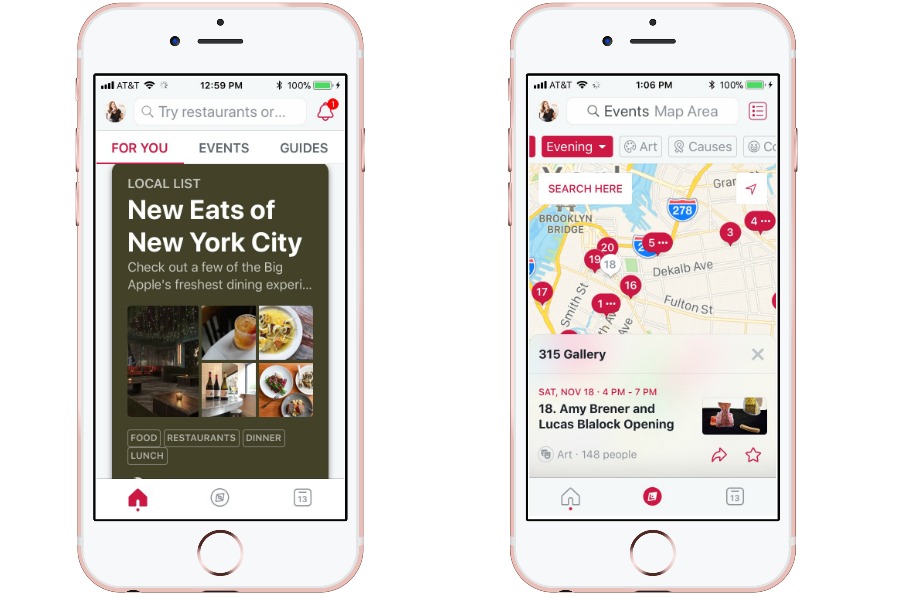 I think above all, relying on your network's recos — without having to sign up for a whole new social network or app — is smart and easy. It's the thing I've always liked about the Trip Advisor recos that show up from friends and friends of friends first.
I mean, if my snobby world-traveling colleague says a B&B in the Berkshires is good enough for her, I know it will be good enough for me.
Download the new Local from Facebook app for IOS at the App Store, or on Google Play for Android. If you have the Events app — it's now Local.