Tech gifts are at the top of every one of my kids' wish-lists this year, from my 6-year-old to my 15-year-old. But with so much time spent on their computers for remote schooling this year, I'm leaning toward some of these awesome no-screen tech and STEM toys for kids of all ages.
From educational games for preschoolers to DIY video game controllers for teens, these are 9 awesome tech and stem gift ideas that kids will definitely approve of.
CMT is an rstyle affiliate
Related: 10 awesome Mandalorian gifts for Star Wars fans, young and old
No-screen tech toys for preschoolers: Timio educational audio & music player
I've had an eye on this Timio educational toy for my youngest child for a while. The toy comes with 20 magnetic disks your child can easily switch out on the main device, and they each play animal sounds, announce letters, tell fairy tales, sing lullabies, teach vocabulary and more…depending on the design and theme of the disk.
It's great for preschoolers who are learning these concepts for the first time, but can also be used long after that stage because Timio can be set to 8 different languages — helping curious kids learn how to say cat but also le chat and el gato and even 猫 (māo)!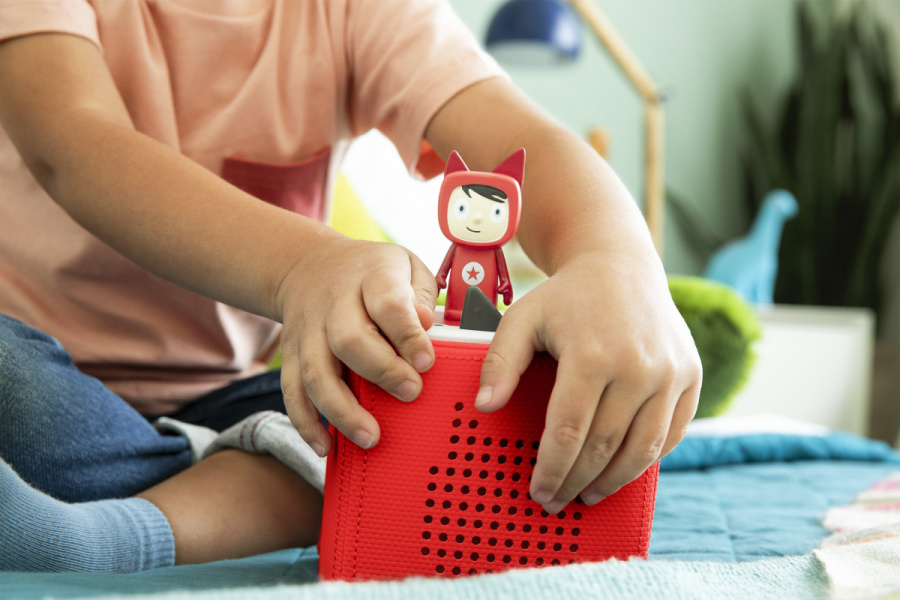 No-screen tech toys for preschoolers: Toniebox entertainment center
Caroline reviewed the Toniebox screen-free entertainment center earlier this year, and we still think it's a fantastic tech gift idea for young kids. The speaker box comes with several figurines that each have stories and songs programmed on them. Young kids can easily switch these out on their own, and you can keep adding to this collection after the initial purchase—including licensed characters like Woody or Little Mermaid, which Disney fans will love.
But what makes this extra special is that parents or grandparents can record their own messages for kids to play, making it a really nice way to stay in touch and surprise grandkids or nieces and nephews you haven't been able to visit recently.
No-screen tech toys for preschoolers & elementary age kids: Kumita coding starter kit & robot
If you're looking for a great coding gift, the Kumita Starter Set & 40 panels (item no longer available) teaches very young kids the basics of computer programming. (Their site says it's for kids as young as age 0, but I think 2 – 3 years old is more realistic.) Each panel communicates a different command to the cute robot as it travels the path your child creates, and it will turn, flash lights, play sounds and more.
I love that, even though this one of the spendiest gifts on our list, it is one that will grow with your child. Little kids will be entertained by what's happening, but older kids will be able to think more strategically about how to use the panels to create their desired objective. And it really does give them a solid understanding of the basics of STEM fundamentals…so they can go on to create more sophisticated projects later.
Related: Gift idea! 12 must-have gadgets for a winter spent quarantining
No-screen tech toys for tweens: Arcade Coder game designer
If you have a creative kid in your life who loves video games, then Tech Will Save Us's Arcade Coder is a great gift idea. This pairs with an iPad (no Android functionality at this point) to allow kids to design their own games and animations, which are played on the Coder board.
The design is intuitive, so kids will pick it up easily. Tech Will Save Us has been creating great STEM toys for kids for years, and this is another great toy that doesn't just entertain — it's actually aligned with US school curriculum up to 5th grade. If you're looking for a toy that will boost their at-home education this year too, this is a great choice.
No-screen tech toys for tweens & teens: Sphero Specdrums musical rings
If you have a music kid in your life, or just one who loves to fidget, then check out these Sphero Specdrums musical rings. We have raved about the Sphero ball robot for several years now, and the are high quality toys from a company that really knows STEM.
These silicone rings play musical notes or beats when you tap different colors, whether it's the mat that comes with the rings or any surface — want to create the "yellow" tone? that banana will do. Kids can create loops and even edit and mix their own songs. The possibilities are endless.
No-screen tech toys for tweens & teens: Evo coding robot
We've loved the Ozobot smart toys since they first launched, and still highly recommend Evo for Ozobot as a gift this holiday season. This adorable, pocket-sized robot teaches robotics, gaming strategy and computer programming…all without screens.
This is a highly tactile robot, using tabletop pieces to program the robot. Your kids can draw a path with the included markers, using different colors for different commands. There are plenty of app-based activities to go along with it too, adding in a whole other element of fun.
Related: A baby Yoda stand for your Echo dot — the perfect gift for any Star Wars fan
No-screen tech toys for all ages: Build your own Avengers gauntlet kit
Our Disney+ account has come in handy over the quarantine, giving us a chance to stream almost all of the Marvel movies. So yeah, my kids would be pretty geeked out to get this Avengers hero inventor kit from littleBits. It's like tech meets dress up play, because they can build this wearable gauntlet and then code it to make sound effects or even play their own pre-recorded content.
It's designed to be completely DIY capable for kids as young as 8, and while it does have an app that allows you to complete the coding challenges, there are plenty of aspects of this toy that are completely screen-free. Then, once it's built, you'll get hours of imaginative play from it.
No-screen tech toys for tweens: Build-your-own Piper video game controller
I've got one of those curious kids who really wants to know how things work, and this Piper Command Center DIY video game controller kit would be perfect for him. It allows them to build their own functional game controller, which works with any computer.
While this isn't going to be for the serious gamer to use, it's a fun gift for the kid who's interested in building their own computer one day. And who knows, maybe they'll even code their own cooler, better controller one day!
No-screen tech toys for teens: Vector personal assistant robot from Anki
This Vector robot by Anki got the approved, thumbs-up cool certification from my 15-year-old gamer kid. This is a real-deal robot, not a dinky toy. If you talk to him—"Hey, Vector"—he will hear you and respond. You can tell him to set a timer or turn down the thermostat, and he'll even return to his charging base when he needs more power.
This little guy has tons of personality (just check the "meet Vector" video on their site) and can also take photos for you, which makes it a fun spy toy for annoying siblings too.