Recently, we were introduced to LiveHealth Online, a smart new Internet-based service and mobile app from WellPoint that allows you to choose from a list of board-certified doctors and get medical care and advice right from your home. Seriously, you can show a doctor your kid's rash at midnight, or get a prescription you need on a Sunday without running over to urgent care–how awesome is that?
We were so impressed with it that Cool Mom Picks and Cool Mom Tech partnered with them to introduce the service to other bloggers and editors. So this past weekend, we had the pleasure of hosting some of our favorite New York City area mamas (and dads and grandparents) at Haven's Kitchen for a fun back to school family brunch we called Eat It and Like It! 
With the start of school here and all of us here gearing up for the cold and flu season (hold us), everyone got the scoop on the benefits of the app, along with a super fun kids cooking lesson from Chef David, to introduce the families to healthy snacks that our kids can actually make themselves. Well, with a little help from the parents.
— Don't miss the amazing iPad Mini giveaway below, plus a code for a free doctor's visit! —
While the parents schmoozed and knocked back mimosas and a light brunch (miniature pancakes with homemade ricotta and maple syrup, mmmm…), the budding chefs got to color and make cool back-to-school buttons for their lunchboxes and backpacks.
Also, some of us now have inboxes filled with about a zillion photobooth pictures from our kids.  But it was really the kids' cooking classes that made the event so fun for everyone.
Overheard: "I can't believe my kid is actually eating a vegetable spring roll!"

We were also lucky to have special guest and LiveHealth Online pediatric specialist Dr. Mia Finkelston on hand who gave us a ton of tips on how the app can make parents' lives so much easier. Instead of lugging a minivan full of sick kids to an emergency room, or trying to get a last minute sick appointment at the clinic or your pediatrician's office, LiveHealth Online's board-certified doctors use interviewing and video exams (yes video!) to diagnose and treat so many maladies.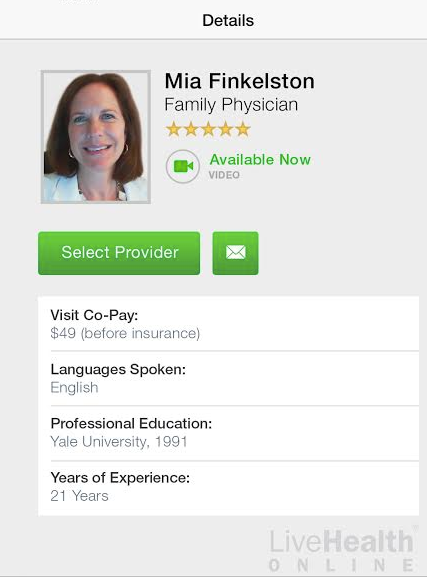 The most common visitation reasons from parents seem to be fevers, coughs, rashes, and infections like pink eye; you know, the stuff that isn't urgent urgent (no broken bones) but that still requires a professional diagnosis, maybe a prescription, and definitely some parental reassurance that everything will be okay.
It's $49 a visit, less than many urgent care or walk in clinics.
Every parent we spoke with said they would totally spend that not to be devoting hours in urgent care on a Saturday just to get some antibiotic drops for conjunctivitis.  And we have to agree.

What a fun afternoon for the kids and the parents. How can it not be when there is chocolate ricotta involved and we get to think of it as health food?
Also, totally fun to give away an iPad Mini. And hey, we know at least one app that's going to be on it when she loads it up.
EXTRA COOL: WIN IT! At our event, our own Stephanie Mayers was lucky enough to win an iPad Mini (it was totally unbiased, promise!) and now we get to give one away to one of our readers, too! Just sign up for LiveHealth Online through this link, which you'll love anyway, and be entered to win. Click here for official contest rules. One Cool Mom Tech reader will be drawn at random.
EXTRA-EXTRA-COOL: Every one of our readers is entitled to one free virtual visit through one of the LiveHealth Online doctors, using code COOLMOMPICKS. 
Huge thanks to LiveHealth Online for partnering with us for this awesome event. Here's hoping the kids will be cooking us dinner (and eating it, without complaint) very soon. 
And a special thanks to HP and Ellington Bags, who offered up amazing giveaways for our attendees, and to our friends at tatt.ly and Way Better snacks, who added fabulous goodies to our goody bags.
[Photos: Aaron Adler Photography; top photo: Jon Armstrong ]