It may sound a tad hokey, but reading really is fundamental to school and life in general, which is why we've worked hard to put together 8 of the very best reading apps for older kids as part of our Back to School Tech Guide 2015.
Whether you have an older grade-schooler who's more likely to pick up a tablet to read a book that's not required for class or a teen who is deep into dystopia and the race to save the most fictional of worlds, we hope that one of these smart, entertaining, and educational apps has your own kid's name on it.
Related: 10 of the best reading apps for young kids and early readers:
Back to School Tech Guide 2015
1. iTooch 5th Grade Language Arts App (with other grades available as well)
We've been on Team iTooch for a little while now, since the iTooch series of apps really provide an engaging way to tackles important English language grammar, vocabulary, spelling, and overall reading comprehension. Get ready to potentially make some room in your phone or tablet's memory though — there are more than 1,000 activities on this app for kids, all based on the Common Core Standards.
(Available on iTunes, Google Play and Windows for free; lessons can be purchased in-app — and also available for middle school students.)
2. National Geographic Ultimate Dinopedia app
A top way to get kids reading: find a topic they love. And if it happens to be dinosaurs, then this iPad app, based on the award-winning book, will be a dream. It's an interactive encyclopedia filled with  plenty of gorgeous images as well as info about more than 700 dinosaurs. Watch your kid get lost in fun facts, vital stats, size comparisons, and even audio pronunciation for the prehistoric beasts so they can sound like the most erudite dino-fan on the playground. Best suited for kids aged 10 and up, the app also lets kids share info and pics of their favorite dinos with friends and family via Facebook, Twitter and email if you're cool with that.
(Available on iTunes for $4.99.)
Story books are fun and creative, but there comes a point when your child is itching to move beyond them. Kids are innately fascinated by all the strange but true facts in the non-fiction world. This is where the Duh! Books app could step in and keep your curious kid reading. It's filled with educational, interactive e-books aimed at kids aged 7 and up, all specifically designed for the iPad. As a parent, I really like knowing that all the links are vetted and safe, plus no surprise in-app purchases or pop-up ads,. Plus location info is not captured or shared. As it should be with kids' apps.
(Available on iTunes for $3.99 each)
Related: 6 fantastic educational YouTube channels for older kids
4. National Geographic Kids Magazine app
Also from the world of fascinating non-fiction, The Nat Geo Kids Magazine app is one we're always recommending to other parents. It may be geared toward kids aged 9-11, but the photography and wealth of information about the world around us have me continually wowed. Like the magazine, the app has plenty of animal stories, puzzles, games, weird-but-true facts, and stories about nature, history, science, tech, and more. If you're a print mag subscriber (and your child may be through his or her school) you happen to get receive free access to the iPad edition. Or check out the National Geographic kids' apps page for other options that are fantastic too like Weird but True which is a blast.
(Free download on iTunes with each issue around $3.99 for non-subscribers)
5. Happy Frog Reading Comprehension app
This is a great app for those middle-graders who are fantastic at getting through a book on level, but can't quite show that he or she understood what happened in the story or the passage. And that's a super important skill, especially in the Common Core curriculum. The Main Idea – Sentences app (above) is one of the targeted learning tools from Happy Frog, helping kids ages 7 to 11 understand what the sentence — and later, paragraph — that they read is about. Yes, it might look a little cute for older kids but they'll still the mild gamification of learning here: kids can earn points for getting the correct answer in the comprehension quizzes, and earn "rewards" after working uninterrupted for a period of time. Even if that period is just 5-10 minutes.
(Available on iTunes for $4.99, Google Play for $1.74 and Amazon App Store for $1.99)
5.  The Adventures of Captain Underpants app
If you have kids between the ages of 6 and 8, you've probably heard all about Captain Underpants and his zany adventures. For reluctant readers we love this iPad app that should get nearly any kids excited about reading; I mean, if fart jokes won't work, what will? This is a colorful digital adaptation of the irreverent graphic novel series of the same name, with other cool features like an avatar generator, a sound effects mixer and other games based on the book. Just make sure they're using the app to read too, and not just making fart sounds.
(Available on iTunes for $4.99.)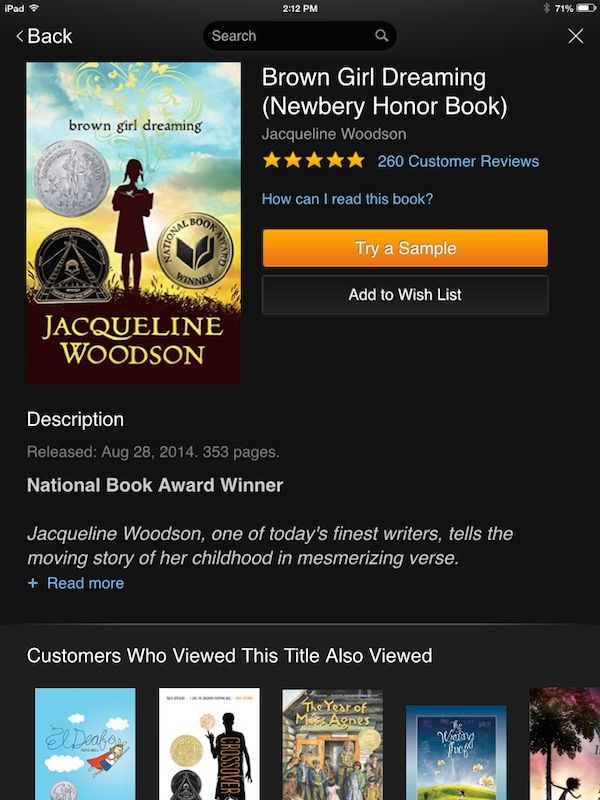 6. Kindle app
The Cool Mom Tech crew has been down with the Kindle app for ages. We're talking back in the iPhone 4 days. The way we see it, whether it's a book from the Percy Jackson series or Brown Girl Dreaming by Jacqueline Woodson (above), whatever gets and keeps get your kid reading books and e-books, we are for it! So don't discount this comes-with-your-phone app as a fantastic one for kids to put to use. Plus we've got tips how to borrow tons of free Kindle books — and not just tame freebies– for those kids of yours with an insatiable appetite for more great books.
(Free for all platforms, with purchase and rental prices varying)
Related: 13 great fantasy and adventure books for tweens
Sometimes writing a book is the best way to get kids excited about reading even more of them. In this app, kids aged 8 and older (and — hey — even parents) can delve into e-publishing using the easy-to-navigate app to create e-books of any length, using their own pics, drawings, video, text, and voice audio. Is there a Great American Novel in your kids' future? Maybe Book Creator will bring it out of them. Also fun is being able to save your book to iTunes, Dropbox, Evernote, iBooks and then share it via email. It's never too early to start amassing a hoard of fans, especially if you're planning a book tour somewhere down the road.
(Free download on iTunes and an Android version Google Play, both with an in-app purchase for unlimited books.)