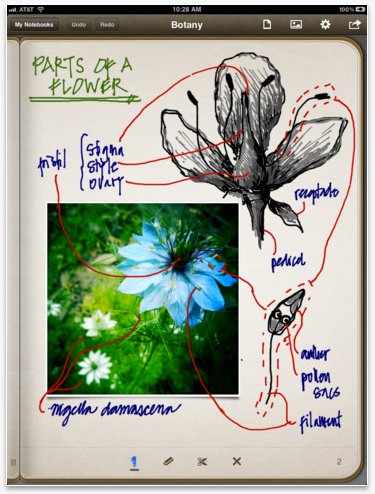 As much as I love my iPad, I still use good old paper and pen to jot down notes to myself and make to-do lists, because it's just way faster than me clicking away on a tablet keyboard. But all that has changed since I started using Penultimate, which just so happens to be on sale right now.

A quick download and a few instructions later, you and your kids will have a blast with Penultimate,
a cool app that allows you to take notes, sketch drawings, or do
whatever else you'd usually do with pen and paper but with your finger
(or stylus, if you have one). Pick the paper you'd like to use — plain,
lined, or graph — and then let your finger do the work. And don't
worry, along with a scissors (for cutting and pasting), there's an
eraser and undo button, both of which come in handy.
The best part is that aside from the easy and smart sync feature with both Dropbox and
Evernote, you can also email your notes or hey, your kids' drawings, to
yourself or others. No more lost pieces of scrap paper! The only downside: it does a pretty fabulous job of
translating your handwriting, which means if you failed penmanship like
me, you might be the only one to understand your chicken scratch. -Kristen
Purchase Penultimate for iPad for only $.99 on iTunes (for a limited time!)