With iPhones, iPads, e-readers and video games coming out of our ears, my house is being overrun by cords. Aside from labeling them with a Sharpie (Tip: silver works great on black cords), I've decided that since I'm cleaning and organizing every other part of my house, I might as well tackle the chargers.
Here are four simple ways to help you tackle your cord nests.
The Belkin Valet (above) allow you to charge up to four devices at one time, with cords neatly organized behind it. Even better, it shuts off when it senses your gadgets are fully charged. If you want to completely rid yourself of cords, take a peek at the Powermat.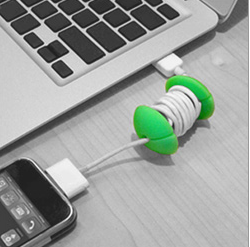 Keep your earbuds, USB cords, and chargers from getting knotted up in your bag or drawers with the simplicity of Applecore. Given their awesome price, you can snatch up a bunch in different colors to help you differentiate cords in a snap. For a more eco-friendly option, I love the look of the Wrap Wrap.
Related: Home decluttering tips: 6 smart ideas using tech that keep you from doing it all again later.
To keep your desk area streamlined, pick up a few Blue Lounge cable drops. These self-adhesive clips stick to any surface and best of all ensure that you never have to crawl around on the floor to find your power cord. The Quicky cordies are similar to the cable drops, but accommodate up to four cords at one time.

4. Cord Consolidation
The Magic Cable Trio links up and charge your portable devices by connecting a mini, micro-USB, and an iPhone/iPad compatible charger, essentially turning three cords into one. I also love my PlugBug, which connects your MacBook charger with a usb charger. It's still the same amount of cords, but only takes up one plug and way less room overall. Awesome.
How do you keep your cords and chargers organized? 

For more in our Spring Cleaning Your Tech series, check out
How to clean up your gadgets.
How to clean up your email inbox