If you loved the cool notebooks we highlighted last week as part of our 3 Springpad Notebooks that you're going to love series, then hold onto your hats. We've put together more awesome smart notebooks that showcase how powerful this website and free mobile app can be in making your life more organized and streamlined.
We're pretty sure you'll want to follow these notebooks as quickly as we did, not just because they're super helpful, but because they're perfect for inspiring your own Springpad notebooks too. -Kristen
Children's Books for Geeks by SpringpadTech and SpringpadBooks
Whether you consider yourself a geek or not, this awesome notebook deserves an instant follow. It's an amazing collection of books for kids young and old, all in one place. But even better, you can click through to see the GoodReads review, and then purchase, if you so choose, on Amazon.com. And along with being a great resource, this notebook is a nice model for your own that you could create based on your kid's interest, reading level, or her own specific reading list from school.
Wine Tasting Party by debrawinke
With four kids in the house, the only wine tasting party I'll be hosting anytime soon is in my dreams, however, I've got a bunch of birthday parties, Thanksgiving, and Christmas holidays coming up in rapid succession, so I'm taking a cue from Debra and putting together a smart notebook with everything I'll need for each of these events. And it's not just a bunch of lofty ideas, but rather, your actual recipes with wine pairings, your party supplies, even gift lists. And I love that you can make checklists and add your co-hosts to spring to the board too so you're all on the same page. Literally.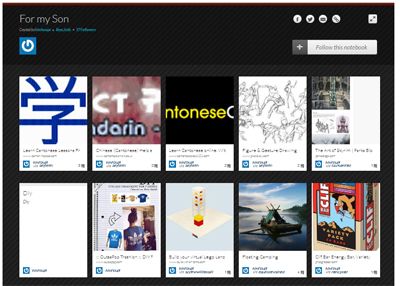 For My Son by klmhoupt 
Maybe it's just the hormones, but I actually get a little choked up looking at this seriously brilliant notebook that is a compilation of everything this person wants to share with his son. He's added stuff like recipes, awesome books and must-see television shows, even Cantonese lessons and how to deal with blackhead pimples (ha!). And in doing so, he's passing on his virtual legacy that his son can explore when he's older. I'm determined to do this for my kids immediately.
We are so happy to be working with our partner Springpad in this four-post series about our favorite smart notebooks to follow, but we hope you find your own favorites as well. If you need more inspiration, take a peek at our own Editor Liz's public smart notebooks. 
And check out more of our Springpad smart notebook recommendations: 
– Organizational Tips, Healthy Recipes, Cool Eye Candy
– Android Apps, Classic Movies, Great Recipes