The second I heard about thenew Apple CarPlay, I was pretty excited. And if you're an iPhone 5, 5c, or 5S user like me, I'm guessing you will be too, because quite simply, CarPlay takes everything you're doing with your iPhone and puts it on your car display to optimize services and apps for drivers. Awesome.
As much as I don't want to use my phone in the car, it's an inevitability these days. (When it's safe to do so, promise.) I've got it plugged into the USB so I can listen to Spotify, and my Google Maps app gets quite a workout as a GPS. And yes, I do take and make phone calls when I can safely, thanks to a Bluetooth headset that's about my most frequently-worn accessory. Now, Apple CarPlay is going to bring it all together.
Using my close friend Siri, CarPlay will allow you to do everything from taking calls to sending texts right on your dashboard–no extra gadgets, plugs, or special headsets required. It will come with iTunes Radio built-in, as well as a slew of others apps like Spotify and the new Beats Music, just to name a couple, with lots more on the way. You'll even be able to control your knobs and buttons with voice command.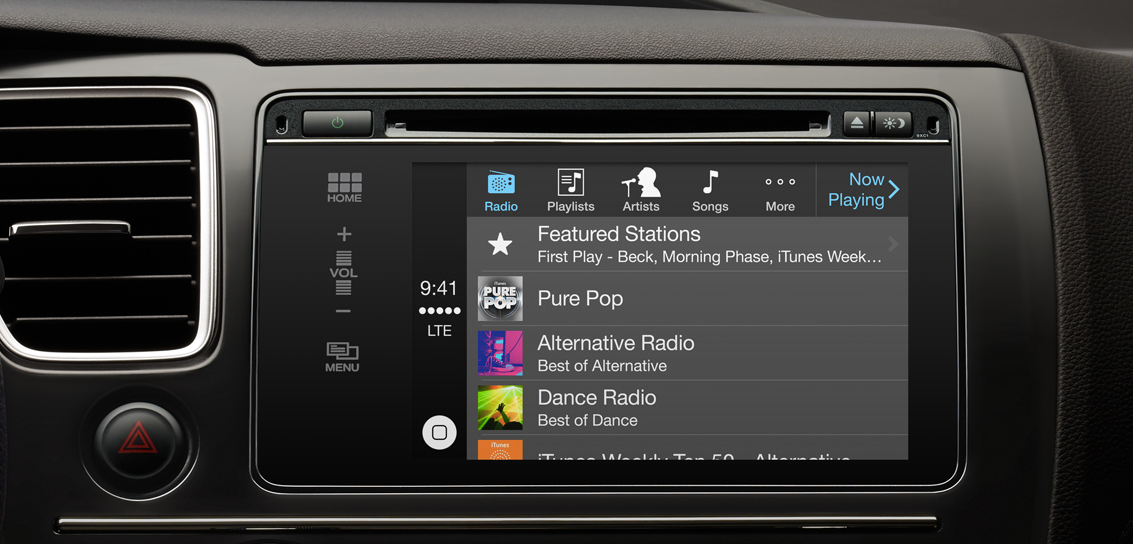 Now to use CarPlay, you will have to deal with Apple Maps as the nav system that will come pre-installed on the dashboard; my hope is that Apple will make some changes to it before the launch because right now, it remains a challenging nav app for many people to use. The other thing is, the service will only be available with certain auto models to start, including Honda, Hyundai, and Volvo, as well as luxury brands like Mercedes, Jaguar, and Ferrari. (For all you moms out there carpooling the kids in your F12berlinatta.) But it appears that by 2015, CarPlay will be available for a lot more cars, giving Apple a good chance to really crack the automotive market considering the higher-income user they tend to attract in the first place.
And let's be honest, so many parents' second home is their car, it's a smart development for us in particular, going beyond "ooh, shiny new tech!" to a really useful service.
The service is definitely something to keep in mind if you're shopping for a new car now, because beyond the general Bluetooth compatibility found in lots of cars, it really is made to optimize your iOS device and keep thing a little safer.  Especially when you're telling Siri that your kids would like to listen to the Frozen soundtrack for the 15th time that day, instead of fiddling with controls and trying to find it yourself
For more information about Apple CarPlay, visit their website.