We have covered pregnancy apps in the past like We're Pregnant and Sprout, and now the Totally Pregnant app is another awesome one to add to the ranks. As for me, after recently having baby #3, the shop is closed and I'm done, but seeing someone pregnant or an awesomely comprehensive pregnancy app like this one does make me wistful. Just a little bit.
Free for iPhone and Android this app tells you everything you'd want to know during your pregnancy about baby's growth, your health, baby gear, expert advice and fun facts about fetal development.
When I saw initially saw the colorful rotating dial for accessing the different categories, it harkened memories of the original iPod and that big old circle control in the middle. Not that it's dated; the layout is simple and clean and it's really easy to access so much amazing information that takes you from conception to birth.
In addition to the week-by-week  stuff you'd expect, there are also expert videos, 3D animation of what your baby looks like in utero (well, not your baby, but you get the point), and video blogs from other mothers at your stage of pregnancy. Which is totally reassuring when other pregnant women validate the same fatigue, heartburn, moodiness, bloating, varicose veins, and other fun symptoms that you are experiencing.
Me: Indigestion. Big time.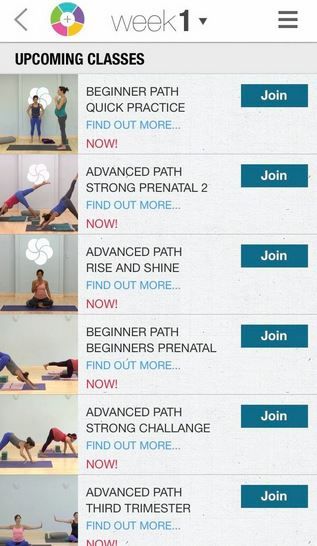 For an additional in-app purchase, you can join the "on-demand" classes which feature lamaze techniques, yoga, prenatal meditation, even post-natal classes and participate directly from your phone, tablet or PC. I find the pricing to be confusing though; some classes are $6.99, some are $7.99, there are packs of classes for $49.99 and then offers for premium membership for $14.99, which…wait. Now I understand that in-app purchases for this kind of premium content are warranted, but it would be nice to have a more standardized pricing model. Especially knowing what my own pregnancy brain happened to be like.
The Totally Pregnant app is free for iOS and Android devices with in-app purchases for classes