As a first-time new mom, I didn't have a baby monitor myself. At first  I worried a lot about my son while he slept; I checked on him constantly, which meant I didn't sleep much. Of course I eventually learned that he was fine and I could ignore those baby noises and get some sleep myself. So I have to say I have never been a big baby monitor advocate.  But when I saw the features of the newest Angelcare monitor, the Angelcare AC1200 Video, Movement and Sound Monitor, I was intrigued enough to give it a try and see if investing in a pricey system like this one has value to new moms.
Like so many baby monitors these days, the Angelcare system is designed to work with your smartphone through a companion app. The system itself includes the camera (which has gotten a much-needed makeover in the looks department), a sensor pad that goes underneath the baby's mattress in the crib, and and then the app, which is what you use to view the camera. It doesn't include the hard board you need to set the sensor pad on underneath the mattress.
And it doesn't include the the new iPhone 5S or Sony Xperia you might want to use the app on. Darn it.
Parents should be confident knowing that Angelcare has designed an innovative plastic interlocking cover for the sensor pad cord with comes with the system, so the baby can't end up tangled in the cord. That's a hugely important detail as far as we're concerned, and a major improvement over a loose cord in a baby's crib. In fact from what I can see, your kid would have to have serious dexterity to free the cord if you've installed it correctly. Even so, I'd like to see a wireless connection as the safest alternative with future generations of the Angelcare monitor.
That said, you can disconnect the sensor pad from the camera whenever you feel your child no longer needs that extra level of monitoring–which shouldn't be too long at all.
The Angelcare app (for both iOS and Android, thank you) displays a QR code on your smartphone screen, which is how it connects to your Angelcare camera. Some parents have complained that the camera won't read the QR code, and I had a problem with this too. Until I realized that you have to push the small, round button on the back of the camera (near the angel's "neck") before you scan it. This detail wasn't mentioned in the step-by-step directions, but once I pushed the "activate" button, the app loaded after a few seconds of scanning. So…there's a tip for you if you're struggling with the same problem.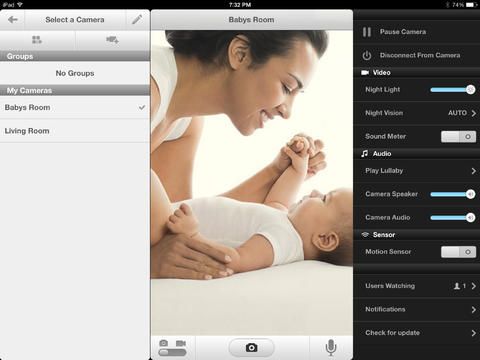 A nice touch is that you can connect multiple Angelcare cameras to the app if you'd like more than just the nursery monitored. And you and a partner or caregiver can both log in to view your kids from anywhere. I did notice a 2-3 second lag between the camera and what I see on my phone, but that's probably because the camera serves as its own router. On the plus side, that means you can use the system even if you don't have WiFi at home–or more likely, if you're in a hotel or away visiting your great-grandmother.
I am really loving that I can use the app to talk to my child in his crib. You know, in case I want to say, "Go to sleep, sweetie," without having to pause New Girl. (Oh, the sacrifices we make as parents.) Also, the system has night-vision. Which is just cool.
Another benefit of the camera is that it can play lullabies–available as in-app purchases–to soothe the baby. Though I think I'll just stick with Laurie Berkner for that. And oe more fun feature is the ability to capture a still photo of that adorable sleeping baby. It is a camera, after all.
So let's talk money. At $299, the pricetag on this baby monitor is hefty. But to compare, the Motorola monitor ($250) doesn't include the movement sensor pad and is less portable since it works with its own display screen, not your phone. Alternatively, the MobiLinc Cam Viewer ($5) app turns the IP camera you might already have into a baby monitor for almost nothing, but you don't have the sensor pad or the ability to talk through the app to your baby, let alone all the other fancy features of the Angelcare monitor.
I'd say, if you got all tingly thinking about all those bells and whistles, and the ability to use it on the go, this is a pretty impressive monitoring system for you.
Order your AC120 Angelcare Monitor with Video, Movement and Sound at Buy, Buy Baby. Thanks to Angelcare for sending us a sample unit for review.