The selfie stick struggle is real, friends. From major museums, like the MoMA and The Met in NYC to the Palace of Versailles in Paris, to sports stadiums, to musical festivals Coachella and Lollapalooza, the ban on selfie sticks shows no signs of slowing down. While many applaud the move to nix the "in-the-way," photo-taking tool, others are left wondering how they can quickly grow an super long arm to snap selfies that will incorporate the most background possible.
For those who simply need to get their selfie fix — whether or not a selfie stick is banned in your next destination — here are five smart alternatives to the cumbersome and much maligned camera accessory.
1. Podo Bluetooth Camera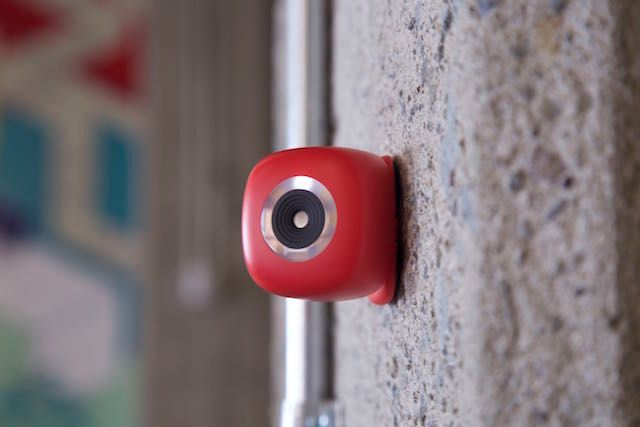 The smartphone-controlled, wireless Podo Bluetooth Camera sticks to just about any surface, turning it into a hands-free photo booth. No wonder this Kickstarter campaign has already trounced its fundraising goals with two weeks left.
Podo's combo suction pad-magnet backing helps it stick and re-stick to any solid surface. To refresh its stickiness, just clean the back with a little water and the suction returns. Podo connects to your iOS or Android smart devices via Bluetooth, and a double-tap is all you need to turn it on and off. No buttons to complicate things. Plus the colorful, mini camera has an 8MP image sensor and 4GB of memory, and has photo, video and time-lapse modes. (Podo will be available for $89 through a Kickstarter contribution, and will retail for $99. Expect shipping later in April.)
2. CamMe Selfie app
Instead of buying a device meant for taking selfies, how about a free app? We love CamMe for iOS, an easy app which almost feels like it was made specifically for parents. Think about all the times you've tried pull off the selfie-style family group shot (the ultimate "us-ie") and ended up with important heads clipped out of frame and failed awkward angles.
The CamMe app allows you take the picture truly hand-free. All you have to do is gesture to the camera from up to 22 feet away and click. Done. No sticks, no fuss, all fun. (Free download on iTunes.)

Related: 8 tips for taking a great selfie with kids
3. Whistle Camera app for Android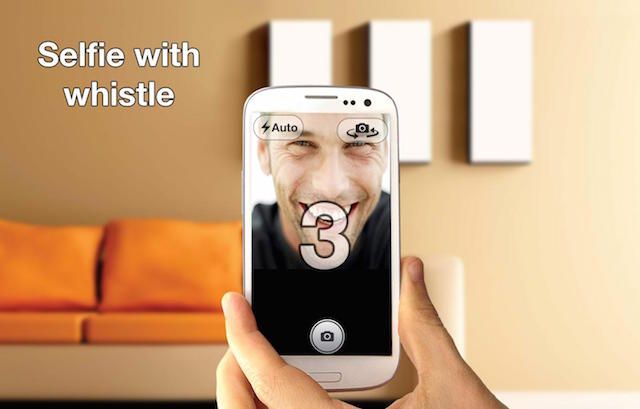 Fear not Android users, there's a CamMe copycat out there for you too. The Whistle Camera app name kind of gives it away; you just whistle to initiate the selfie snap countdown and that's it. You could even mount your Android device on a shelf or at a distance, whistle and take the picture. The app promises auto-focused, high quality snaps, every time.  And now you can start capturing video too, by just giving your phone a shake. Pretty neat, right?
If you can't whistle, no worries there.  You can opt to set the sensitivity on the app to level 1 and make noises that sound like you're whistling and you're golden. Provided your friends don't make fun of you for not knowing how to whistle. (Free download on Google Play.)
4. iOS 8 Camera Timer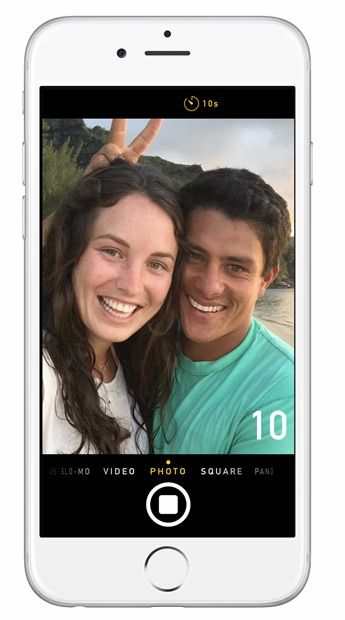 (Photo by 9to5mac.com)
When I got my iPhone 6, I immediately upgraded to the new iOS 8 because I read about all the new, cool features the update brought to the Camera. One of those new, cool things was the self-timer.
Here's how to access it:
Open Camera>Tap timer icon at top >Choose time option (none, 3-sec, 10-sec)>Press shutter
You can use the self-timer in Photo or Square mode. (The timer doesn't work on video or Time-lapse.) With the iPhone 5s, 6 and 6 Plus, using the self-timer automatically enables the burst mode — where 10 pics are snapped super quickly. The only small hiccup to the self-timer is there's no sound letting you know the countdown has begun, and the numbers can be hard to see in the bright light of day. But it renders your selfies hands-free, it's already comes with your iOS device and it's easy. So, really, who's complaining?
5. Samsung NX Mini Smart Camera
Now, if you're super serious about taking your selfie game next level, you might want to consider this cool camera from Samsung. The Samsung NX Mini Smart Camera is slim, lightweight and becoming known as "the selfie camera" thanks to its quick flip-up feature on the 3-inch touch display. I work with Samsung as an "Imagelogger" and got an early look at it; I was happy to learn about the smart camera's neat wink mode for selfies. Just give the camera a simple wink, and two seconds later it takes the shot. Or you can opt for the smile mode, which — you guessed it — waits on your smile to snap a pic. Convenient. I mean, you're smiling anyway for that selfie, right? (Available on our Amazon affiliate site for $299, on sale now.)
[top photo: stephen cannon via cc]