During the annual Apple Worldwide Developers Conference, as always, people listen and discuss all the huge new Apple news. (Hence the #WWDC hashtag we saw all day yesterday on Twitter.) Apple didn't disappoint yesterday with Tim Cook's big iOS 8 announcement, revealing amazing (amazing!) new features for the iPhone, iPad, iPad Touch, and Mac, and plenty of reasons why you Apple users will rely on your iPhone or other mobile device even more in the fall.
The new operating system is going to boast a completely new experience, making it Apple's biggest update to date — and you thought iOS 7 took some getting used to. From the looks of it, iOS 8 will feature an even more streamlined look and feel, will be more intuitive, and have some really terrific new features, a lot that were definitely developed with families in mind.
We took the time to really go through all the news and cull it down to the biggest iOS 8 features we're most excited about, that we think will have the biggest impact on parents and family life in general. Ready?
iCloud Photo Library: As someone who has 4,800+ kid photos and videos in my camera roll (no joke), I am especially keen on hearing about how photos are going to be treated in iOS 8. One of the biggest updates is that there's going to be a new iCloud Photo Library that will automatically sync all photos taken on any iOS device, giving you a way to access your photos instantly anytime, anywhere, even if they're not taking up memory space on your device. It's not only a time-saver, it's a huge relief for those of us who've ever panicked about losing our phones–and all those great photos of the kids.
Of course that may mean that you'll want to take advantage of more iCloud storage, and after the first 5GB, you'll start paying $.99 a month and up. But that's a small price to keep your phone running fast, with more room for apps and downloads besides photos.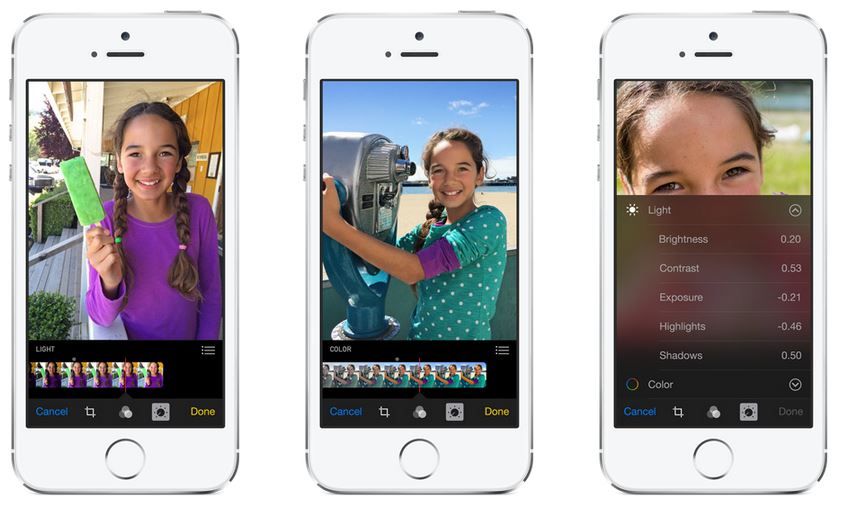 Improved in-Camera Photo Editing: The photo editing functionality is majorly bumped up in iOS8 too, giving you much more editing power to adjust the composition, lighting and color right in the Camera app much more meticulously than ever before. (Bonus: the edits show up on every device, not just the one where you make the edits.) With these new features, I'll be able to salvage all those too-dark or too-crooked kid pictures I trashed before without going into another photo editing app–not that any of us will be ditching  Snapseed or VSCO Cam anytime soon though.
There will also be a slew of new photo filters, because heaven forbid any of us live through 2014 without filtering our photos into oblivion. And it seems from the site that developers like Waterlogue will be able to make their technology and tools accessible right from your  Camera app. That's pretty fantastic, if you've ever opened your photo in multiple apps just to get the editing right.
Time-Lapse Videos: Another photo feature that I'm so excited about? Time-lapse videos. You'll be able to set your phone to record for as long as you want and then create a time-lapse video of whatever you are shooting, whether it's your daughter's 2-hour long dance recital or your kids playing with bubbles in the backyard. It's not something you'll use everyday, but really cool to have nonetheless.
Easier Sharing: Through your messaging features (more on that below) you'll be able to now easily send multiple photos or videos all at once instead of one at a time. Big news for us oversharers, as in all parents everywhere.
Photo Search: But possibly the best feature: search! Right in the Photo app. You'll be able to look for a photo by date, time, location or album name. Which definitely beats thumbing through thousands of photos, as we've all done. There will also be "smart suggestions" but we'll have to wait and see how smart they are.
This is one of the developments I imagine families will love most–it being named Family Sharing and all. The gist is, rather than having to switch your Apple TV back and forth from your husband's account to yours, or log in and out of your iPad to access different apps, iOS 8 will now let you share content from iTunes, iBooks and the App Store from your device with up to six family members. Huge!
This is a fantastic way to save money on all those duplicate copies of Frozen, Pharrell's Happy MP3 and Minecraft for the kids, because everyone will be linked to a single credit card. And before you start fretting about your iPhone-toting-teenager's spending habits, rest assured that you've still got pre-purchase approvals on everything.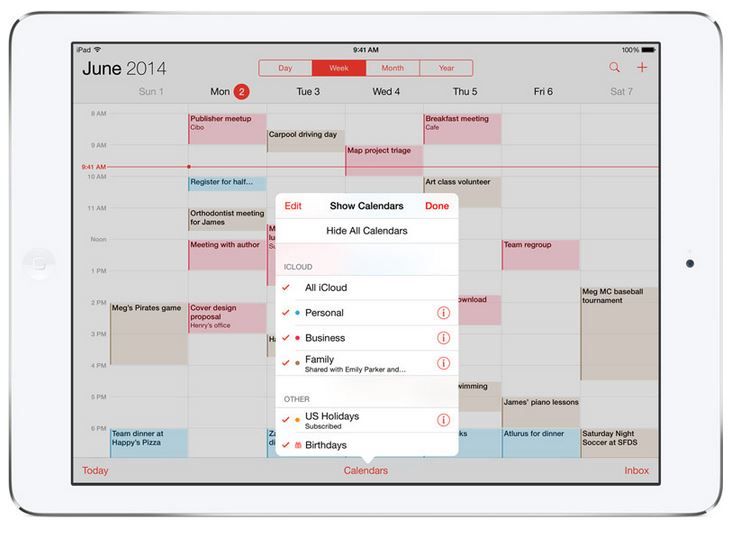 What makes Family Sharing super handy from an organizational standpoint, is that anyone in your Family Share circle will also be able to share photos and…calendars. My husband live and breathe by our joint Google Calendar, but with this new feature on our phones, we'll be able to input and view all those sports games, practices, music lessons and birthday parties directly in the Calendar app that so many of us like, without having to go through a mobile website.
Plus there are better on-screen alerts for appointments in iOS8, similar to what happens on Maverick. You can even accept or decline an invite without leaving your current app (pivotal Candy Crush moment!) and going  into Calendar It's something Windows phones have been good at for a long time and it's nice that it's coming to iOS.
Audio Messaging: If you're like me and texting has become a primary mode of communication, then you're going to love the new features in Apple's Messaging app in iOS8. The coolest is probably the ability to insert your voice (or anyone else's) into texts as well as video.
Although at my house, we Facetime with the grandparents on a regular basis, sending them an audio clip of the baby saying her first words and them being able to listen to it over and over (and over) again is priceless. It's like someone at Apple took a little cue from the ever-popular Voxer app perhaps?

Location Sharing: You can auto-share your exact location during a text message exchange, which is perfect when you're waiting in a small playground in Central Park for the rest of your group to show up, while they're standing on 5th Avenue trying to figure out where the heck you are. It's also a nice way to show your cousins that you're stuck in traffic and you're "this far away" from making it to Thanksgiving dinner on time.
Expiring Texts: I'm not sure how I feel yet about the new feature that will allow texts to expire (a nod to the controversial SnapChat app) and obviously my concern is with how younger users will start using the feature–but fortunately there aren't a huge ton of kids with their own iPhones because of the price (iPhone 5C not withstanding).Now it could be a helpful feature for sensitive information you send over text, like if your accountant needs your social security number or your partner needs to confirm your credit card number.  But I'm still on the fence about sharing that info over text, especially since we now know that screenshots don't always "disappear" the way they should.
Group Texts: If you tend to email six people at once to gossip about Game of Thrones, coordinate carpool pickups or figure out what to get Grandpa for Father's Day, there are some minor but helpful improvements to group texting, like the ability to name the group something besides "Kristen, Liz, Jeana" which you could easily confuse with "Kristen, Liz, Jeana, Julie" when trying to figure out Julie's birthday gift. Oops.
Plus the ability to drop out of a group conversation? LIFE SAVER. And yes, that deserves all caps, if you've ever been stuck on a reply-all email list from hell and had to be the bad guy who says "uh…can you remove my name?" and then feel like everyone hates you. (Admit it, we've all been there.)
Desktop PC-to-Mac Texting: Last, Mac users will be able to get texts even from non-Mac users right on your desktops with a handoff feature, which could be helpful if you're a heavy Message user on your computer.
A Smarter Keyboard with Predictive Text: While this goes well beyond texting, we're intrigued by the promises of a wildly intuitive keyboard with predictive text based on not just what you're writing, but who you're writing it to and where. Whoa. That means your messages in text to your BFF will not get the same treatment as emails to your boss. Or so we can hope. Jury's still out on how functional and useful this will be, of course, but I like the idea of getting a yes/no prompt to answer to a question instead of typing that in myself longhand. (Because "yes" is so long.) And having the option of a third-party keyboard means more customization, and possibly more time saving and less of that dreaded Texting Claw.
All those fitness tech gadgets we've covered are going to get a run for their money with Apple's brand new Health app that's coming out. Using Apple's HealthKit — an open platform for developers to sync health apps to your phone — information from compatible fitness apps will be combined into one major health dashboard that will give you access to info like your activity levels, nutrition, medications and sleep patterns. In other words, you just may be able to get all the info from your Jawbone or Fitbit coordinated with your  Runkeeper Breeze app, but we'll have to see who plays along. (I imagine everyone, to be honest, since all the top fitness tech companies focus on iOS first.)
It's also got benefits for actual medical care, like how the Mayo Clinic doctors can send health info right to a patient's app so you can forward it to your own doctor. That's amazing.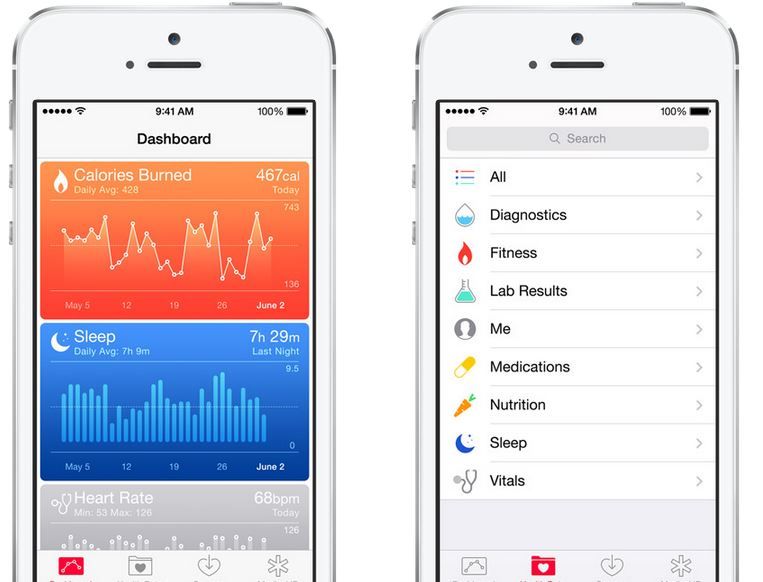 While new parents hardly need to be reminded just how many times they're being woken up a night by a toddler, having all that data in one place with a free app is a fantastic way to make your health a priority. At least once in a while. Of course we wonder how it will stack up with the excellent Runkeeper Breeze app and others with similar features.
One of the biggest indications of how the iPhone can become the central hub of our families is the announcement of HomeKit. Like HealthKit and its platform for letting developers sync to health apps, HomeKit will do the same for household tech gadgets and home automation apps.
The apps will be controlled by your phone and Siri, so you can bark commands like turn on the heater, or turn off the lights that the kids leave on all day. We're talking door locks, the thermostat, the air conditioner–anything you might be using  a WeMo to control. In other words, HomeKit will make the concept of a totally connected home no longer a Jetsons-era wish for hundreds of thousands more families that don't yet have a WeMo or a Revolv Home Automaton.
So…Excited?
These are just some of the features of iOS 8 that got us the most excited as parents, and the ones that we think other parents will make the most use of. But of course there was more. (It was a long conference.) Apple offered a sneak peek into other cool features like a more intuitive keyboard, better Spotlight searches and way easier email management, to name a few. Plus there's going to be the introduction of  OSX Yosemite. And just when we were getting used to Maverick.
We can hardly wait to test these features out ourselves and we'll be sure to share our thoughts with you. While the fall release seems like a long time away, all signs point to it being well worth the wait.
To read about other awesome new features of iOS 8, check out the Apple website. The new operating system will be available for iPhone 4S and up, and iPad 2 and up starting fall, 2014.