We are a house divided.  My husband is an Android user (but I love him anyway), and I am an iPhone user.  We need a calendar app that works with both, allows for the importing of Google calendar an iCal and automatically refreshes it.  Is this a possibility? -Elizabeth
Believe me, we hear you, Elizabeth. There's already enough juggling going on in modern parenthood. Adding two different calendars to the mix often makes things that much more complicated. So we suggest finding one truly great calendar that works for the whole family. Here are 3 of the best calendar apps for families that continue to impress us.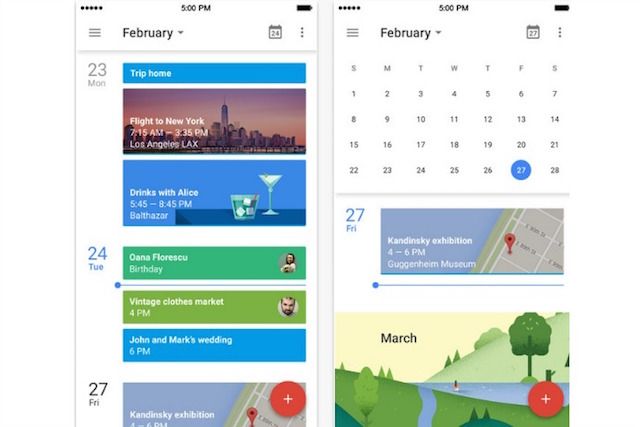 1) Google Calendar
The best thing about the free Google Calendar app is how it syncs up to all things Google. Of course! So if you lean hard on Google for gmail, maps, events, whatever, then this is definitely the one to consider downloading. One small gripe (in addition to it not yet being available for iPad) is with the weekly view: If your family tends to schedule a lot of events on the calendar, things can look a bit cluttered and you won't be able to see each entry clearly. But really, it's a great app and translates multiple google calendars well. (Free on iTunes and Google Play.)
Related: 15 IFTT recipes for parents to make life easier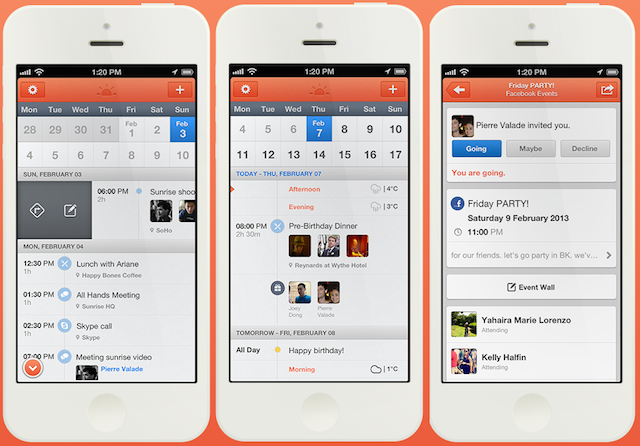 2) Sunrise calendar app
If an app's design is high on your list, then definitely check out Sunrise. Not only is this popular app intuitive, it's one of the best looking calendar apps out there. The clean, bright interface is also super easy to navigate, and syncs with all your major calendar services — Google Calendar, iCloud, and Exchange, plus Facebook events and birthdays (which you can turn off, by the way). We wish there was a search function, which no surprise, Google does really well. But overall, Sunrise is combines functionality, practicality and style quite nicely. (Free on iTunes and Google Play.)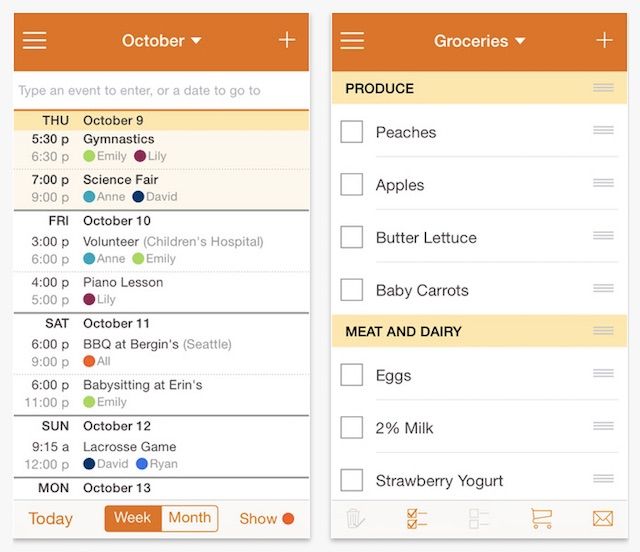 3) Cozi app
It may not be the prettiest horse in the stable, but what it lacks in design aesthetic, Cozi app makes up for with usefulness. You can house a lot of good info in this free app that does require a separate account — To-Do lists and family journals to reminders and color-coded individual schedules. And the weekly email outlining what's what and for whom is another plus. Keep in mind that the free version does have ads, so if you want to get rid of them, you'll need to upgrade to the paid version. But if you're looking for more of a handy family organizer that you can access on your smartphone or desktop in a snap, this is it. Lots of families swear by it. (Free on iTunes and Google Play.)
Need more calendar app recommendations? We've got lots in our archives!