As a diehard Google calendar user and an iPhone lover, I've tried out tons of iPhone calendar apps over the years, none of which were actually made by Google. Until now!
Once you download the free Google Calendar app for iPhone, you'll login with your account (or if you're me, multiple accounts). The app instantly syncs with your calendar, showing what they call "schedule" view on your screen, which is basically a visual representation of all your calendar events that can fit on your iPhone screen, depending on how busy you are, or course.
They've even included fun graphics for certain things, like suddenly my daily runs have an illustrated sneaker graphic, which I admit I kind of like.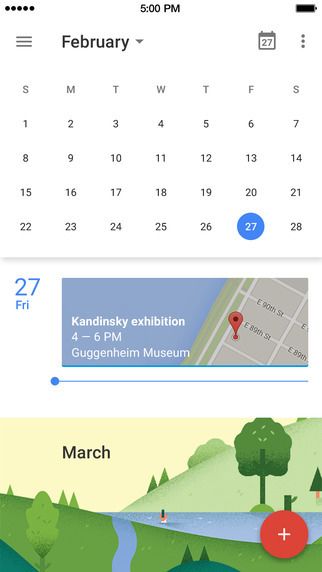 I figured out how to use the calendar in just a few seconds, which is a credit to Google for making it so intuitive.  With a few clicks and swipes, you can get everything from the details of specific events and an entire month calendar (above), to a daily or 3-day screen view. Though I will say the 3-day layout is probably the clunkiest and least useful part of the app, at least for me, anyway.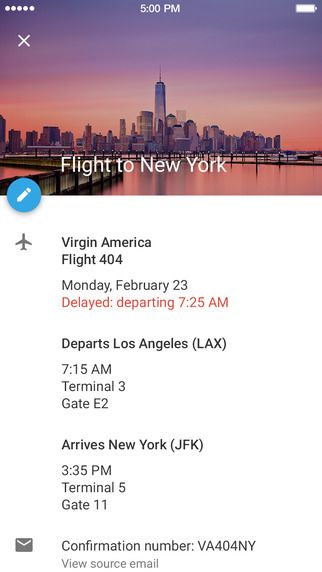 The app does sync with your Gmail account, so it will add events to your calendar that you receive in your email box (above), like a hotel reservation, plane tickets, that sort of thing. Pretty helpful! Though it does not work with those of you using the Google mail app. And hey, if you think it will drive you nuts, just turn it off within the app. Simple.
Related: A calendar app that's made for couples
The search feature is a lifesaver because instead of having to scroll through your calendar, you can just type in what you're looking for and it will take you right there.
My only complaint, and it's a small one, is that you can't tap right on the calendar to add events. Instead, you need to click the "+" button on the bottom right. It's not a huge hassle and certainly won't deter me from using the app, but I would like the option to click on the calendar at a time slot to add something in as well.
Bottom line: If you're used to a calendar app with tons of bells and whistles and you like having all those features, then you might want to stick with what you have. But if you're like me and are looking for something that's quick to set-up and super easy to use, then download this right now.
You can download the new Google Calendar app for iPhone on iTunes. We've also featured a bunch of other calendar apps for iPhone so check our archives!