Now that our iPhone 6s have been out for a while, we've had some time to shop around for great screen protection for our phones. Because, life. And kids. And well, sometimes we're just clumsy. Cracked screens (and their accompanying repair bills) are no fun, but with some of the best iPhone 6 screen protectors, we can avoid both.
And especially with yesterday's big Apple announcement (prepare ye for the fall launch of a new iPhone model) you might be thinking about passing your current model onto the kids. Which makes this a perfect time to look at the best iPhone 6 screen protectors which won't affect your touchscreen capabilities, and all have your back where protection is concerned.
CMT is an Amazon and rstyle affiliate
1. OtterBox Clearly Protected iPhone 6 screen protector
The OtterBox Clearly Protected screen protector (at top) is the obvious choice if you have an OtterBox case, one of our favorite brands for parents — or anyone, really. It will disperse bubbles within 24 hours, and their privacy screen protector makes it harder for people to see what you're doing on your screen. Which is great when you're trying to text privately with a kid looking over your shoulder. ($29, Amazon with free Prime ship)
Related: Otterbox Resurgence: Top-notch protection in a battery charging case
2. Loopy Case Tempered Glass iPhone 6 Screen Protector
My Loopy Case is one of my favorite tech accessories ever. I can slide my finger in the loop on the back, leaving my hands free to carry groceries, a cocktail (ha), or a kid. But until now, they haven't included screen protection. Their new Vibe case adds the option for a tempered glass screen protector, which I think is about the best you can get. It's just another level of protection for the screen on an already almost-undroppable phone case. ($10.95, Loopy Case)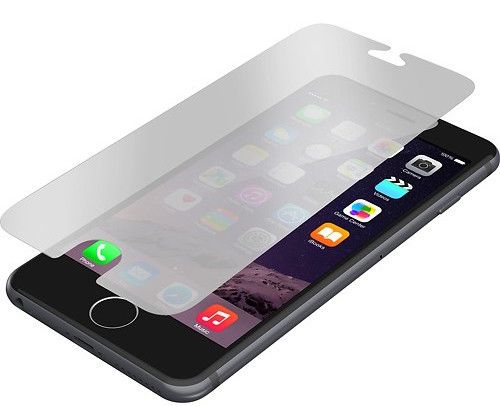 3. Zagg Invisible Shield Mirror Glass iPhone 6 Screen Protector
The Zagg InvisibleShield Mirror Glass screen protector is a thin sheet of glass with anti-glare coating, which makes it easier to see your screen when you're outside in full sun. I like the tabs on top that help you put it on without getting fingerprints all over your screen — which always makes it harder to stick, leading to those dreaded bubbles. But some reviews suggest this one is not quite as responsive as the other brands, so take that into consideration. ($29.95, Amazon)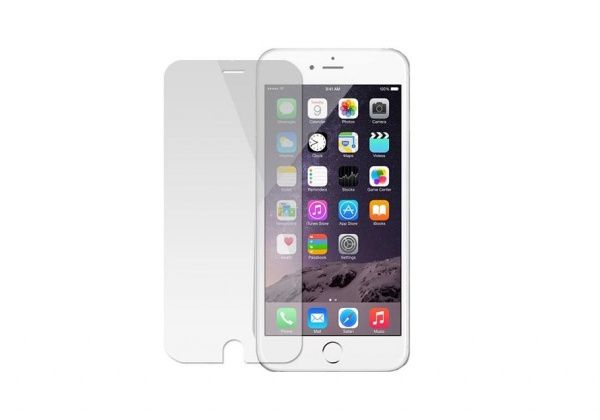 4.The Obliq Zeiss Pure Xtreme iPhone 6 screen protector
The Obliq Zeiss Pure Xtreme  resists the obvious scratches and cracks, but it also — impressively — resists dust and fingerprints. So it won't start coming loose at the edges, like film protectors can do. It's cut to fit perfectly to the very edge of your screen. Great for type-A's like me. And right now, it's on sale at a whopping 75% off on our affiliate Amazon. Worth a try at that price for sure. ($9.99, on sale at Amazon for a limited time)
Related: 30 of the coolest iPhone 6 cases to suit any style
5. Belkin TrueClear Invisiglass iPhone 6 Screen Protector
We got a look at the Belkin Trueclear Invisiglass Screen Protector for iPhone 5 at CES last year and were extremely impressed, especially after the rep pretty much dropped stuff on his own phone's screen to show us just how well the shock absorption wors. (Eek.) So it's great knowing they have them available for the 6 and 6+ now too. These screen protectors are made from real flexible glass, so the company claims this smooth protector is nine times stronger than regular plastic protectors. It gets high marks for a super thin profile, simple installation, and protection from scratches. Since we love so many of the smart, innovative products from Belkin, it's no surprise that this one makes our list. ($34.95, Apple Store)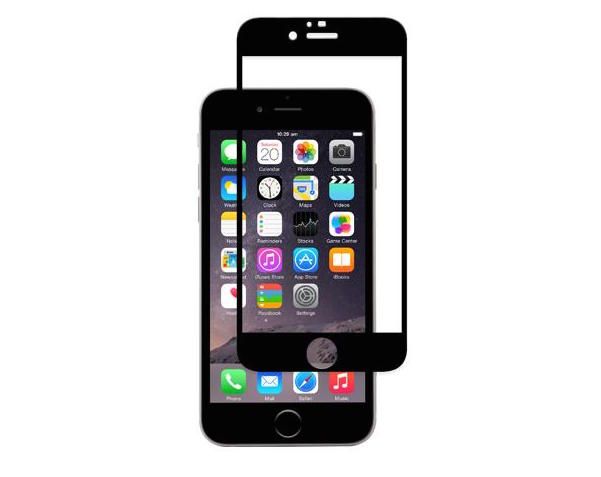 6.Moshi iVisor Glass Screen Protector
While I haven't tried actually shooting it, the Moshi iVisor Glass claims to be a bulletproof vest for your phone. You can't even scratch it with a knife, thanks to atomically strengthened "IonGlass," however that works. Sounds very DC comics to us. This screen protector is also bubble-proof and resists fingerprints, and should your iVisor Glass become damaged while protecting your phone, they'll replace it for free for an entire year. Just know there are some mixed reviews on Amazon, though it does get strong recos from other sites we trust like Slashgear and forums on Reddit and MacRumors. We get the sense that an initial shipment was flawed, and that fixes have been made since then, with customer service being incredibly responsive. So do a little research before taking the plunge; however the Moshi could very well be the Rolls-Royce of iPhone 6 screen protectors. ($39.95, Amazon)
If you're not an iPhone user, lots of these companies make screen protectors for other models too. Be sure to take a look!
Top Photo: Håkan Dahlström via Compfight cc