Next up in our 2015 Holiday Tech Gift Guide series, we've put together 14 really cool custom photo gifts for anyone on your list We're talking sleek photo books, unique prints, amazing keepsakes, even a tasty photo treat or two — basically, more reasons to finally do something with those favorite digital pics still taking up space on your phone!
We're super pleased to share this guide on behalf of our sponsor, the Tile Bluetooth tracker. If you've ever lost your keys, misplaced your camera bag, or been asked "Where's the charger?" for your kid's favorite tech toy well, you need to meet Tile. You won't regret it.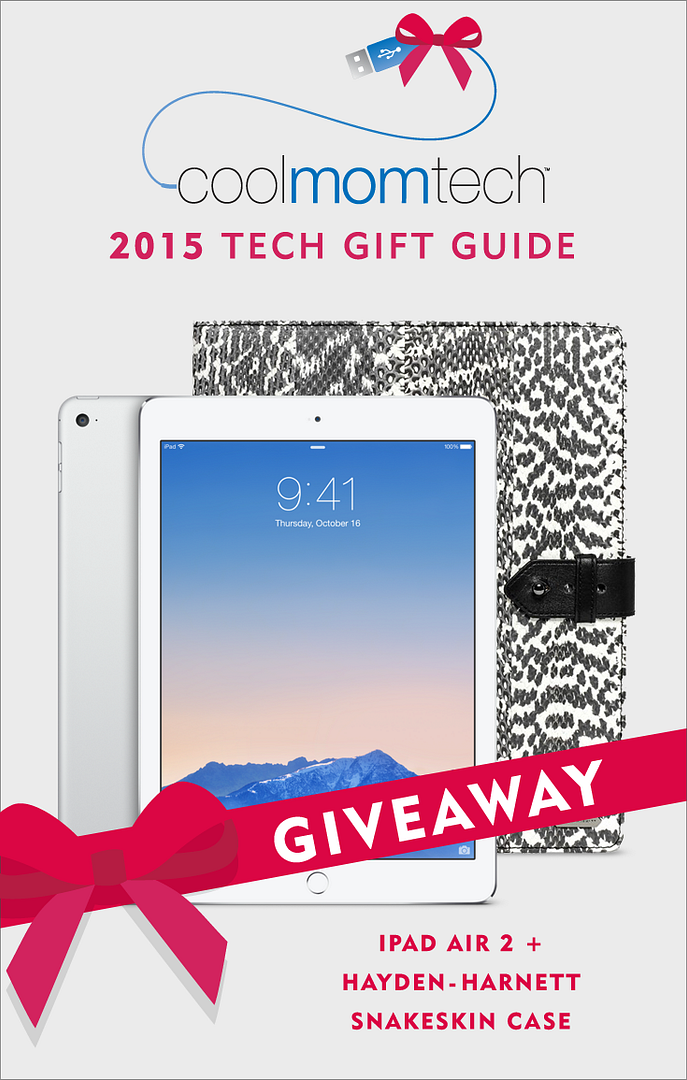 And of course, it wouldn't be a Cool Mom Tech gift guide without a fab giveaway. This year's fantastic prize includes a brand new iPad  Air 2 and a gorgeous designer case! So be sure to shop for everyone on your list, then make sure to enter for a little something just for yourself. Or hey — you could give that away too. What lucky friends and family you have!
– Don't miss a chance to win an iPad Air 2 and designer case  from Cool Mom Tech!
Details below – 
There has been no compensation for inclusion in our guide; all items are selected by our editorial team. CMT is an rstyle and Amazon affiliate.
Leave it to Photojojo (a Cool Mom Tech fave) to find a way to make a photo print gift fresh and exciting all over again. This time it's via Risograph, a machine invented in Japan in the 1980s that rolls soy-based ink through a precision custom stencil onto art paper, resulting in these fantastic looking 11-by-16-inch prints washed in remarkable neon hues including teal, blue, pink or orange. So, so rad. ($30, parabo press)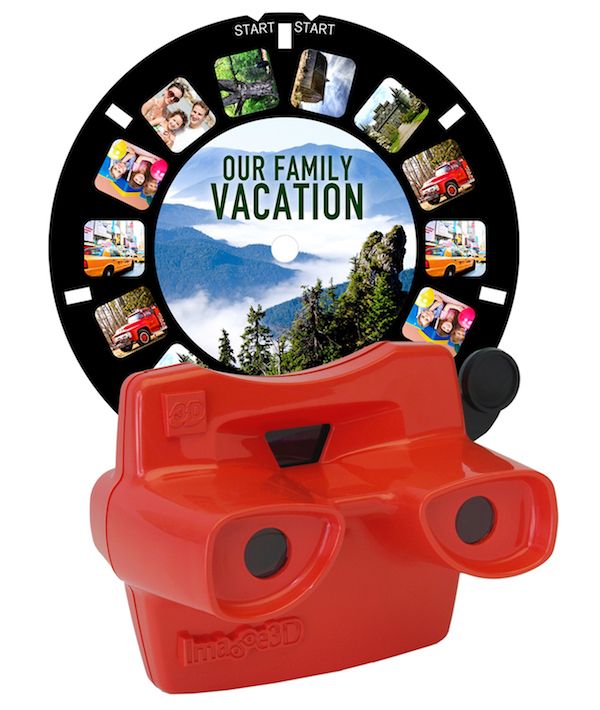 We stepped into a time machine and blasted back to our childhood with this amazing gift find. Oh, what fun! Reelagram is such a cool service that let's you make old-school slide reels directly from your Instagram feed. And get this: The pics are 3D. Uploading your 7 photos is easy, and you can add text too. The hard part? Deciding which 7 images you want to use.  (Starting at $29.95 for a reel + viewer, Reelagram)
No need to think outside the box with these cute customizable bamboo photo blocks. Capture baby's intro to avocado, the crazy-laugh-a-minute vacation the family took to L.A. last summer, or your favorite sunset photos and make those wonderful memories last on this affordable keepsake photo gift. In addition to using bamboo — a renewable resource — for the Kubelets, Paper Culture also plants a tree in your honor with every order, keeping it eco-friendly, one square at a time. ($20+, Paper Culture)
We thought these insanely original custom photo marshmallows out of the UK were great when we found them last year, but now they've upped the cool factor with plenty of designs to choose from. So they can "marshmallowficate" your favorite photos, then mix them up with illustrations from a number of fun design themes including holiday, emoji, or tech nerd jokes, and package them all beautifully. It's all fab, fun and fluffy.  ($25, Boomf with free worldwide shipping)
Just think how much more lovingly you'd approach your To-Do list or grocery shopping list if it were written on a customized photo notepad starring your kids. Aww, right? That's why this was a top pick for us in our holiday gift guide category of 40 awesome gifts for adults under $15. Opt for the collage (above) or portrait design and don't be surprised if you start blowing kisses at your Things To Pick Up at the Drugstore list. ($12.99, Pinhole Press)
We also named these affordable custom photo coasters among our picks for the coolest personalized gifts for the holidays on Cool Mom Picks this year. Because we're not sure when it happened, but somehow we became the types of people who insist that guests use coasters. Life comes at you fast, man. Good thing these keep us feeling hip and fun with due respect to your Great-Grandma's lacy doilies. More cool points? The personalized photo coasters are printed on luxe, super thick, 100 percent recycled paper. ($20, Paper Culture)
—————-

sponsor
Attach the Tile Bluetooth tracker to your keys, your tablet, your point-and-shoot, your child's frequently misplaced lovey… you name it. You can ring the item right from your phone using Bluetooth. Check the Tile app map to determine the last place it's been. Or if it's your phone that tends to go missing, attach a Tile and you can make the phone ring — even if it's on silent– so you can track it down from another device or on the Tile website.
Order on their website TheTileApp.com, and get a free Tile gift pouch with every 8 or 12-pack purchase, making it a perfect gift. You can also find it in all US Apple, Best Buy Lowe's, Target, and T-Mobile retail locations as well as on Amazon.
Let's hear it for not losing stuff!
—————-
Photo books are always a perfect holiday gift, and while there are lots of companies we adore, we remain big fans of the exquisite work from Artifact Uprising, which offers tons of lovely, premium, custom photo gift ideas to help us tackle those virtual mountains of  digital pics on our devices. We're liking their affordable new softcover photo books built just for square images (hey there, Instagram!), and we can already see a new hobby developing: collecting a new volume each holiday with your favorite photos of the year. Especially since it's so easy to connect directly to your IG feed; no uploading needed. ($17.95+, Artifact Uprising)
Related: 11 creative ways to make an end-of-year photo book more special
Since discovering the gorgeous photo lockets from With You Lockets this time last year, we've been really taken with their growing collection. This year, we're all taken with their beautiful Mini peek-a-boo locket with petite center diamond in yellow or rose gold. Just add a custom printed photo (or two) of your kids, partner, or late grandparent for a really special gift. ($229 alone or add $25 for one photo and +$35 for two, With You Lockets)
Use code thankyou for $25 off every order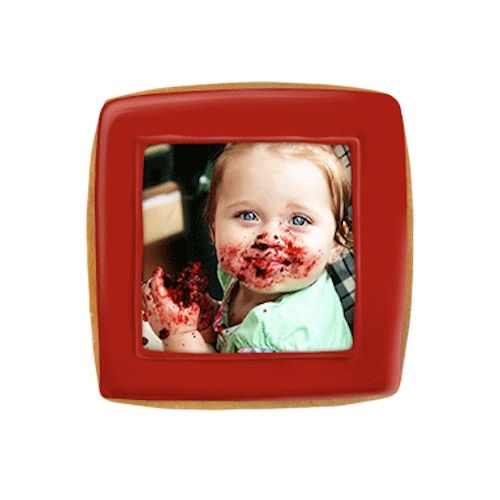 "I could just gobble you up!" How many times have we said this to a cute-pie baby? Well, thanks to the fabulous Eleni's, you could do just that. The square picture frame buttery sugar cookie features an image of your Little Cookie, Little Peanut or — ahem — Medium Teenaged Couch Potato painted right into the frame. Also check out their custom photo holiday cookies. Sweet!  ($9 each with minimum order of 12)
Add a little sunshine to your desk in 2016 — and beyond — with these cute and colorful perpetual desk calendars. Choose from orange-pink-and-yellow or blue-and-green and start mixing and matching your color combos and 12 photos according to your mood for the day. ($24.99, Pinhole Press)
Related: 9 fantastic photo books under $30 for sweet but affordable gifts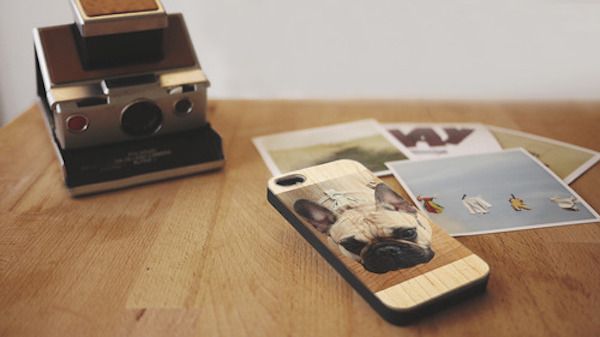 Casetify (formerly known as Casetagram) is all about showing off your personality — and photos — right on your iPhone case. In other words, you don't even have to go into your album to show off a favorite or four. The site makes it super easy to customize your case by uploading favorite pics from Facebook, Instagram or your computer and we like the results. ($40, Casetify)
You know that absolute favorite photo of your kids — the one where they are all getting along and actually smiling at the same time? Well, time to truly cherish that memory by making it fluffy and huggable. We admit we're not always fans of photo pillows, but these personalized faux suede pillows with some elegant typography options happen to be a cut above most we've seen.  Now that's something to sink into for the holidays. ($29.39 on sale, SnapBox)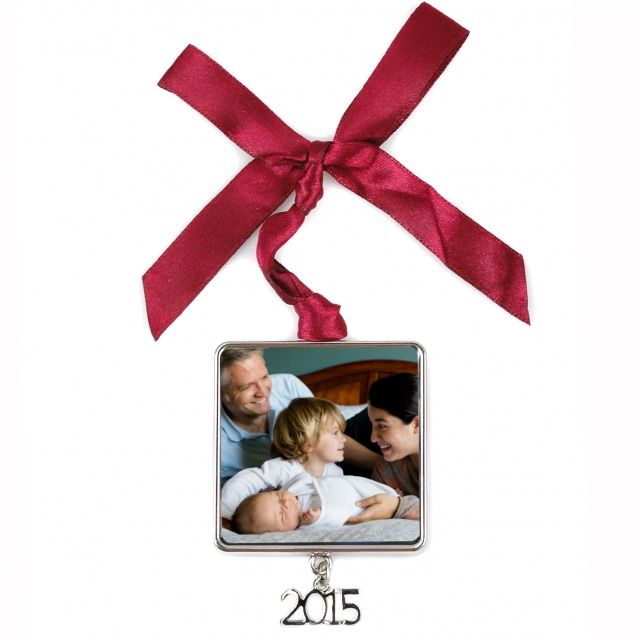 A new personalized photo ornament is an annual tradition for so many families. If you're decking the halls this year, this delicate, square, plated pewter photo ornament — complete with cranberry silk ribbon, snazzy gift box, and optional engraving  — is one of the nicest we've seen. Personalize it with a photo of the whole family being merry and bright and you've got a great family gift. ($40, Planet Jill; $15 for engraving)
Sometimes the best custom photo gift is as simple as a really, really special photo. And gifting it doesn't get easier than this brand new company's excellent and affordable service: Choose a picture frame that you love and upload a photo that you want framed. Done. Frameology does the rest. The frames themselves are gorgeous, made with materials from gold to pewter to beautiful burled woods. They even offer to gift wrap the frame in a fancy black box and tack on a handwritten note. Picture perfect. ($29 and up, Frameology)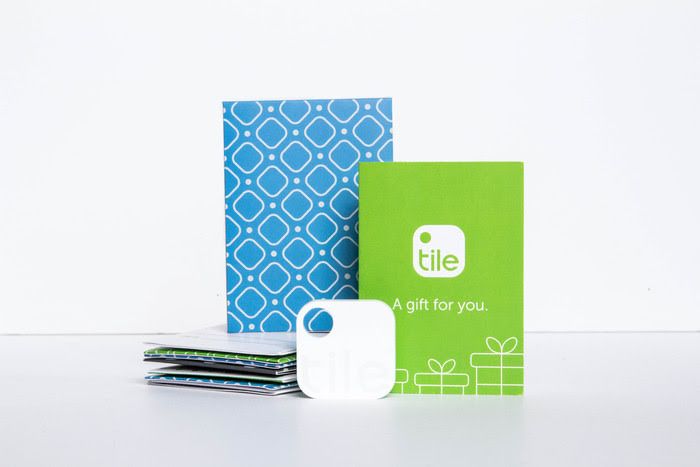 Thanks so much to our sponsor Tile, which is helping people find 250,000 items a day. Whoa! The Tile makes a fantastic gift for anyone who's ever misplaced or lost anything ever. Know anyone like that?
Be sure to check out how to enter the Tile #FindWhatMatters contest through 12/11 with a chance to win one of three big cash prizes plus free goodies from Tile.
EXTRA-COOL: WIN IT!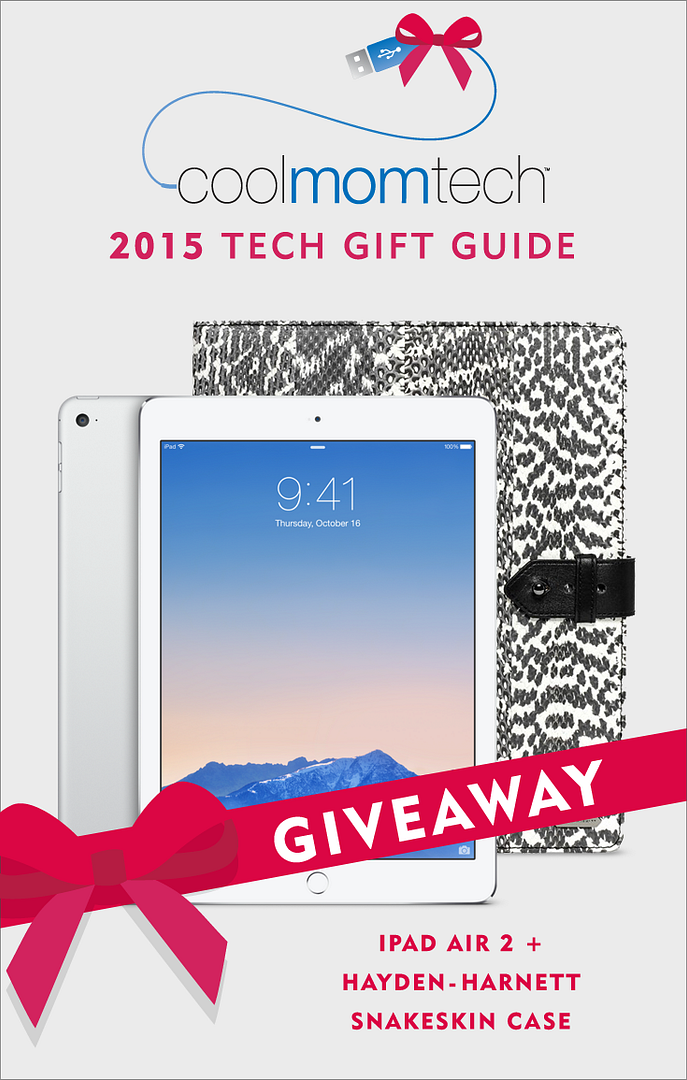 Of course we couldn't have a tech gift guide without a giveaway, and wow, it's a good one (if we do say so ourselves). We've got a silver iPad Air 2 (WIFI, 16GB) + a gorgeous Hayden-Harnett snakeskin case up for grabs for one lucky winner. Nice!
To enter: 
Follow Cool Mom Tech on Twitter AND tweet a link to this post with the hashtag #CMTHoliday
Like Cool Mom Picks on Facebook AND share a link to this post on your feed. Make sure to send your link to info@coolmompicks.com with CMT CONTEST in the subject to be entered.
Follow Cool Mom Picks on Instagram AND share a photo of one of the items on this post on your feed. Make sure to use the hashtag #CMTHoliday
That's it!
The nitty gritty: You can enter a total of three times on each Tech Gift Guide post, for a total of 18 entries. Contest ends 11:59pm PST on 12/25/15. You must be 18 years or older to enter. U.S. residents only, void where prohibited. Official sweepstakes rules and disclaimer here.
And stay tuned for more 2015 Tech Gift Guide posts (and chances to enter our giveaway) over the coming weeks!
– The coolest tech gifts for travelers
– Cool gifts for photographers
– 16 really cool STEM toys and gifts for kids
– Cool designer tech gifts for the stylish woman on the go
– Cool tech gifts for men and women under $25