We are so happy to present our 2015 holiday tech gift guide, where we get to share with you the coolest, most fun, most gifty of the giftiest tech gifts for everyone you love on your list, starting with some of our favorites: The coolest tech gifts for travelers. Whether you're shopping for someone who's got frequent flyer black diamond status or just a parent spending way too much time carpooling the kids, hopefully we've got a perfect tech gift here just for them.
And we're extra happy that this year, our gift guide sponsor is an awesome company we've been supporting since even before they officially launched: Tile Bluetooth tracker. If you have ever been like, "why isn't there a clapper for my keys?" well friends, this is pretty much it.
– Don't miss a chance to win an iPad Air 2 and designer case  from Cool Mom Tech!
Details below – 
Attach the tile to your keys, your wallet, your passport, and you can ring the item right from your phone using Bluetooth. Check the Tile app map to determine the last place it's been. Or if it's your phone that tends to go missing, attach a Tile and you can make the phone ring — even if it's on silent– so you can track it down from another device or on the Tile website.
Let's just say we're all for not losing stuff, especially when it comes to important things. It's helping find an average of 250,000 lost or misplaced items a day — and it's even helped track down a stolen car and lost luggage halfway across the globe!
So of course it can help you keep track of cool travel tech gifts like the ones below. So thanks Tile, from parents everywhere! And happy shopping.
There has been no compensation for inclusion in our guide; all items are selected by our editorial team. CMT is an rstyle and Amazon affiliate.
We've been fans of the ever-expanding roster of beautifully made leather tech accessories from This is Ground, since we first discovered their clever little tech accessory wranglers, the Cordito and Cord Taco. Well their Dopp Kit has no fast food tex-mex chain inspired name, but we love that each one is handmade to order, making it as special as it is practical. ($99-199, This is Ground, 10% off with HOLIDAY10)
You can't think tech gifts for travelers without thinking noise cancelling headphones, right? And the QuietComfort 25 is the latest and greatest from Bose, designed to stay on comfortably, fold up compactly, and of course, sound amazing while eliminating that plane engine roar — or maybe the crying baby three rows behind you on the redeye.  ($299, Amazon; be sure to select the right edition for your device)
You really can't go wrong with Kate Spade, in our book at least, and these grosgrain bow tech gloves are no exception. They're fun and festive, and let that stylish traveler in your life (hey, maybe you?) use her phone and tablet without your hands getting cold. Plus, with all the black and gray and brown travel gear, the pop of color, and even that bow detail, is most welcome. ($58, Bloomingdales)
When we took this for a spin around the International Gift Show this year we immediately scribbled it down on our tech gift wishlist. Both the navy and black are gorgeous for men or women, with that real leather trim that makes it look far pricier than it is. Inside, though, is what really matters, with two roomy compartments including a sleeve to hold up to a 15″ laptop securely inside.  ($399, ebags)
Friends don't let friends travel without backup power. We recently discovered this amazingly thin — and amazingly gorgeous — travel charger which is designed to match your iPhone. Better, it comes with a swanky leather case that holds both together. ($79.95, Apple Store)
Attach it to a backpack or a bike, stick it in on your hotel nightstand, or just keep it in the car for musical emergencies. From the makers of the UE Boom comes this Bluetooth speaker with a size and weight that belies its booming bass and 360-degree sound.  ($87 on sale, Amazon)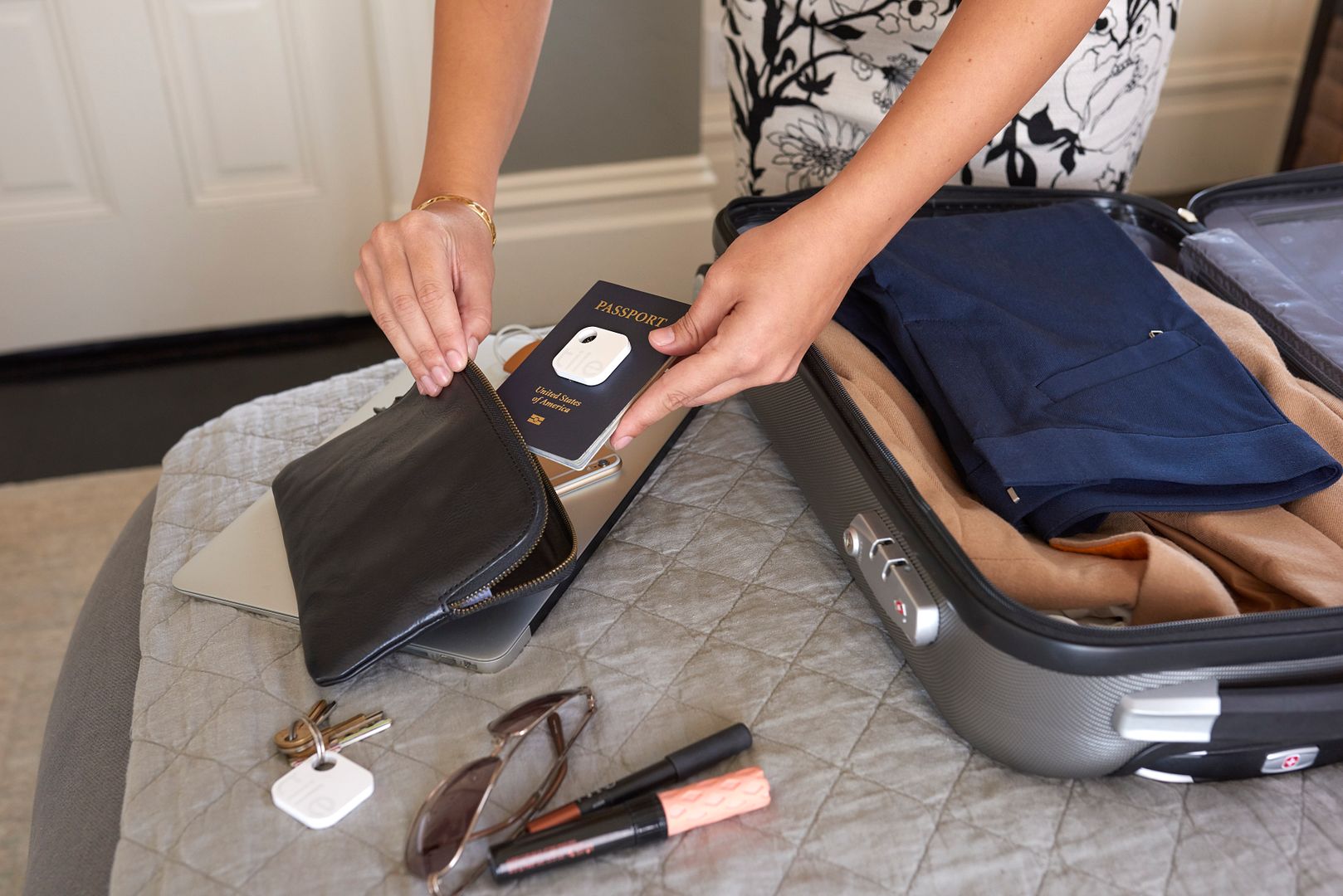 We've recommended the Tile tracker as a fantastic gift before, and we'll do it again. Especially considering how many new amazing features there are to help you find your stuff. Check the "Last Place Seen" on the in-app map to find your item, or expand to a private search that leverages every Tile app in the community, in 214 countries around the world. Whether you're a frequent traveler keeping track of passports and luggage, or just a frequent I-can't-find-my-keys-and-I'm-late-again type (ahem), this is a fantastic, affordable gift for a whole lot of people on our own lists. ($25 each with bulk discounts at Tile website as well as Apple, Best Buy, Lowe's, Target, Amazon, and TMobile locations)
For a limited time, get a free Tile gift pouch with every 8 or 12-pack purchase
We love this unisex, handcrafted messenger bag in three colors, that's durable, handsome, and super convenient when you're on the go. There's room to carry an 11″ laptop or tablet, a camera, up to two lenses, and the rest of your small essentials. Plus, we love that it's a collaboration between ONA and the non-profit NYC based 100cameras where a portion of the proceeds will help kids turn stories into sellable photography that directly funds essential needs in their communities.  ($279, ONA Bags)
The perfect tech accessory to turn your tablet into a work machine, and the perfect portable size and weight to take it on the go. It connects with any Bluetooth enabled device all including Apple TV so this is one travel tech gift you can get great use out of at home, too. ($39.99, Amazon)

With the Texture app, your favorite traveler will never ever run out of reading material. So, even though they might be on the other end of the world, they'll have access to all their favorite weekly or monthly magazines they love at home, right on their tablet. (Free 7-day trial, then $9.99/month for basic subscription)
If you want a thoughtful, affordable little gift for a traveler, this cool little keychain has concealed connectors to let you grab an emergency phone charge to any USB port, without a bunch of wires cluttering your purse or bag. ($29.99, Native Union)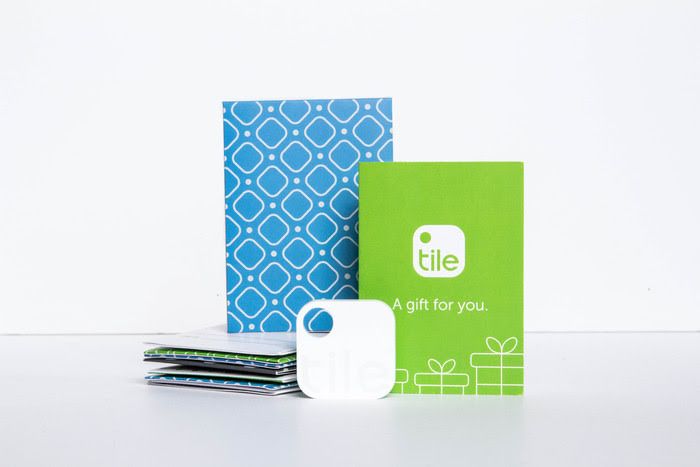 Thanks so much to our sponsor Tile, which is helping people find 250,000 items a day. Hopefully, that's not all for the same person. Find it on their website TheTileApp.com, and get a free Tile gift pouch with every 8 or 12-pack purchase. You can also find it in all US Apple, Best Buy Lowe's, Target, and T-Mobile retail locations as well as Amazon. 
Also check out how to enter the Tile #FindWhatMatters contest through 12/11 with a chance to win some big cash prizes.
EXTRA-COOL: WIN IT!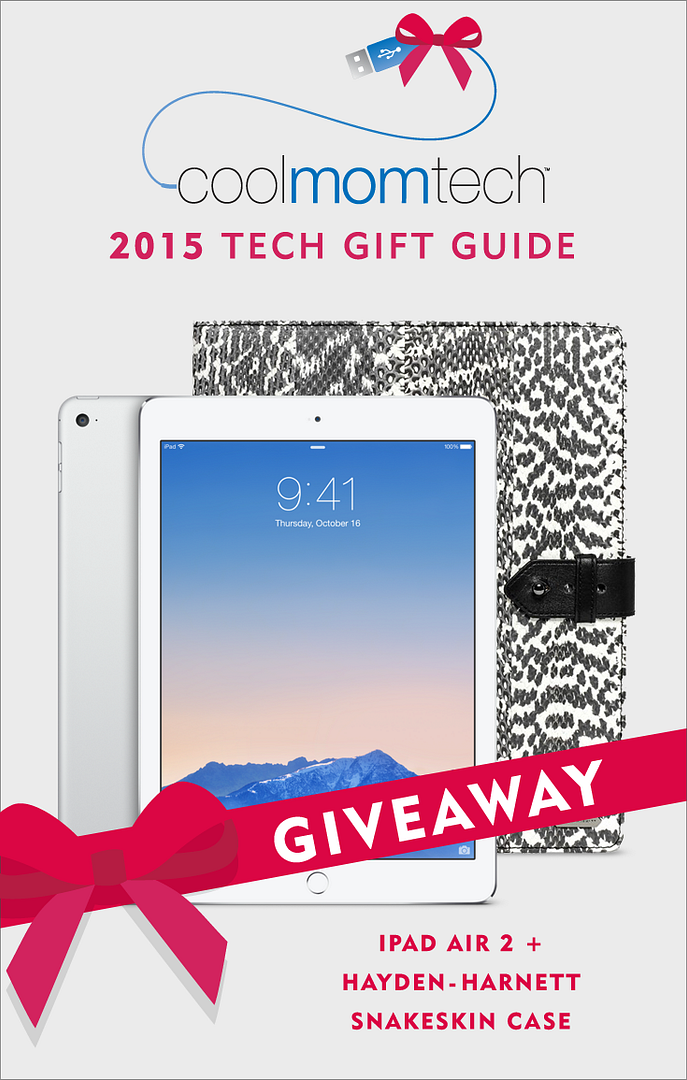 Of course we couldn't have a tech gift guide without a giveaway, and wow, it's a good one (if we do say so ourselves). We've got a silver iPad Air 2 (WIFI, 16GB) + a gorgeous Hayden-Harnett snakeskin case up for grabs for one lucky winner. Whoo!
To enter: 
Follow Cool Mom Tech on Twitter AND tweet a link to this post with the hashtag #CMTHoliday
Like Cool Mom Picks on Facebook AND share a link to this post on your feed. Make sure to send your link to info@coolmompicks.com with CMT CONTEST in the subject to be entered.
Follow Cool Mom Picks on Instagram AND share a photo of one of the items on this post on your feed. Make sure to use the hashtag #CMTHoliday
That's it!
The nitty gritty: You can enter a total of three times on each Tech Gift Guide post, for a total of 18 entries. Contest ends 11:59pm PST on 12/25/15. You must be 18 years or older to enter. U.S. residents only, void where prohibited. Official sweepstakes rules and disclaimer here.
And stay tuned for more 2015 Tech Gift Guide posts (and chances to enter our giveaway) over the coming weeks.
– Cool gifts for photographers
– 16 really cool STEM toys and gifts for kids
– 14 cool custom photo gifts for everyone on your holiday list
– Cool designer tech gifts for the stylish woman on the go
– Cool tech gifts for men and women under $25