We love toys for kids that are educational too, which is why we're so happy to share of these some favorite cool STEM toys and gifts for kids as the next installment in our 2015 Holiday Tech Gift Guide series.
And we're extra happy to share this guide on behalf of our sponsor, Tile Bluetooth tracker. If you've ever lost your keys, or been asked "Where's the charger?" for that awesome tech toy your kids love, well you need to meet Tile. We think you'll become great friends.
Of course, it wouldn't be a Cool Mom Tech guide without a fab giveaway. This year's fantastic prize includes a brand new iPad  Air 2 and a gorgeous designer case.  With so many awesome tech gift ideas for the kids, we had to have something just for you too, right?
– Don't miss a chance to win an iPad Air 2 and designer case  from Cool Mom Tech!
Details below – 
There has been no compensation for inclusion in our guide; all items are selected by our editorial team. CMT is an rstyle and Amazon affiliate.
The newest in the amazing Sphero series of toys makes learning the basics of coding principles super fun. You'll be amazed at how even preschoolers can figure out basic coding that makes the little guy move, play games, and complete tasks using an Android or iOS device. Just order soon — this is a hot toy that's already on backorder through the manufacturer, but not from the retailers. ($129.99, Amazon)
We're all big fans of the Roominate toys that take imaginary play to a new, scientific level. Building a two-foot tall townhouse is awesome on its own, but on top of that, you add circuitry to bring it to life. And now there's the all new rPower hub which lets kids control the circuits they build, all from a phone or tablet, to make a ferris wheel move or light up a dollhouse. ($39.99 for kit, $29.99 for rPower hub, with other options available, Roominate)
With a new theme each month, kids in grades K-6 will love getting this monthly science subscription box they can use for science fairs or just to impress friends and scare the cat. ($24.99-29.99/ month depending on length of subscription, Steve Spangler Science; save 50% on first box with code cyber50 while it lasts)
Also be sure to check out three science subscription kits just for girls that we've featured from some great companies, though we remain a little torn on whether girls need "girl kits" to get them excited about science.
Kids as young as five can now start understanding the basics of circuitry, problem solving, and engineering with the brand new, and very affordable beginner kit made just for them. From the maker of the popular Snap Circuits kits, the beginner kit has 14 parts to help build more than 20 projects — and we love the extra safety features included her for younger kids. Hey, we are parents.  ($21 on sale at Amazon)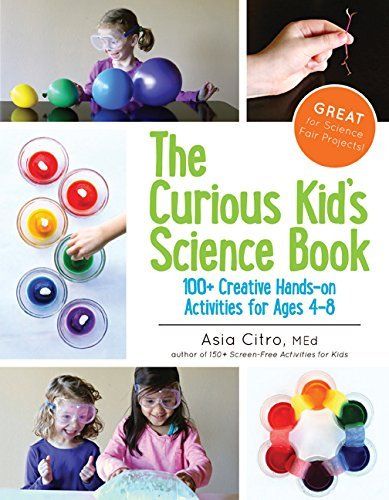 If you're big DIY-ers at home, this is an awesome book for preschoolers through middle-graders that can keep you busy with kitchen experiments every weekend this winter and beyond. ($16.41 at Amazon)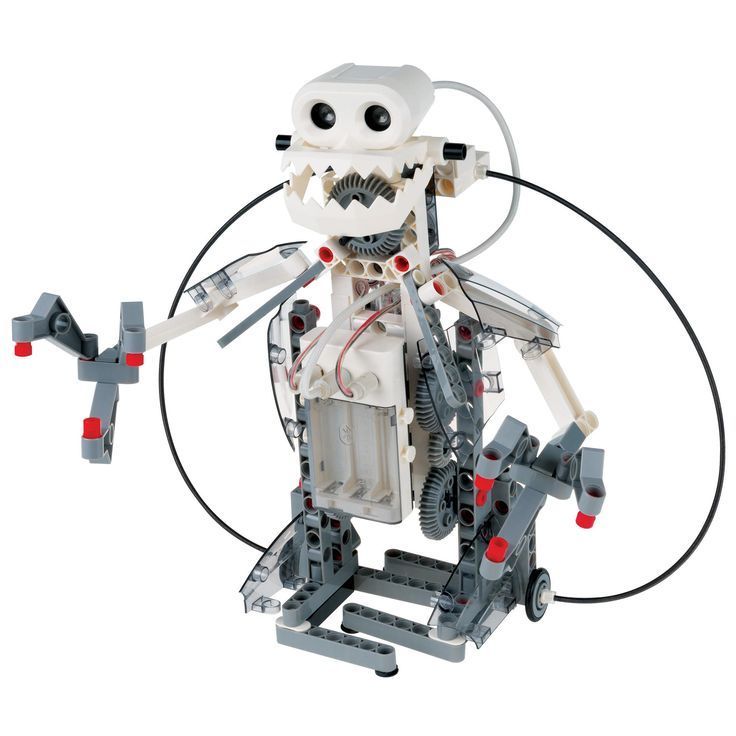 If you know a tween or teen who's seriously into robotics, these advanced building kits let kids build eight motorized machines right from the free companion app for Android or iOS. They can even rpogram the robots to behave in response to an ultrasound sensor which will kind of blow their minds.  ($97.49 at Amazon)
—————-

sponsor
Attach the Tile Bluetooth tracker to your keys, your wallet, your kids' MP3 player that always ends up under the couch…you name it. You can ring the item right from your phone using Bluetooth. Check the Tile app map to determine the last place it's been. Or if it's your phone that tends to go missing, attach a Tile and you can make the phone ring — even if it's on silent– so you can track it down from another device or on the Tile website.
Find it on their website TheTileApp.com, and get a free Tile gift pouch with every 8 or 12-pack purchase, making it a perfect gift. You can also find it in all US Apple, Best Buy Lowe's, Target, and T-Mobile retail locations as well as on Amazon.
Let's hear it for not losing stuff!
—————-
This tiny little programmable robot lets kids explore sequencing and coding through challenges, competitive play, and interactive games that are as simple as opening up an app, or just drawing lines on paper to create color-coded code commands. ($59.95 at Amazon)
If your kid is always staring into space, turn it into a hobby with this highly rated telescope kit from Orion that's lightweight and compact enough to grab and go during the next full moon or meteor shower. It's also great for daytime birding, should the natural world here on earth be of interest too. ($89.99 at Amazon)
We have been huge fans of these cute little guys since we first played with them at CES about a year ago. They've been a recent sponsor and we've been more than thrilled to welcome them on our pages. Especially now that they've introduced  a cool new Launcher Accessory Kit that turns Dash into his own physics lesson. Or wait, maybe Dash is a she? That's the cool thing about robots, isn't it.   ($199.99 for both robots now on sale at Wonder Workshop through 12/31/15, including four free apps; Launcher accessory pack, $29.99)
– Don't miss a chance to win an iPad Air 2 and designer case  from Cool Mom Tech!
Details below – 
If you have boxes of bricks around the house, give them new life with this cool kit from Klutz which includes 30 LEGO elements plus instructions for building ten different moving machines. But we bet your kids will come up with even ten more. ($11.38 at Amazon)
We discovered this cool Indiegogo campaign which passed its funding goal in no time, and no wonder! It's just so cool. You can purchase a set for playing, but we think all 52 cards would be cool framed on a wall.  Bonus: If you want a set for free, download the free DIY kit and print your own. Pretty neat. ($20 at Luana Games; or free for printable PDF )
If you are looking for the coolest of the cool STEM toys out there, how about a gift that lets kids make their own toys? Or really, whatever they can conceive of using this amazing 3-D printer. We'll just call it a gift for the whole family. ($1450 at Maker Shed, filaments additional. Also seen in our Cool Mom Picks holiday gift guide under the coolest craft gifts for kids.)
We love the SICK! Science kits, which you can buy individually as really affordable STEM gifts or stocking stuffers. But if you want something to keep the kids really busy, check out the entire SICK! Science Kit Collection  which includes 12 of the most popular SICK! Science experiment kits, plus a huge full-color instructional guide, access to exclusive videos and more. We love that kids will learn about everything from optical illusions to color mixing to physics. ($149.99, only at Steve Spangler Science; individual kits also available at Fat Brain Toys)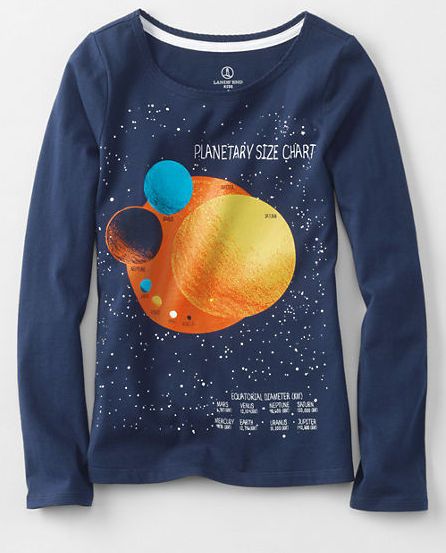 We love that even bigger brands like Lands End are supporting kids who love STEM. We can think of a few girls on our list who would love this Space Graphic Tee — though there are plenty of cool options for both boys or girls on the site, lots on sale. ($12.50 at Lands End)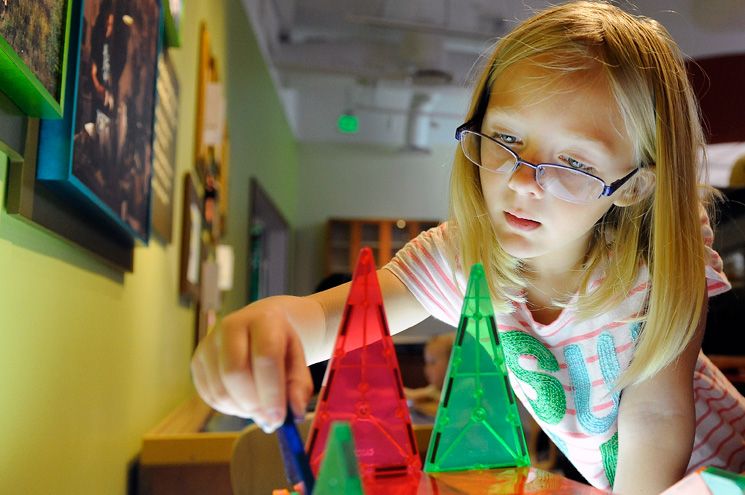 Experience gifts are always a favorite of ours, and if you have a kid who loves STEM, consider a family membership to the local science museum. Between the American Alliance of Museums and the Association of Science and Technology Centers, we bet you'll find something perfect near you ($ varies; shown here, the Denver Museum of Nature and Science)
There's no more wonderful gift for any kid than a terrific book, and this one from Jennifer Berne with evocative illustrations by Vladimir Radunsky remains a favorite of ours. And our kids. Maybe yours too. And who knows, maybe his story will inspire children to invent their own STEM toy for kids one day. ($15.54 at Amazon)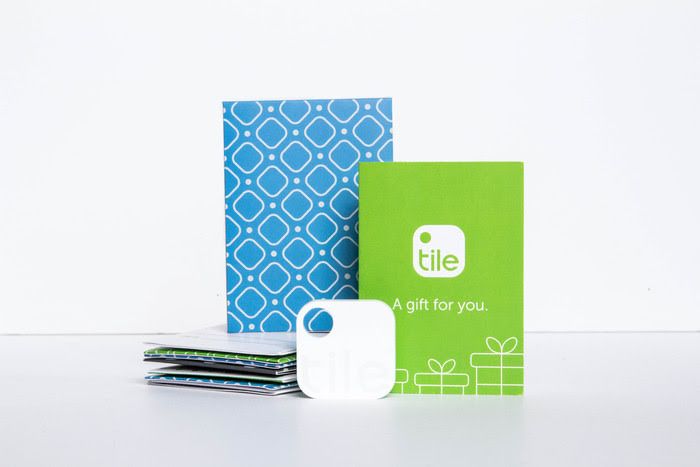 Thanks so much to our sponsor Tile, which is helping people find 250,000 items a day. Whoa! The Tile makes a fantastic gift for parents of STEM-loving kids or anyone really. 
Check out how to enter the Tile #FindWhatMatters contest through 12/11 with a chance to win some big cash prizes.
EXTRA-COOL: WIN IT!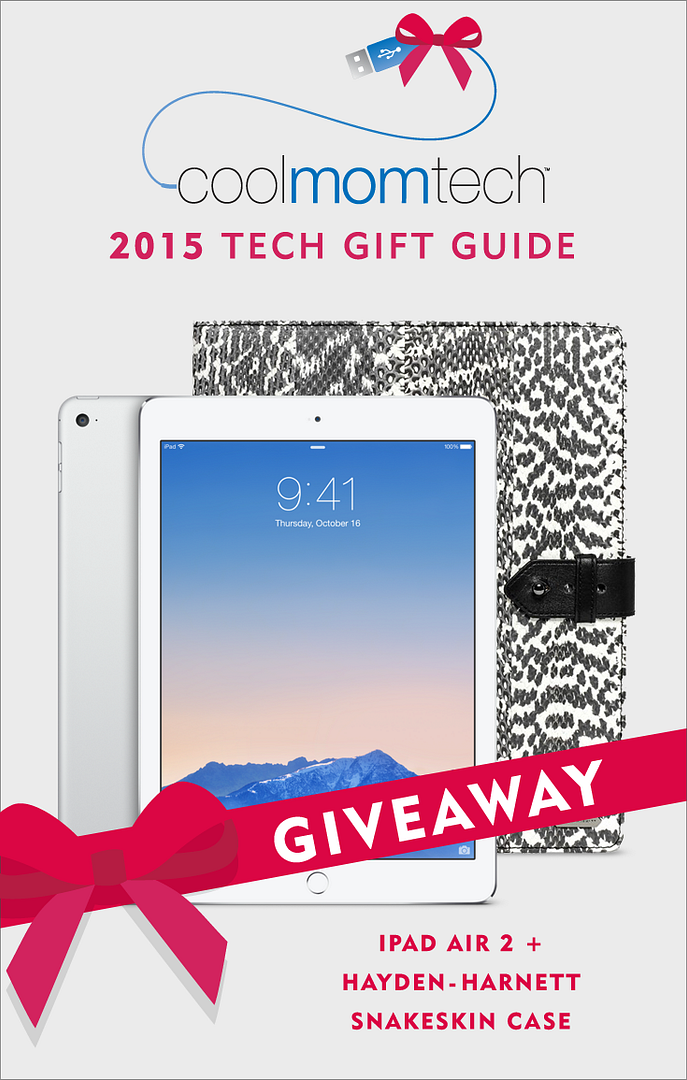 Of course we couldn't have a tech gift guide without a giveaway, and wow, it's a good one (if we do say so ourselves). We've got a silver iPad Air 2 (WIFI, 16GB) + a gorgeous Hayden-Harnett snakeskin case up for grabs for one lucky winner. Nice!
To enter: 
Follow Cool Mom Tech on Twitter AND tweet a link to this post with the hashtag #CMTHoliday
Like Cool Mom Picks on Facebook AND share a link to this post on your feed. Make sure to send your link to info@coolmompicks.com with CMT CONTEST in the subject to be entered.
Follow Cool Mom Picks on Instagram AND share a photo of one of the items on this post on your feed. Make sure to use the hashtag #CMTHoliday
That's it!
The nitty gritty: You can enter a total of three times on each Tech Gift Guide post, for a total of 18 entries. Contest ends 11:59pm PST on 12/25/15. You must be 18 years or older to enter. U.S. residents only, void where prohibited. Official sweepstakes rules and disclaimer here.
And stay tuned for more 2015 Tech Gift Guide posts (and chances to enter our giveaway) over the coming weeks!
– The coolest tech gifts for travelers
– Cool gifts for photographers
– 14 cool custom photo gifts for everyone on your holiday list
– Cool designer tech gifts for the stylish woman on the go
– Cool tech gifts for men and women under $25