Next up in our 2015 Holiday Tech Gift Guide series, we've put together some of the coolest, gotta-have gifts for photographers. We're talking cameras, gadgets, accessories — everything a photog would be happy to snap up. (Ha!) Even a few surprises. Whether the shutterbug in your life is a polished iPhonographer or an eager enthusiast getting deeper into dSLR territory, there's something for everyone to help make the holidays merry and bright #nofilter.
And we're doubly pleased to present our guide on behalf of our sponsor, Tile Bluetooth tracker. If you have ever been like, "Why isn't there a clapper for my camera bag?" Well, ask and (sometimes) you shall receive. So welcome, Tile!
And of course, it wouldn't be a Cool Mom Tech guide without a fab giveaway. This year's fantastic prize includes a brand new iPad  Air 2 and super rad, designer case.  Scroll down for the details, and happy shopping. Warning: don't blame us if you want these cool gifts for photographers all for yourself.
– Don't miss a chance to win an iPad Air 2 and designer case  from Cool Mom Tech!
Details below – 
There has been no compensation for inclusion in our guide; all items are selected by our editorial team. CMT is an rstyle and Amazon affiliate.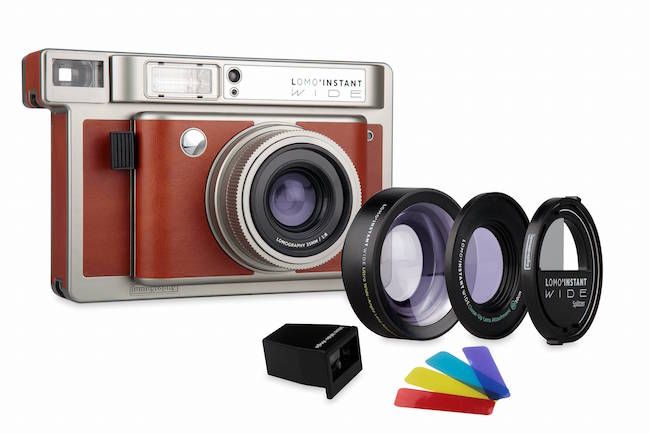 You know you're in for a treat whenever Lomo'Instant is involved, and their new wide instant camera definitely lives up the Lomo rep. The vintage-inspired camera kit features three creative shooting modes and comes with three cool lens attachments (wide-angle, close-up, and splitzer), a lens cap that double as a shutter remote control and easy-change color gels that add a wash of color to your photo subjects. But also? Look at this thing. Just gorgeous. ($259, Lomography; $199 for camera without accessories)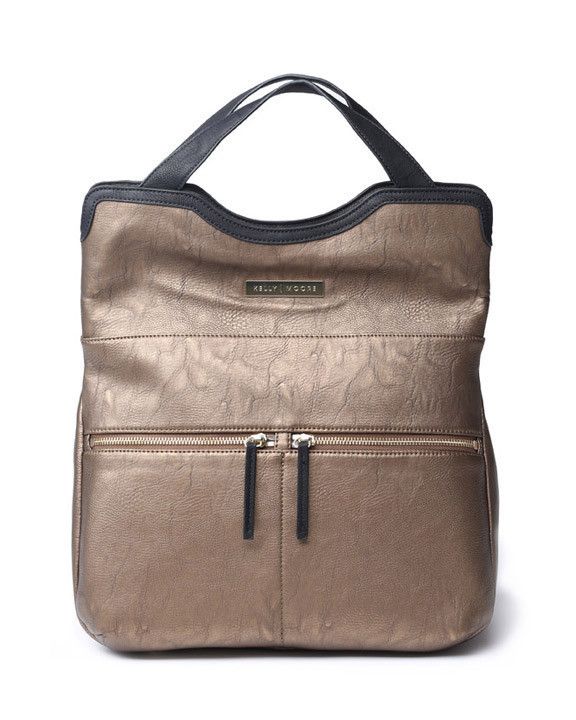 We're all for stylish camera bags that don't look anything like camera bags, and if you have a fashionable photographer on your list, we bet she'll love this  swanky metallic bag. On the outside: party. On the inside it's all business, with a removable padded basket, adjustable dividers to protect lenses and your SLR, a cushioned base and sides, even extra space for a tablet and personal essentials. There's also a removable shoulder strap so fear not — this bag is only a clutch if you want it to be. ($199, Kelly Moore)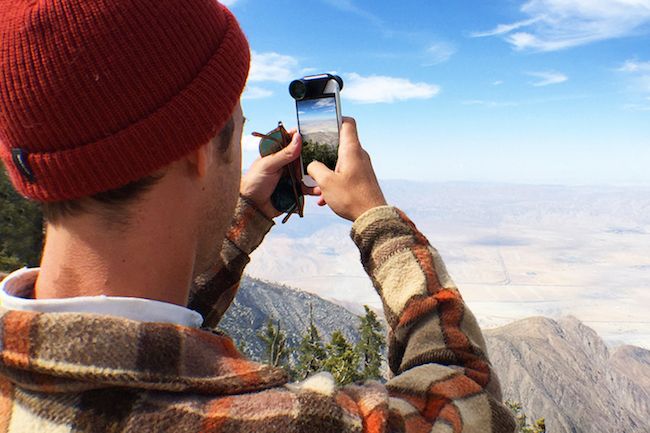 We're big fans of iPhonography around here and are always excited to see what new accessories we can attach to our smartphones. Olloclip always delivers, most recently with the Olloclip Active Lens, a compact, lightweight, 2-in-1 with a telephoto lens and ultra-wide angle lens that snaps onto your iPhone 6/S or iPhone 6 Plus/6S Plus.  Love that it works with both the front and rear facing cameras on the phone too.  No need for mounting brackets or extra parts; just snap on, snap off, and carrying on with snapping. ($99.99, Olloclip)
We're loving the now ubiquitous helvetica list tees, interpreted with the names of four classic cameras. In women or men's sizes, we think it's pretty cool for any photographer on your gift list. In fact with this tee on, your snapping loved one might just be asking you to take a picture of them for a change. ($17.60, PussyCat Tees on Society 6; plus 20% off Cyber Monday only!)
—————-

sponsor
Attach the Tile Bluetooth tracker to your keys, your wallet, your camera bag…you name it. You can ring the item right from your phone using Bluetooth. Check the Tile app map to determine the last place it's been. Or if it's your phone that tends to go missing, attach a Tile and you can make the phone ring — even if it's on silent– so you can track it down from another device or on the Tile website.
Find it on their website TheTileApp.com, and get a free Tile gift pouch with every 8 or 12-pack purchase, making it a perfect gift. You can also find it in all US Apple, Best Buy Lowe's, Target, and T-Mobile retail locations as well as on Amazon.
Let's hear it for not losing stuff!
—————-
We've got the gents covered too in the camera bag department too, with a terrific option from Kelly Moore's "For the Boys" collection. The Pilot is a handsome thing with sand canvas accented with rich chocolate leather. Inside, it's got plenty of room with 5 padded, removable, adjustable dividers and can carry up to a 10″ lens, camera body, flash, batteries, plus a phone and other accessories. It can even protect your 15″ laptop when you're traveling photo-light.  ($299, Kelly Moore)

If you're looking for a thoughtful, affordable, but still cool gift for a photographer we think this set of camera cookie cutters is pretty sweet. Especially for under $20. If it doesn't feel gifty enough, why not use them to make and decorate your own set of photo-ready camera cookies for the holidays. Very meta. ($18, Photojojo)
There may be no more amazing gift for a photographer than the ability to print his or her own shots, blow them up, then frame them or give them as gifts. We love Epson's photo printers which accommodate so many kinds of papers, and make ink replacement easy. The top-rated Stylus R2000 prints beautifully whether epic landscapes or close-up skin tones, and ends up paying for itself if you use it for larger prints — right up to a massive 13 x 44″ if using roll paper. ($899, Amazon with free Prime ship; also compare with the newer model, the Epson SureColor Wireless Photo Printer, $599.)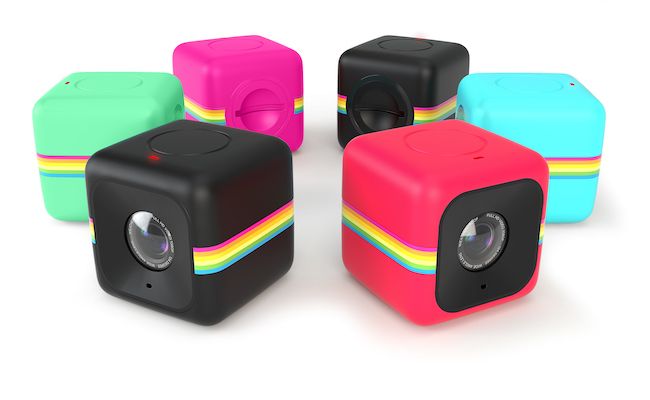 We didn't think it was possible to be more smitten with this cute little number, but then new version came out and here we are with stars in our eyes. If you're shopping for someone who loves playing around with all kinds of photo gadgets, this one is a win. The new and improved Polaroid CUBE+ is WiFi-enabled, letting you control the mini action camera remotely and use your smart device as a remote viewfinder, plus you can stream your shots in real-time. The WiFi addition also means you can sync up to your smart device to instantly save or share your pics and videos. See what we mean? Charmed, I'm sure. ($99.99,  Amazon – note special Cyber Monday deal, 25% off!)
Also included in our holiday gift guide as one of our favorite personalized gifts, we think this is a super cool gift for photographers who have yet to give up the DSLR. We love everything about it right down to the exclusive embossing font that appeals to our type nerdery too. The only caveat — you have to order by December 1 to make Christmas delivery this year; the Marfa, Texas leather studio from artist Amina Baker is clearly hopping this year. ($41.99, Exsect)
Phaidon's epic photography book was updated late last year, and it's an essential for any serious shutterbug.  If it's not yet on the bookshelf or coffee table, we think they'll be smitten with the 550 exquisite images covering photographers from the mid-19th century to today. Eventually, they'll come up for air. And coffee. ($42, Amazon)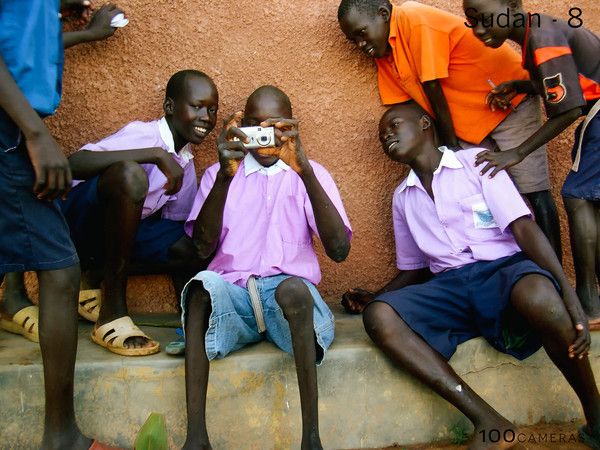 If you can't afford the $3000 lens they're coveting, a thoughtful gift is making a donation to a wonderful cause in your favorite photographer's name. We've shown our love for and appreciation of the valuable work that the NYC-based 100Cameras Project has been doing for a while now. And we're definitely looking forward to seeing more support, more community-building and more brilliant stories coming out of this fantastic nonprofit in 2016.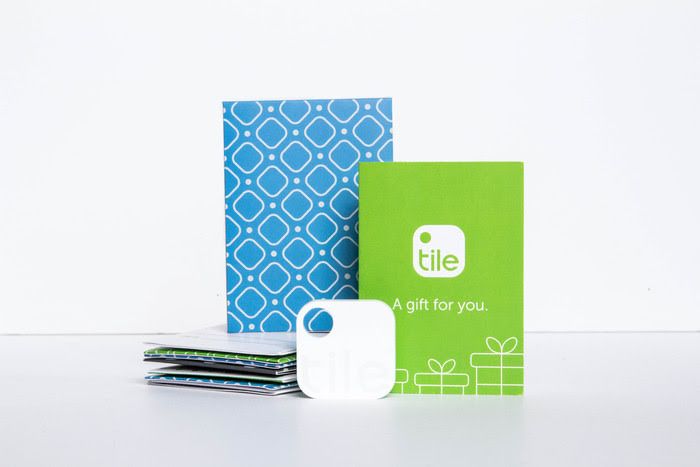 Thanks so much to our sponsor Tile, which is helping people find 250,000 items a day. Hopefully, that's not all for the same person. The Tile makes a fantastic gift for photographers, or anyone really. 
Check out how to enter the Tile #FindWhatMatters contest through 12/11 with a chance to win some big cash prizes.
EXTRA-COOL: WIN IT!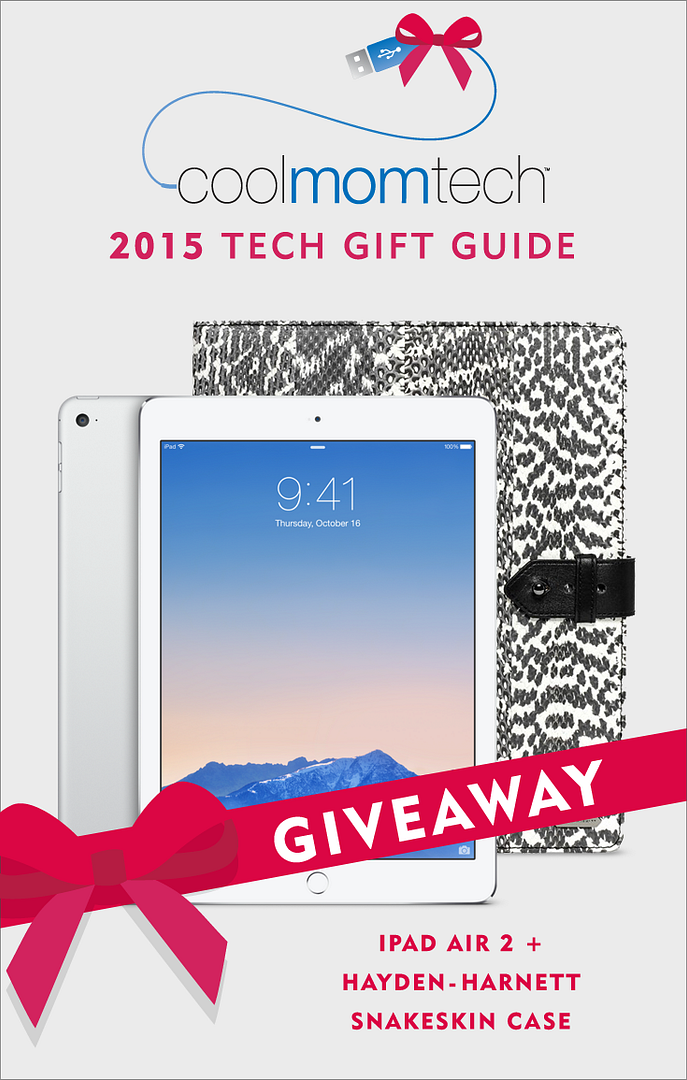 Of course we couldn't have a tech gift guide without a giveaway, and wow, it's a good one (if we do say so ourselves). We've got a silver iPad Air 2 (WIFI, 16GB) + a gorgeous Hayden-Harnett snakeskin case up for grabs for one lucky winner. Nice!
To enter: 
Follow Cool Mom Tech on Twitter AND tweet a link to this post with the hashtag #CMTHoliday
Like Cool Mom Picks on Facebook AND share a link to this post on your feed. Make sure to send your link to info@coolmompicks.com with CMT CONTEST in the subject to be entered.
Follow Cool Mom Picks on Instagram AND share a photo of one of the items on this post on your feed. Make sure to use the hashtag #CMTHoliday
That's it!
The nitty gritty: You can enter a total of three times on each Tech Gift Guide post, for a total of 18 entries. Contest ends 11:59pm PST on 12/25/15. You must be 18 years or older to enter. U.S. residents only, void where prohibited. Official sweepstakes rules and disclaimer here.
And stay tuned for more 2015 Tech Gift Guide posts (and chances to enter our giveaway) over the coming weeks!
– The coolest tech gifts for travelers
– 16 really cool STEM toys and gifts for kids
– 14 cool custom photo gifts for everyone on your holiday list
– Cool designer tech gifts for the stylish woman on the go
– Cool tech gifts for men and women under $25