I love family movie nights, especially on those rare occasions when it takes less than 15 minutes for the kids to agree on what we're going to watch. So when I heard about a new wireless projector called CINEMOOD that lets you bring family movie night with you anywhere, I was intrigued to say the least.
This post has been updated for 2019
CMP is an rstyle affiliate
This gadget, which launched with a hugely successful crowdfunding campaign on Indiegogo, turns any blank wall, ceiling, side of a tent, garage door, basement ceiling (you get the idea) into your own personal theater with about two-hours of completely unplugged battery life. But that's not all.
The reason we know parents will love it is that comes with educator-approved, pre-loaded content like cartoons and movies, all geared towards kids from preschools to teens. It also features cute characters from brands you might recognize, like Zeptolab (yes, of Cut the Rope fame).
Plus, most important to me, there are parental controls with the complementary app.
Related: 10 of the coolest tech toys and gifts for tweens and big kids | Holiday Tech Guide 2019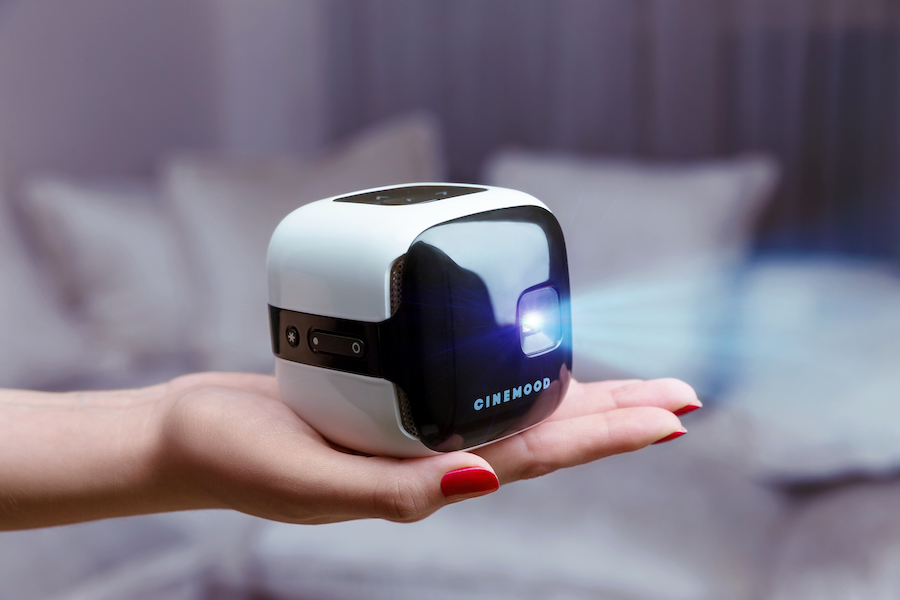 The now 32 GB gadget comes preloaded with educational videos, games, cartoons and digital books, but if your kids are too old for the freebies, they can also access their own images and video content from YouTube, Facebook, Instagram, and more recently, Netflix and Amazon Prime.
You can also download any content you own from a flash drive onto CINEMOOD via USB port, for instant projected viewing. So this is not just a gadget for kids — it's great for teens or even adults. Say, grownup movie time in the tent after the kids are in bed on the camping trip?
The real fun comes when you shut off the lights and project it onto the wall, which I was fortunate to experience first-hand at CES earlier this year. The quality of the image is excellent both on the wall and ceiling.
If you want to grab one, it's expensive — $499 retail. Yeouch. But if you order through Amazon, they do offer limited time discounts, like $100 off right now.
Considering the potential it has for turning any night into family movie night, anywhere you go, I think it's definitely a gadget worth checking out if you're an entertainment fan.