We've got lots of cool tech gifts for big kids and teens, not to mention some awesome STEM holiday gifts for kids as part of our Holiday Tech Guide, but what about us? We love tech too! Except sometimes, the tech gadgets we want aren't super gifty.
But hey, we're here to say it doesn't matter. If you've had your eye on one of these gadgets, who's to say you can't buy your own darn holiday gift, or hey, sent a strong hint with one of these items circled on it. (Screenshot and mark-up are your friends). Here's everything we're coveting ourselves. Now to win the lottery! – Kristen
Cool Mom Tech is a reward style affiliate. 
Related: Over 50 of the coolest gifts for grown-ups under $15
We know why you've been putting this purchase off because $399.99 for a hair dryer is pretty steep. But… there's a reason why everyone raves about it. And if you're drying your hair every single day (or close to it), this might be a worthy investment.
Are you tired of hearing your neighbor talk about their Nest Thermostat yet? For just under $200, this gadget allows you to control house temps from your phone and possibly save you a whole lot of money. Just think: you'll never have to ask yourself "Why is this electric bill so high?" See, that's why they're bragging.
If you've asked yourself if you really need a robotic vacuum, then I will answer it for you: yes. Especially if you have dogs. Or kids. Or in my case, both. The highest rated robotic vacuum by Consumer Reports, Eufy models are under $300 and will make your life a whole lot easier. Trust me.
Related: The coolest Star Wars gifts for those people. You know who we're talking about. (We're some of them).
Who says the kids get to have all the fun with the Nintendo Switch? The Ring Fit Adventure will get you moving, while having fun, something we over 40s don't have too much of these days (what, only me)? It's $80. Do it.
I've been trying the Apple Watch Series 5 for a few months now (thank you for sending me a loaner, Apple), and well, it's quite an upgrade from my Series 3 that I recently fell back in love with. From an always-on Retina display to the water resistance (which has come in handy on my long runs in the rain), I'm a fan.
Related: Gifts for people who just discovered podcasts. Welcome to 2019!
Why are you still drinking unintentional iced coffee? Or tea? The Ember Smart Mug (now on version 2) does more than keep your coffee warm. It keeps it at the exact temperature you want it at. If only your kids listened as well.
I realize it's not the sexiest gift in the world, but when you think about not having to worry about someone forgetting a key, or letting the dog sitter in, then you might change your mind.
We've loved Tile for many years, even before they were the sponsor of our Cool Mom Picks Holiday Gift Guide, which is why I'm mentioning them here. They are like giving yourself brain cells. And well, unless I missed something, you can't actually do that. This is the next best thing: Stick, attach, hook… them onto stuff you don't want to lose (or don't want to waste time finding) and you can ping it with your phone. Sold. (PS: you can also push it twice to find your iPhone) And there are huge holiday discounts on the site right now.
Related: We found some of the coolest gifts for cool dads. Why are they so hard to shop for?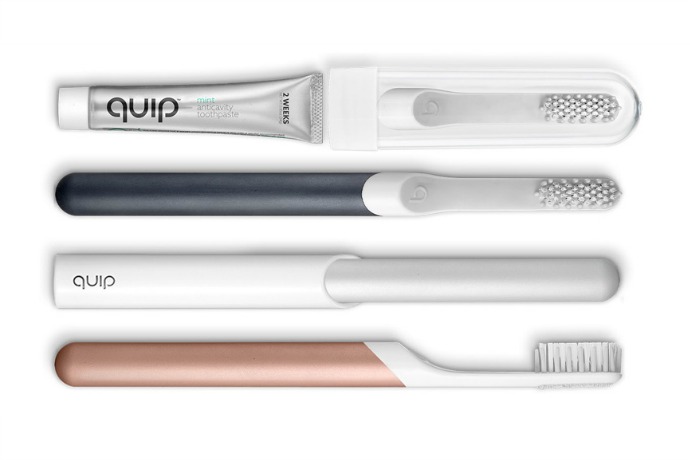 Not only do they look cool, but quip delivers new brush heads right to your door so you never have to buy a new toothbrush again. Also, did I mention they look cool? And they're available at Target, which means I just gave you an excuse to go to Target. You're welcome.
If you've been trying to take a break from your screens and do something more productive (like read, remember that?) get yourself the new Kindle Paperwhite. It's water resistant (think bathtubs, children… you get the idea), and you can read in the dark.
No pockets? No problem! (Well, it is a problem, but this can help in the meanwhile.) We love these gorgeous, well-made leather phone cases with a range now including their classic black leather, plus new additions like vegan leather (i.e. not leather), denim, metallics, embossed croc prints, or a rocking' black case with studded accents. You can even add a small zip pouch so you really don't have to walk around that party carrying a single thing — except your drink.
I'm more Bose than Beats myself, and now that they're in pretty colors, I might just have to splurge on a pair. Perfect for listening to Spawned while blocking out the sounds of people asking you where things are or what's for dinner.