This week I was reading a post from one of our favorite app developers, Toca Boca, about how actively they try to create gender-neutral apps, and I was really impressed learning just how much effort they put into it. Like the sketch they featured in developing the updates to Toca Robot Lab, which shows how making the robots a little more colorful and a little less tin-cans-and-rust just open up that world to more kids.
While girls and boys do play differently, and I acknowledge and embrace those differences, I never want to limit my kids — or yours — in terms of app recommendations that I they'll love. So I've put together a few of my favorite gender-neutral apps for young kids from Toca Boca along with some other terrific developers.
Of course you could argue that all apps can be played by any kid and therefore games are inherently gender-neutral since they don't require any specific male or female anatomical parts to play them. But skipping the pedantry, what I like about these apps in particular is that on first glance (or from the name alone) you might expect a certain male/female slant. Or a blue vs pink color scheme. Or a cars are for boys, playhouses are for girls and should be all pink kind of thing. Because that's what the majority of app developers do, let alone toy manufacturers in general.
However, place any of these 9 terrific apps in the hands of any child at all and it will become instantly clear that fun apps that develop imagination and creativity know no gender.
Toca Hair Salon 2 ($2.99, iOS, Android, Kindle Fire, Windows Phone)

When my daughter found out we did not yet have the second version of one of her favorite apps, well, discussions were had. I don't know a kid, boy or girl, who doesn't adore Toca Hair Salon 2, which ups the ante with more tools, spray colors, and accessories that allow kids to style (I use that term loosely) the coifs and facial hair of the poor unsuspecting customers of this salon. Just be prepared for loads of headshots to show up on your phone's camera roll with your children's finished results. Also, do remind your kid that in real life, if he cuts his own hair with a razor, there's no magic G.R.O.W. posion to fix it instantaneously.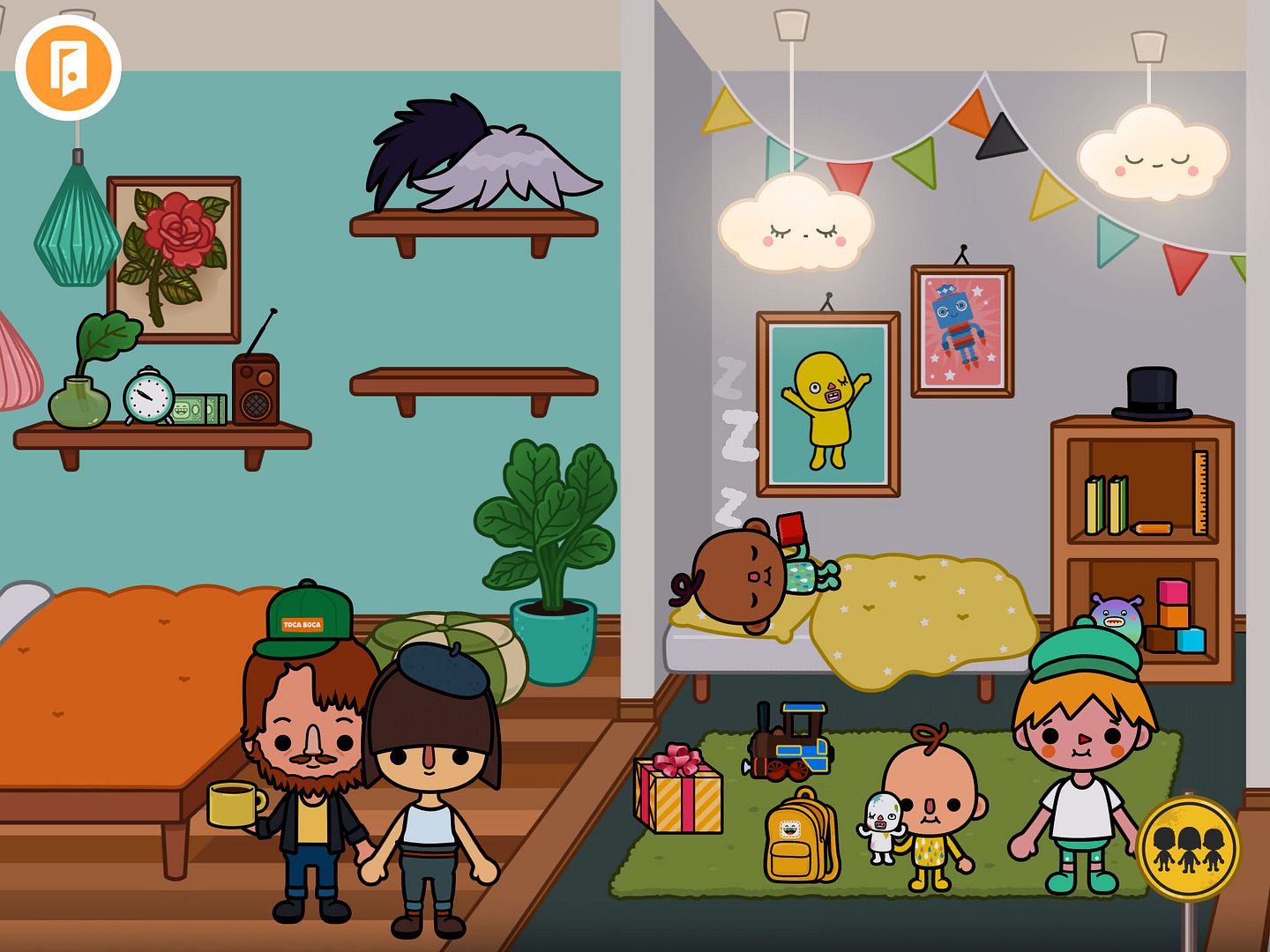 Toca Town ($2.99, iOS and Android)
You can call it an interactive dollhouse, or a kid-friendly adaptation of the Sims, but either way, it remains one of my daughter's very favorite apps. And she's nearly eight. But I'd say any kid about three and up who's a fan of creative, imaginary play will love the ability to place characters in seven environments from a store to a school to a park or even an apartment for us cityfolk.
Detective Sherlock Doofushat™, at your service
My daughter wants me to tell you that she and her sister like the police station the best because, "we chose funny characters to work there. One is named Sherlock Doofushat and I stacked his hats really high." She can play with this for an hour, and honestly, I'd much rather hear the little sounds from this app than pretty much any game out there.
Related: The best apps for kids: Editors' Best of 2014
Toca Kitchen 2 ($2.99, iOS)
Another big thumbs-up for this app from my kids, who think it's hilarious to slice carrots, bake or deep fry some fish,mix up nasty drinks in a juicer (Bass-O-Matic anyone?), then feed the characters. Sometimes until they throw up. Well, what would you do if you were a regular kid who was fed a blue monster beet meant only for a monster? Kids will love experimenting with how much hot sauce is too much, and which character likes more salt on her meat, and parents can even turn on a vegetarian setting should you prefer them playing with broccoli and mushrooms instead of sausages and squid.
Toca Robot Lab ($2.99, iOS )
As I mentioned at top, last year, Toca Boca updated their original robot-building app to make it more appealing to all kind of kids. instead of just rusty parts that look like tin cans and tools, you can construct a robot from top to bottom using fun, recyclable parts including sweets, coffee cups, straws, and beads which helps increase the app's appeal to more kids. Then you play a game with your robots, and my daughter's tip for you about that: "Don't follow the arrows until after you collect all three stars, or they lead you to your death." Words to live by.
My Playhome App, ($3.99, iOS, Android, Windows)
My Playhome: School App, My Playhome: Stores App ($2.99, iOS, Android)
I first wrote about the My Playhome app when my youngest was four, and three years later, it's still getting a lot of play (no pun intended) on our iPad — if you're wondering whether $3.99 is worth it for an app. I'm also glad to let you know with upgrades, it's moved away significantly from the original all-white heteronormative cast of characters, adding far more diversity and more characters, which only makes things more fun for more kids. And I still really like the illustrated style of the app, which feels like a kids' picture book.
There are two additional apps out too from the same developer, themed around school and stores (shown above) so characters can have fun playing around in a clothing boutique, a fruit shop, an ice cream cart, and a grocery store, all with plenty of interactivity. Though I do have to add the caveat from my nine-year-old, that the girls are mostly wearing dresses and you can't put them in the boys' clothes.  However she does explain that any adult can wear a lab coat and teach science, and that you can put a flower in a boy's hair, which she likes.
There's a reason that five-star reviews are coming from parents of preschoolers, and middle school kids alike. I actually kind of like playing with it too.
Pepi Ride app ($2.99, iOS)
Anyone who thinks car racing apps are for boys has not seen a playdate full of girls squealing over the Pepi Ride app, which is perfect for any preschooler or early grader. Not sure if your kid will think that picking a character, customizing the car, or actually racing the courses will be the best part. But it hardly matters. I love the quirky sensibility of the Lithuanian developers at Pepi, and how they approach each of their apps as a way to facilitate learning through exploration.
Tinybop Homes ($3.99, iOS)
While this app is another that could be mistaken for a "dollhouse app" by parents quickly scanning app options for boys, make no mistake; this app, from one of our favorite app developers, is a wonderful learning experience for absolutely any kid. (Also dollhouse apps no matter how pink are great for all kids too, but that's another post.) Described as a series of interactive playscapes, Tinybop Homes allows children to explore different residences around the world, from Guatemala to Mongolia to Brooklyn, then step inside and make meals, decorate the walls (using photos from your own library!), investigate plumbing and electricity, play mini games — and eventually, clean up when they make a mess. Now what's not to love about that as a parent?