Over the course of the year, we've put together so many helpful tech tips for our readers, plenty from your own questions to us. (We love answering reader questions!) Here, some of our favorite tips of the year, including lots just for parents, that we think you might find the most useful.
Comparison of the top e-reader subscription services
If you've ever wondered if you should be reading ebooks through Oyster, eReatah or Scribd–and what the heck the differences are anyway–this post breaks it down in simple terms.
How to take better holiday photos
These tips aren't just great for the holiday season–we've rounded up the best online tutorials for things like photographing kids in the snow, taking great black-and-whites, and capturing stage performances like recitals, graduations and concerts.
Apps kids use that parents should know about
If you just thought Snapchat was the big watch-out app for kids online, there are a few more that parents need to know about to help keep kids' safe, and keep their privacy private. The tough part is, there are new ones every week but this is a good start.
Removing your personal info from sites like Spokeo
Find helpful hints, and an analysis of why sites like Spokeo, Intelius, and Zaba Search–which display some surprisingly personal information–are legal. And why they're not going away anytime soon.

Comparison of the best kid-safe search engine and 3 safe ways for kids to watch videos online
One of the first ways to keep kids safe online is to get them onto browsers and websites made just for kids. From preschoolers to teens, here are some ways to keep your kids only searching on the web for the things you want them finding.
How to make an iPod Touch safe for kids
If you've got a kid with an iPod Touch in your family, this step-by-step tutorial takes you through a checklist of how to make sure it's locked down and privacy settings are in place.
Smart tips for managing kids' screen time
Good, common sense advice on making sure you know what your kids are doing online–and they're not doing it 24/7. Kids can not live by computer time alone!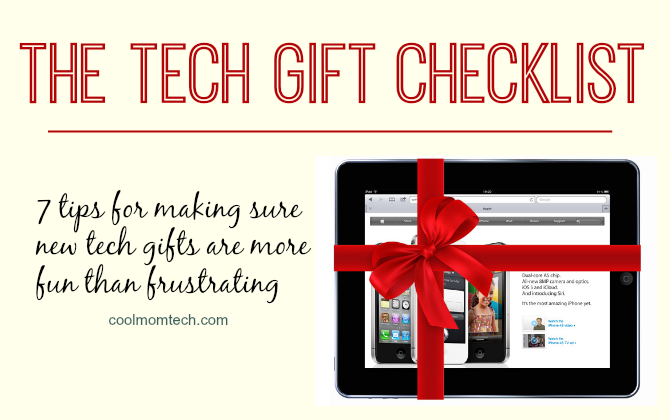 The Tech Gift Checklist
If you're giving anyone an awesome new phone, tablet or other gadget for any occasion, make sure you go through this handy list of 7 tips so that your recipient finds the gift more fun than frustrating.
Check our entire Editors' Tech Picks of 2013 series to see all of our top picks of the year, and follow on Twitter at #CoolMomBestof2013