I have to be honest: Siri and I aren't all that close. I usually only call on her, well,  when I need to call someone else. Call home. Call The Folks. Call Yvette, mobile. But this thin rapport is not iPhone's fancy personal assistant's fault.  Siri, honey, it's not you, it's me. I've just never taken the time to see all the cool things Siri can do, and all the creative ways she can really help me. That is, until now.
After spending a little more time with my girl (as they might say in Mad Men), here  are 10 cool ways Siri can definitely help life run a bit smoother for you iPhone users. She is designed to be a personal assistant, after all.
1. Use Siri to wake up your device
With the sparkly new iOS 8 comes a neat command that lets you access Siri without lifting a finger. Simply by saying "Hey, Siri"  (clearly taking a page from Android's "OK Google") you can wake your iPhone, but — important — it only works when your iOS device is plugged in and charging. You can switch on "Hey, Siri" by going to your General Settings.
2. Use Siri to read your emails and texts to you
Have Siri read your most recent texts to you just by saying, "Read my new text messages."  She'll even ask if you want to reply, so you can dictate your own missive. Or tell her to move on to the next text.
She will also read your new emails to you — in full — and give you a chance to voice your reply. This part is especially handy. The word "about" becomes the subject line of your email reply. Email Scott about the salmon. And Siri is so on top of it, if you only give her the subject and addressee, she'll ask you about the body of the message next.
(Of course, you'll need to remember to spell out the punctuation in the note, and the emoticons, too. Smiley face. Period.)
You can also go for the bullet on your emails —  a summary of your what's going on in your Inbox — by saying, "Read my email." This prompts Siri to read out the subject of each email, who sent it and when.
I know. Way.
3.  Ask Siri to post to social media for you
Get Siri in on your social media shuffle by having her post updates to your Twitter and Facebook timelines. Say: Tweet with my location, "I just saw Idris Elba walking and eating an apple!" Or say: Post to Facebook, I think Idris Elba is about to ask me out on a date. Guys, what should I say?" Because you  know, that happens to me all the time.
But don't worry; Siri won't just post your update blindly. She shows you a mini dialogue box with your SM note first so you can approve before it's posted to your feed.
4.  Use Siri to get intel on your contacts
Siri can help you dig up information from your Contacts so easily. Ask her things like: When's my mother's birthday? What is my husband's mobile number? What is Dylan's address? And she'll serve up answers without you having to lift a finger or open an app.
5. Use Siri to change your iPhone settings
Speak it, and Siri will make it so. You can toggle some of your iPhone's basic settings just by voicing your wishes to Siri. So, you say: Turn off Bluetooth. Dim my screen.  And, guess what? That's exactly what happens.
6. Use Siri to raise your music IQ
Thanks again to iOS 8,  Siri has been integrated with Shazam. So now if you absolutely will not rest until you find out what song is playing while Olivia luxuriates on the beach in the season premiere of Scandal, no worries, Siri's got you. Asking her activates Shazam, and you'll find out it was "Sunny (Mercury Edit II)" by Marvin Gaye.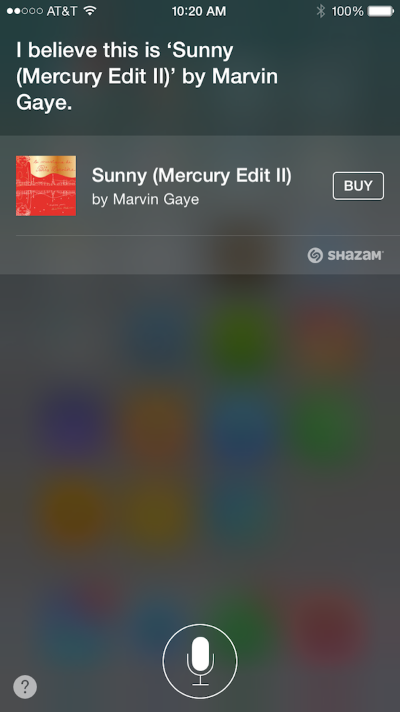 You can also use Siri as you low-budget DJ by telling her to play, pause, resume, skip, and shuffle tunes in your Music app. And if you're plugged into  iTunes Radio, you can ask Siri to find music for you by genre. Say: Play Frozen Radio. (For the kids. Or not.)
7. Use Siri to find that one important note you can't find yourself
If ever you need to quickly find a Note you've jotted down or an email on your device, ask Siri for help. Tell her: "Find my note about [word]," and she will search through the whole pile of everything to pull it up for you. Magic.
8. Use Siri to find and launch apps
How many of you have apps tucked into folders, which are nested in folders, which are — naturally — nested in folders of folders? (Not a riddle.) Now, instead of clicking through a Pandora's Box of folders to find Pandora, get Siri to do it by telling her to launch the app you need.
This includes FaceTime too. You can have Siri act as an FT operator; tell her who — FaceTime Idris Elba — and she'll hook it up.
9. Use Siri to find your peeps
If you and your friends and family installed Apple's Find My Friends app, then you can use Siri to help you keep track of them. Is my son home? Is my wife at work?  Or if you roll up to the surprise birthday party or work event and want to scope things out, ask: Who's here? Or, Who's nearby? Is Idris Elba here? Siri gives you a map with the requested person's location flagged with a blue pushpin. Note: this only works if everyone's logged into the app and has opted to make their locations visible.
10. Use Siri to combat boredom
As we recently posted, there are so many funny things you can ask Siri just to kill some time, maybe entertain the kids. We still like asking her to sing us a song best because there's a different answer every time. She's just that smart.
Editor's Note: You can not yet download the Nicole Dreams About Idris Elba app for iOS, because she hasn't invented it yet. We give her until early 2015. However you can ask Siri to open Netflix so you can watch the first three seasons of Luther which is probably the next best thing.