We are always looking for ways that we can live a greener lifestyle with our families, but trust us, we know how overwhelming it can be. As we've discovered over the years, it's the small things that can really add up — in effort and attention — and make a huge difference.
We're thrilled to be working with our newest sponsor JetBlue, who is continuing their own greener efforts through technological advances, as well as through their work with CarbonFund.org. You might not know that when CO2 is released into the atmosphere it remains there until it is absorbed in some form, so if we're able to reduce CO2 emissions, we can hopefully help slow down climate change, which is definitely good news for everyone.
JetBlue's purchase of carbon offsets is helping protect nearly 500,000 acres of endangered rainforest in Brazil, and they're also working to preserve the habitat through the Amazon Tropical Rainforest Conservation Project. Of course, we love that.
It reminds us that there are so many smart, simple things we can all be doing to live a little greener right now, that don't even have to cost you a lot. Here are five great ones.
Get smart with your thermostat
As much as we love the convenience of smart thermostats, they are actually a super way to save energy. Systems like the Nest thermostat or ecobee3 smart thermostat, actually learn your habits and adjust the temperature automatically, so you're not blasting the air conditioning or running the heat when no one's home.
Switch to LED bulbs
Just a simple change in the light bulbs you use can save you money and electricity. LED bulbs, like this one from Nanoleaf, use significantly less energy and last way longer (like, years more) than regular light bulbs, so you're not replacing them as often. That's easier on your wallet and the landfills. And trust us, you won't miss the regular light bulbs either — or having to change them every couple of months.
Stop those energy vampires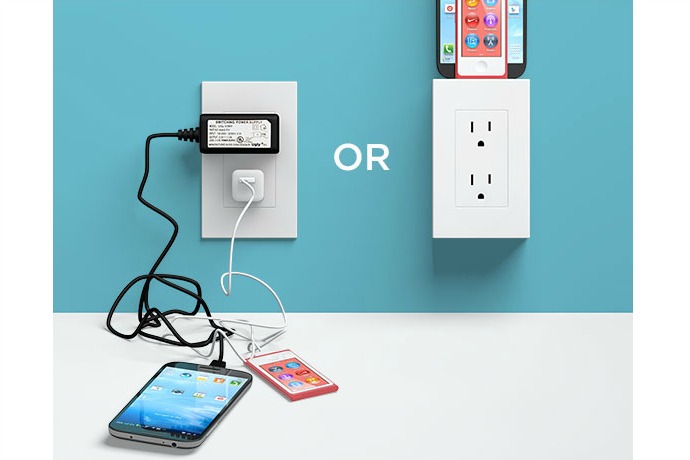 There are so many smart outlets on the market now that help eliminate energy vampires. Options like the thingCHARGER (above) are designed to shut down after a period of inactivity to help save energy and even the life of your appliance.
We also really like the Belkin Conserve Socket, which will automatically shut off after 30 minutes, 3 hours or 6 hours, depending on your settings. If you like to charge your gadgets overnight, then a device like this can really make a big difference with very little effort on your part.
Donate your old tech
Seriously now, how many times do you use that point-and-shoot camera from 1998 that's still in the drawer? Or that old flip cell phone? These days, there are lots of programs that allow you to donate your technology, which keeps old devices with lots of toxic components from ending up in landfills while helping you clean out the clutter at the same time.
Consider charities like Cell Phones for Soldiers, which refurbishes old phones for deployed soldiers. Or donate your old laptop through Globetops (above) to help out a person in need, like a teacher in New Guinea, or a budding fashion designer in India. They're all far better options than having those items sitting in your drawers — or worse, in the ground. Besides, it's illegal to just toss your tech in a lot of states. Should you need one more reason to donate.
Consider more than flight schedule when you book a trip
With so many airlines these days, you definitely have a choice on which one to fly, but we have to say that we're pretty impressed when we research JetBlue's commitment to sustainability, and their green efforts when it comes to technology.  See the handy little infographic above? That should explain some of what they're doing pretty well, but there are a few of JetBlue's efforts to offset carbon emissions that really stand out to us.
First, JetBlue is adding sharklets to all their A320s, which (if you're not up on aviation innovations) are wingtip devices that help reduce emissions by cutting back on aircraft drag and increasing fuel efficiency. In other words, less fuel burn = fewer emissions in the first place.  They're funding sustainability projects like one outside Salt Lake City which is destroying landfill gassing and converting it to a clean energy source. They're also planting trees on a huge scale, which is something you don't tend to hear about in the airline industry. In fact, JetBlue sponsored the US Forest Service's planting of 25,000 trees over 160 acres  to help replace what was lost in the massive fire in Arcadia a few years ago.
To top it off, the company even has an entire position for a head of sustainability, and she's dedicated solely to ensuring they're putting their money where their mouth is as far as environmental responsibility.
So if you're trying to figure out which airline is right for the next big family vacation? Maybe think about this kind of stuff too when you book. Well, that and those free Terra Blues potato chips on board. Yum.
This post is sponsored by JetBlue. JetBlue is purchasing carbon offsets, and encouraging customers and TrueBlue members to purchase carbon offsets for their own future travel. The city whose TrueBlue members donate the most TrueBlue points to CarbonFund.org via JetBlue.com/donate in May will receive a new green space to help breathe new life into their community.