One of our favorite last-minute suggestions for sentimental Father's Day gifts (and any gift really) has been to make a short, shareable video that you can create easily. While video editing used to reserved for professionals with zillions of dollars worth of equipment, now there are a growing number of of great video editing apps that make it so simple to create your own professional-looking home movies. Mix video and pictures straight from your phone, layer on a filter to give it a cool look, and even add sound before you share it with your friends and family.
But don't panic! None of these 6 great video apps will take hours of your time. In fact, in just a few minutes you'll have yourself a wonderful video ready for sharing, downloading, viewing, and all that pretending about "something in your eye."
Also, keep them in mind for a dad or grandfather who might not be actually sharing Father's Day with you in person. We love how technology brings us together, even across distance.
(for iOS and Android)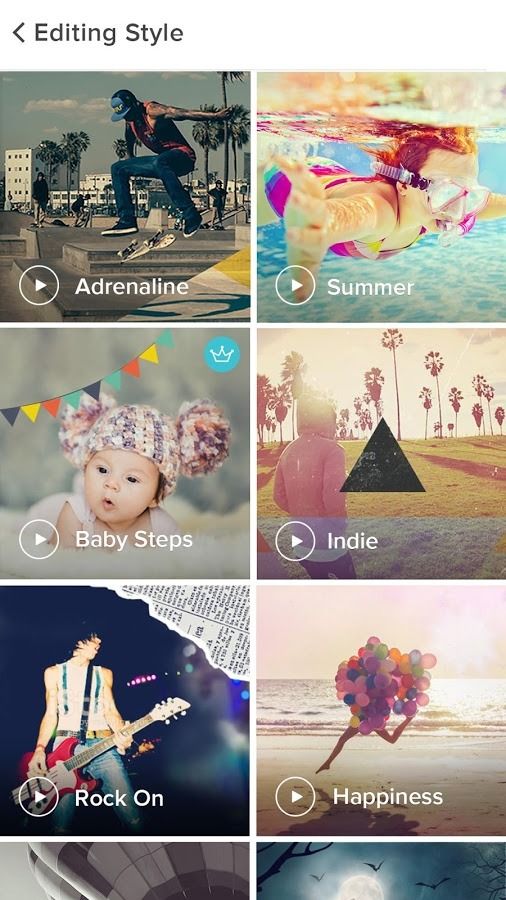 When you're trying to create a movie around a certain event — like a birthday party, or beach vacation, or your kids scootering on the sidewalk — Magisto is an amazing tool that's basically like having a professional editor creating the video for you. You select the clips you want to include and the overlay theme you prefer, and Magisto edits them together for you. It even senses when you have important audio in your clips, and turns down the background music accordingly. Nice touch!
It's definitely a favorite of our video editing apps, but it does work best with a video dedicated to a certain event or theme because of the way the montages are put together — not so much for a year-in-review video. Visit our post about how to get the most out of Magisto for other helpful helpful tips. Because this app really is like magic.
(for iOS or Android)
The Animoto Video Maker app has been a favorite of all of ours for years, especially with their easy-as-anything app. You can edit together up to 400 photos (though fewer is better in shorter videos, obviously) into a professional animated slide show, complete with text cards, and a music bed from your device or their own library.
The best part is you don't actually have to know editing! You just plug in your photos and text, choose a style, and the magic of the app creates something wonderful for you. Though of course you can change it after the fact if you realize the photos go too quickly, or you'd like to end on a different shot — or a "We Love You Grandpa" message. (Sniff.)
If you want more bells and whistles, check out the Animoto website too. Just be sure to upgrade to a Personal or Professional membership so that he can actually download the video to his own device. There's a 14-day free trial, and you can always cancel in two weeks.
For a sweet Father's Day message, ask each of the kids what they love about their dad, and write it on the text cards. Fill it up with pictures of Dad with the kids, and you'll have a tear-jerker you'll keep forever.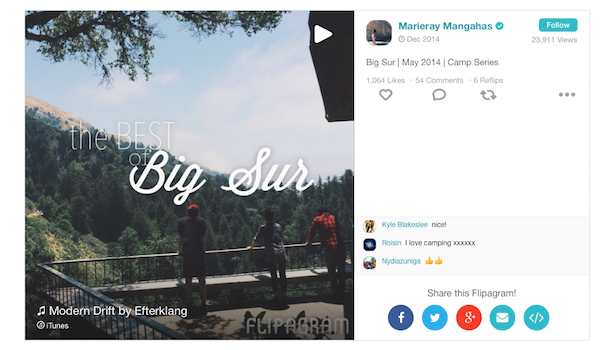 We generally see our friends' Flipagram videos on social media as a "year in review" type video. But don't forget, you can create videos with this app any time, and you can pull from your camera roll as well as from your photo streams on Facebook and Instagram to create something really fun.
It has plenty of filters, access to music, and the ability to add text, so you can make it look as fancy as you'd like. Then it's one-click easy to upload your video to pretty much any social media network or email for more private sharing.
(iOS)

Just this week, Vimeo has announced major changes to their video editing app, Cameo (also shown at top). The social media aspect is completely gone for those of you looking for more privacy; now it's streamlined so that you just upload your beautiful, modern short film directly to Vimeo. You can cut and connect clips from your camera roll, add color and filters, then upload your videos to mobile.
Cameo's stand-out feature is the ability to create a long-form video — none of Animoto's 15-second time limits — from your mobile device. Currently it's only available for iTunes though, so Android users need a different option. But if you do have an iOS advice, it's a great way to make anything from a short to a feature-length tribute to Dad, or just mashup some favorite dad moments from the past year.
(iOS)
For something a little different, we're cracking up at the cool but hilarious 1920's-style silent movies we can create with Silent Film Studio. Probably not your everyday film editing app of choice, but this is really fun for the kind of recipient who appreciates the kitsch. Let the kids come up with a script and play director. We think you'll love the result.
(iOS)
(silly family photo adapted from davitydave)
This free iOS app is made just for families who want to put together the world's easiest keepsake video. You don't even have to edit at all! Essentially it's the app version of a memory journal, with various topics and prompts that allow you to film the kids (or adult kids) describing topics like Advice for Your Parents, or My Grandfather. Follow the prompts and capture your children giving those irreplaceable, spontaneous answers, then the app puts them all together. This is one you'll want to watch over and over.