These days, one of the best parts of parties of all kinds, are photo booths, whether we're employing pro photographers, or some great photo booth apps installed on our own laptops or tablets. The fantastic pics they yield of our costumed kids on Halloween, our slightly tipsy (and uninhibited) holiday party guests or the great-grandparents sporting silly hats and mustaches at a wedding are totally worth the set-up time.
Besides, it's pretty much an expected activity these days; as our editor Liz informed me, no proper kids party is complete without a photo booth. The good news is, we've got some tips so you can have all the spontaneity and excitement of photo booths without spending a ton of money.
Related: Tips for setting up your own photo booth at home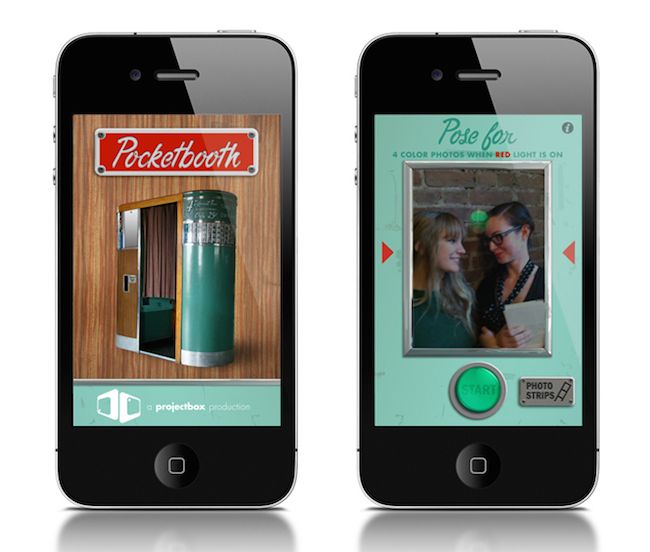 1) Pocketbooth photo booth app
For years now, we've loved the old time-y feel of this app which is like a digital take on the popular photostrips from back in the 1950's — or the mall from the 1980's. (Not that any of us are old enough to know anything about that.)
The Pocketbooth app is also super easy-to-use. Simply take four photos in a row from your smart device, save them, then send them out via email or share directly on social media. You've got about two seconds between camera clicks; just enough time for kids to roll out all their goofy, giddy faces, and scary poses. (Available on iTunes for $0.99 and Google Play for $1.99.)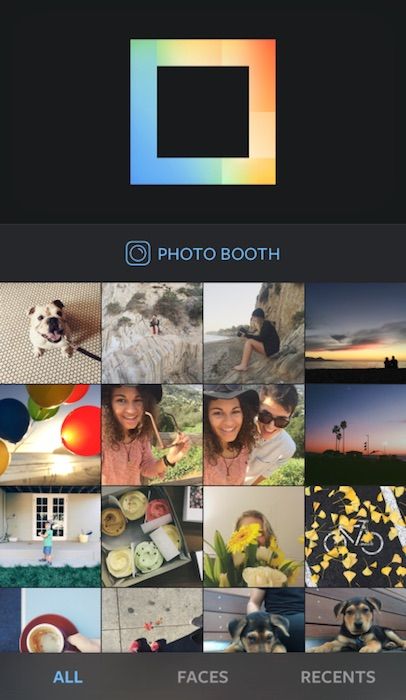 This app remains one of my faves and while it's primarily known as a cool tool for making photo collages to share on Instagram, you may not know that it also has a fun photo booth option. Press it and be ready to take four quick selfies in a row. Just like that, you'll have a photo booth square all ready to edit and share. (Free download on iTunes and Google Play.)
Related: 8 tips for taking a selfie with kids. Because you want to be in the shot too, right?

3) Simple Booth photo booth app

Although there are more expensive pro versions of this app that can be used for big parties and events (you can see examples from our pre-Father's Day NYC brunch event we threw earlier this year), the free version of Simple Booth for iPhone is just as cool and fun. And it's totally easy to use, too; simply choose how many photos you want, press the button to start the countdown, and snap away. You can also change the photo layout, shuffle the pics around or add an effect or filter before sharing your wacky creations on social media. You can even try out the AirPrint features that spits out two strips side by side on a 4×6-inch sheet. (Free download on iTunes.)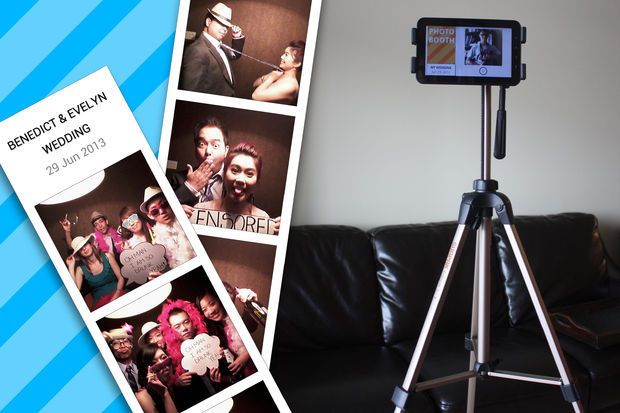 This Android app makes it even easier (if that's possible!) to go photo booth crazy at all your upcoming holiday parties by letting you set up your template ahead of time. This puts your Android phone or tablet into a self-serve mode. I just suggest adding a tripod to keep everything really steady, and you're golden.  (Available on Google Play for $3.40.)
One important note about photo booth apps: As cool as these photo booth apps are, they can also be a tad tricky for the under-6 set to maneuver by themselves. When it comes to any selfie, there's hand positioning, the quickness of the shutter (it's over in seconds) and fitting everyone into the frame. Basically, your typical selfie/"us-ie" struggles, and kids will have to figure out. If your younger kids are playing photog all by themselves, just know you might end up with some blurry shots. But then, that's half the fun of a photo booth, right? Plus, you can always take more which is one of the great joys of digital photography.