So, I want my daughter to read more this summer, and with all our upcoming travel, I'm considering a tablet or e-book reader but I'm not sure which is best. -Dawn 
We're definitely with you that gadgets can be a whole lot easier to travel with, Dawn, and while we love tablets for many reasons, when it comes to reading, we're big fans of e-book readers. Whether it's an e-book reader for kids or just a regular Nook or Kindle (hand-me-downs work well), here are 3 reasons we think you should skip the tablet when it comes to encouraging your kids to read.
Cool Mom Tech is a reward style affiliate.
E-book readers are just for reading, aka no distractions 
While we're big fans of tablets, when it comes to e-book readers, you don't have to worry about distractions. It's just too easy for them to click away from their book and play apps, watch YouTube shows, you get the idea. Heck, we do the same things ourselves and we're adults, so we know how easy it is for kids to be tempted.
With an e-book reader, they only have access to books, so you don't have to worry that during their reading time, they're actually trying to beat the next level in Candy Crush. Sure, there's a time and place for that, but at bedtime especially, we want to know that our kids are reading and not doing anything else. Except, you know, sleeping.
Related: The New Kindle Voyage will make you want to switch back to an e-book reader
E-book readers have a better battery life (and no cellular data needed)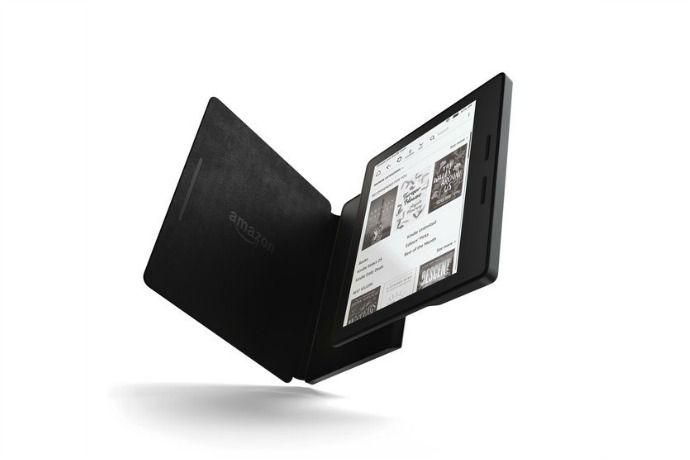 You'll be amazed at how fantastic the battery life of an e-book reader is. And yes, we're well aware that the iPad, in particular, has a great battery life, but it's nowhere near something like a Kindle or a Nook. This means you won't have to worry about keeping it charged, an excellent benefit for when you're traveling. Let's just say the new Kindle Oasis (above) gives you months (yes, months) of battery life.
And since you really only need a WiFi-enabled e-book reader, you're not adding to your data plan, which can be an added expense. If you don't have an unlimited data plan, the idea of adding another gadget means more money spent. Just be sure to load up the books you want your daughter to read while you're in WIFI and you'll be good to go wherever you are.
Related: How to borrow free ebooks for your Kindle
E-book readers are easier on the eyes
You've probably heard that LCD screens aren't great for the eyes over long periods of time, especially right before bed. E-book readers, however, feature special e-ink technology, so they're like reading actual paper. And now that most come with a built-in light (like the Kindle PaperWhite, for example), kids can read before bed without you worrying that they'll be kept awake thanks to the bright tablet screen.
And yes, even though those of you with iOS 9.3 on your tablet have the Night Shift feature that can help with reading at night, the e-book reader fonts and screen are actually made to replicate the feeling of reading paper, which you just won't get with a tablet, even if you have Night Shift enabled.
Editor's Note: We are big Kindle users around here and use Amazon Prime a lot, however if you're a Barnes & Noble fan, definitely check out the Nook GlowLight.