With the new school year upon us, it's always good to have a list of some truly awesome math apps in our back pockets (or really, on our tablets and phones) to help sharpen our kids' numbers skills. So up next in our 2017 back to school tech guide,  we've put together some of the very best math apps for kids of all ages — whether they're just learning to count or they're ready to rock calculus.
One of the most important factors we look for in putting together our list is that the apps can — and should — make math fun. We're pretty sure these add up to just that, and we hope your kids think so too.
CMT is an rstyle and Amazon affiliate
Related: More math apps we love for kids of all ages
Best Math Apps for Kids: Preschool and Kindergarten

Preschool Math Games for Kids app (Free, Google Play)
Also shared in our 2016 picks for best math apps, we continue to love this app's number-tracing and connect-the-dots activities that give little kids confidence in math basics. With its learning-to-count exercises and beginner equations, this is a fun, colorful app to help turn math newbies into future pros.

Splash Math Kindergarten app ($9.99, iTunes)
Yes, the price is heavier on this app than most, but it's offering more of a well-rounded curriculum than the freebies out there, so we think it's worth it. Cute little jungle critters guide kids through eight progressive math chapters — kids need to nail counting before moving on to topics like subtraction and addition. But it doesn't feel like work when you're counting little birdies into the right boxes.

Peg + Cat's Tree Problem app ($2.99, iTunes, Amazon and Google)
A lot of little kids already know their friends Peg and Cat from PBS Kids, so they'll be excited to help them out in this math app for early math learners. Challenges include arranging meteors, stacking snowballs, and lining up numbers — light on "mathematics," but heavy on fun math concepts.
Monkey Math School Sunshine app ($1.99, iTunes and Amazon)
Monkey Preschool Lunchbox graduates to kindergarten with a similarly simian-based app — only this time, numbers are the name of the game. Kids pop bubbles with the right sets of numbers, add and subtract, and collect cute virtual stickers with every achievement. Because we know gamifying educational activities always makes kids more apt to keep going.

Drive About: Number Neighborhood app ($2.99, iTunes)
Kids naturally love spaceships, cars, trucks and boats, so combining things that go with cute characters and math basics is a smart move. Activities that promote counting, simple addition, number tracing, nd the basics of weights (you try to balance animals on a seesaw) give  kids a lot of math practice bang for your buck.
Related: 16 of the very best reading apps for kids, from ABCs to SATs
Best Math Apps for Kids: Early Elementary
Fruit Ninja Academy: Math Master app ($4.99, iTunes and Google Play)
Straight from the makers of the original slice-and-dice Fruit Ninja game that blew up 2012, this app is a clever way to encourage first-graders to get in some after-school math practice. They'll be adding, subtracting, multiplying, and identifying shapes and sequences while collecting stickers across the mythical land of Fruitasia.

Jump Numbers app ($2.99, iTunes)
In order to progress on this app's map — and save Snortles, cute little creatures who need to get home — kids have to add numbers correctly, counting by ones and twos and, eventually, all the way into the 100s. That makes this math app for kids challenging until the very end, when everyone (including the Snortles) celebrate with — what else? — a beach party. Again this one is a bit spendier than a $.99 app but kids won't put it down so quickly making it a good use of your three bucks.

Math Jungle: Grade 1 app ($1.99, iTunes; $.99, Google Play)
In this, one of our picks for best math apps for elementary kids, users help a monkey collect bananas through counting activities and equation solving. when they've graduated from this one, try out Math Jungle: Grade 2 which progresses to working with three-digit numbers and — you guessed it — more bananas.

King of Math Jr. app ($2.49, Google Play; $2.99, iTunes and Amazon)
Kids earn their way up the royal ladder by completing math activities that get progressively harder every level. As scores increase, you have the chance to evolve from farmer to bard and eventually all the way to king. (Though hey — what about queens, yo?) There's no shortage of questions to answer and problems to solve in this app, so kids won't be putting this one down any time soon.
Related: Math apps that are perfect for a summer review
Best Math Apps for Kids: Upper Elementary


Motion Math: Cupcake! app ($5.99, iTunes)
Whether it's kids' budding entrepreneurism or just their love for cupcakes that gets them excited by this app it's hard to say. But does it matter? Kids have to figure out budgets, set prices, solve customers' subtraction and addition word problems, and finally, reap the profits of their fun, flourishing cupcakerie.
Quick Math app ($1.99, iTunes)
It looks simple, but Quick Math is a cool beat-the-clock game in which kids add and subtract as the seconds tick by. Instead of tapping answers from multiple choices, we love that kids use their fingers to write the numbers as big as they want to on the screen, which somehow adds to the fun. And bonus: They get to work on handwriting skills. (Also check out the free Quick Math Jr. app if younger siblings want to get in on the game.)

Bedtime Math app (Free, iTunes and Google Play)
Kids are used to stories and lullabies from parents bedtime, but math problems? So brilliant! Especially because this app id designed for you to work together with your kids. The interactive Bedtime Math app provides a fun fact about a wide range of topics — like porcupines, for example — and then presents a verbal math problem for parents to ask our kids. With three settings, we think "super challenging" is best for older kids, provided the pondering doesn't keep them up!

Pet Bingo app (Free, iTunes and Amazon)
We have loved the apps from educational developer Duck Duck Moose since we first launched Cool Mom Tech, and since then they've added all kinds of fun, including a collaboration with Khan Academy. Another winner: the Pet Bingo app which lets kids practice math visually. Kids have to fill in the correct answers on an adorable animal-themed game card to make matches and progress. Besides, kids will use any excuse to yell out "Bingo!"

Tower Math app ($1.99, iTunes and Amazon)
In this kingdom, kids have to use their strategic problem-solving skills to beat monsters, which are actually numbers that an evil wizard has transformed. Every problem solved helps build a magical 3-D tower. The age reco on this one is 6 to 8, but we're going to disagree; with the more complex multiplication and division problems, older elementary kids will find it plenty challenging.
Related: Fun ways to get older kids excited about math (it can happen!)
Best Math Apps for Kids: Middle and High School

DoodleMaths app (Monthly, annual, and lifetime subscriptions, $5.49 to $129.99)
DoodleMaths is a bestselling app from the United Kingdom (hence, "maths") that was developed as a supplement for in-school curricula (hence the price range). But it's a terrific standalone math app for kids, too. Playful graphics help kids practice mathematical concepts of all kinds, while the algorithm determines your child's "DoodleAge" so it can adjust to their own strengths and weaknesses.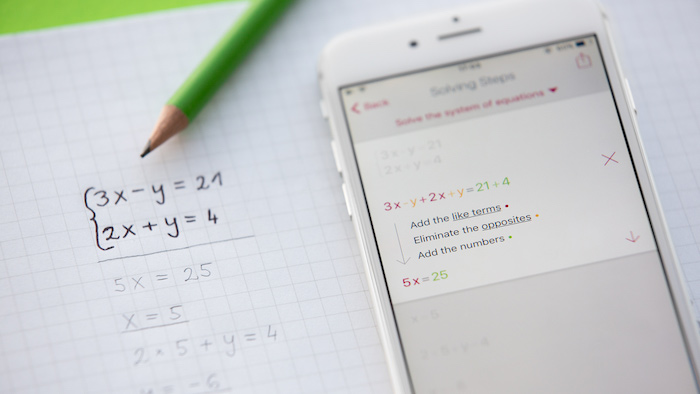 Photomath Camera Calculator app (Free, iTunes and Google Play)
This is an incredibly cool concept! With this math app for older kids, you take a photo of a math equation with your phone, and the app will solve it and show kids exactly how it did so — an invaluable tool for kids who learn better with demos. It can solve everything from basic problems to more complicated trig problems, which means it will grow with your child's math skills. Just be sure it's used for checking the work kids have already done, or learning the steps for getting correct answers. So no cheating on homework, okay?

DragonBox Algebra 12+ app ($7.99, iTunes and Google Play)
Visuals can be super helpful when it comes to algebra, and that's why we've always loved the DragonBox apps. While they have lots of options for kids of all ages, the Algebra 12+ app is great for your middle-schoolers or teens who will enjoy solving progressively hard algebra questions thanks to medieval icons, cool backgrounds and graphics, and a dragon that grows from a hatchling to an adult with every correct answer.

Lightbot app ($2.99, iTunes and Google Play)
This programming puzzle app requires kids to understand commands, logic, and sequencing so that they can solve puzzles and move up through levels. While kids are learning coding earlier and earlier in school these days, Lightbot  makes it feel accessible and totally doable, and a little more…grownup than the cutesie coding apps that use barnyard animals and silly animation.