Sometimes we think of reading apps as being for little kids, but reading apps for kids in high school and middle school can be extremely helpful. Whether your kids are voracious readers or a bit more reluctant to get lost in a book when there are new video game levels to conquered, we are big believers in encouraging reading wherever and whenever possible to help us grow lifelong lovers of reading.
Yes, even when they're reading on their phones and tablets.
And hey, even high school test prep and skill reviews can be appealing kids when technology makes it it engaging and fun.
With the new school year here, this is an excellent time for our older kids to download a few of the best reading apps for high school and middle school, to make reading even more accessible and fun.
-This post has been updated for 2023 –
11 of the best reading apps to support students in high school and middle school
Please note that we've included links to both developer sites and to the App Store, for the majority of our readers who are iOS users. However many of these reading apps for kids are also available in Google Play for Android.
Related Back to School Educational App Recommendations:
– Great reading apps for preschool and early readers
–  Great math apps for younger kids
–  Great math apps for kids in upper elementary and middle school
1. Libby Library Reading App by OverDrive
If you hear, "But I have nothing to read!" way too often, download the Libby app by OverDrive (also at top), the easy-to-use app giving kids access to tons of ebooks and audio books that they can borrow with a library card. As Kate mentioned in last year's post about 3 free audiobook apps you need for back to school, the interface of Libby is so kid-friendly, they'll be able to figure it out themselvesI
I think kids will like that the app remembers where they left off in their story so they can pick up where they left off if they get interrupted in the middle of a juicy spot. And parents will appreciate that they can set some controls, should you want younger readers not to have full access to every book in the library just yet; you can limit searches to "Juvenile" or "Young Adult" titles.
(Free to use with library card)

2. Hoopla Library App
Another great library app is the Hoopla Digital app, which makes use of a student's public library card with instant access to millions of ebooks, audiobooks, graphic novels and comics, and even music, movies and shows. (Yes, Oppenheimer is educational!)
It's great for all ages–sort by categories as broad as "teen" or as specific as "sci-fi manga"–giving kids the ability to instantly borrow what interests them in the library without schlepping out or worrying about late fees. It's no wonder it's one of the top 15 book apps in the App Store.
There does seem to be a limit to number of books you can "borrow" at one time but they've added a Hoopla Binge Pass fairly recently that allows you 7 day access to borrow (ahem "binge") entire collections of magazines and media, plus new Binge Pass collections specifically for students like The Reading Corner, Growing Up: Social-Emotional Learning for Kids, STEAM Powered Kids, and Learn About the World: People, Places, and Holidays,
There's also a collaboration with The Great Courses Library Collection, for access to more than 300 in-depth educational courses taught by world-class instructors.
(Free with library card)
3. Spark Reading app for kids
If reading comprehension is a bit of a struggle for your child, I like how the Spark Reading app for kids (FKA the Peekaboo Studio Reading Prep Comprehension app), which provides support using short passages that kids can read…and then follows up by helping them understand what they have just read.
This is a great "once-a-day" app which takes under 10 minutes to complete, so kids can knock off a tutorial over lunch or before they get free time to play outside.
With hundreds of stories written for kids who are reading at a 2nd through 8th grade level, you can meet your child at the level they feel most comfortable and let them gain confidence in their comprehension which is so important as they start reading more and more complex material.
(Free, with in-app purchases for more content)
Related: 3 free audiobook apps you need for back to school
4. Dear Reader app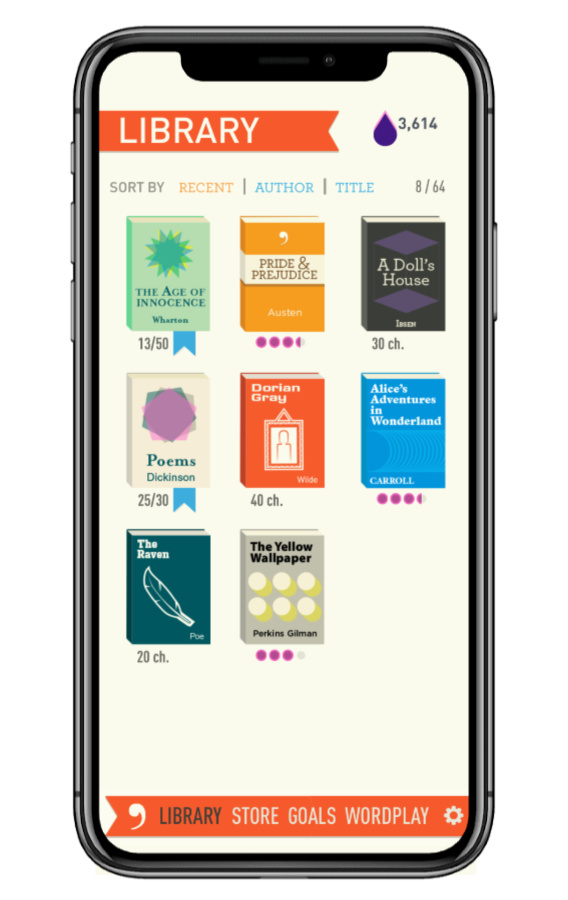 Sometimes gamifying reading makes it more fun for kids. And, well us! A few years back, Liz wrote about the Dear Reader app, and how addictive this app was for her and it turns out her teen loves it too. Free as part of Apple Arcade, this fun, quippy, clever, and fairly challenging iOS game of literary wordplay essentially takes a library of classics — HG Wells, Kafka, Charlotte Perkins Glimore, Virginia Woolf — abridges them, then engages you in various games using the text.
You may have to rearrange words, delete entire lines that seem out of place (that one is brutal when you're doing Emily Dickinson!), or quickly click on misspelled words. You can read her full review here.
(Free with Apple Arcade subscription)
5. Literal: An Addictive Reader
What makes Literal: An Addictive Reader (for iPad only) such a cool reading app for tweens and teens that it takes both classic titles along with newer books and turns the format into something Gen Z is very familiar with: Group Chat. That doesn't mean kids are chatting about it — it's more or less like turning a novel into a graphic novel that looks like social media; you can see just how that looks at the very top image.
Purists may scoff, but this subscription app provides a truly fun way to read books like Alice's Adventures in Wonderland or even Shakespearean classics like Romeo and Juliet. Even cooler is that kids can change the characters' profile pictures to friends, celebrities, or their own illustrations (see Pride & Prejudice above as an example).
Kids can read books together with their friends through a book group, which is easily facilitated through the Literal Club App.
(free to try, then subscriptions range from free for classics only, to $5.99-8.99/mo depending on the package)
Related: This list of the 100 best YA books of all time is just fantastic
6. + 7. Kindle app and Apple Books app
Don't forget two classic apps in the ebook arena if you are looking for an easy way to get your kids' hands on books they'll want to read. Both the Kindle app (above) and Apple Books app (below) are excellent options we have recommended here for years, because  both make it so easy to for kids of any age at all to get reading. Bonus: you know they won't outgrow it any time soon.
They each include features like text enlargement and audiobook capabilities, and also give readers access to books in every genre imaginable, though often at a price, and there are lots of new features these days — Apple Books has a convenient Reading Goals setting that lets' you track reading time against a daily goal and track annual books read. Smart for kids with school assignments like "read 20 minutes each day."
Note: There's always Google Play Books for you Android fans as well, with similar capabilities.
(Kindle is free to download and can be used to read borrowed library books; Apple Books comes loaded on iOS devices and does offer some free titles to read.)
Related: 7 online resources to supplement your kids' homeschool learning
8. Wordflex Touch Dictionary app
The Wordflex Touch Dictionary app makes word nerds like us swoon, but It's also an excellent tool for kids who are starting to explore more complex words and their linguistic relationships to each other. It's also more fun than flipping through a dictionary or thesaurus, or doing a basic Google search.
The Wordflex app (iPad only right now) lets kids use their fingers to follow "word trees" that may open them up to trying new words or phrases in their writing, which of course is designed to improve vocabulary and reading comprehension.
($3.99 for full access)
10. Khan Academy


While all of us know Khan Academy as a great source for AP/SAT/ACT test prep — or you will! — it's also underrated as a reading app for kids offering reading, vocabulary, and language arts help for students through 9th grade, all aligned to E.L.A. Common Core standards.
In 9th grade for example, topics like poetry, argumentative text, and reading for understanding all fall under three engaging topic areas: Borders, Social Psychology, and every teen's favorite dystopian genre, The Apocalypse. There's also a complete grammar section, which can be a helpful refresher for college-bound high schoolers. Don't sleep on the lesson on the difference between hyphens, dashes, and ellipses!
While all content is available free online, there is a Kahn Academy App for IOS and Android, with a full high school level grammar section hidden under Humanities; Course Challenges which allow them to test knowledge of skills learned, so they can confidently move on;.plus an entire test prep section updated each season as SAT and AP testing formats and scoring change.
(Free download)
11. The MadLibs App (Really!)
One of the best things about the Mad Libs app is that while newly updated, it is still the hilariously silly game I played as a kid (though back then, I needed a pencil to write "stinky" in the line for adjective). Now kids just need to download the gorgeously designed app (iPad, iPhone, Android) and type in their word choices to create ridiculous-sounding stories.
What hasn't changed is that MadLibs still happen to be an excellent way to teach parts of speech and encourage creative word choices — at least beyond "fart" and "sus." And for kids not yet into Dear Reader, it still gets them, well, reading. That's a win-win in my book. Plus, the free version includes 21 stories that your kids can play either alone or with friends. And you know we love playing games with friends online, even if we're back to seeing each other unperson again.
(free, with additional books $1.99/ea)