I often have moments when I wish I had Google Maps for items I can't find in my own house. And now, like magic, there's a new digital inventory app called Snupps may make finding your things a lot easier before they're even "lost."
While it isn't possible (unfortunately) to embroider a GPS chip onto the black clutch that I last saw three months ago, we have featured a ton of new tracking devices and tracking device apps that can help. (Seriously, check them out. Amazing stuff.) Snupps however, is a super helpful app to help you keep track of the many things in your life–kind of like a digital closet with a social aspect to it.
It's like a  visual spreadsheet for digitally cataloging any items you want to remember, cherish or showcase; even sharing them with a social network, if that's your thing. And the interface is very quick and easy.
Create virtual "shelves" then  stock them with images and notes, like you would on Pinterest or Instagram or Springpad. Like if you own a ton of handbags? You can create a shelf called "All My Awesome Bags," take a picture of each item (including a certain black clutch), and add a note detailing how you might wear it. That way you can find just the right bag without digging through shoeboxes and the backs of closets saying, "oh! I remember this!"
It's also perfect for collectibles, family keepsakes, valuables for insurance purpose, important documents (you'll always have a record of those passports on your phone), and warranties and receipts for tax day organization. It's all stored via Amazon's data cloud so it's safe and encrypted; less important for your handbags, more so for your documents.
I can also see this as coming in really handy for tracking kids' memorabilia stored in the basement,  keeping tabs on old photo albums, locating tech gadgets for travel you can never unearth when it's time to actually travel, jewelry you want to inventory for insurance reasons, or especially for families who are moving and want to remember exactly where to find important items.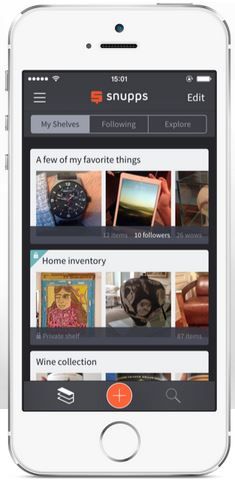 As for the social element of the app, there's a central news feed allowing you to can see the shelves that other Snupps users have shared. Now I'm not so sure that I want to publically share everything of value in my home. And if you do want to use that public functionality, a black clutch or your 2012 1099 forms probably aren't what people are going to be interested in. But if you own things you're especially fond of and want to show off,  I loved the shelves on the public feed featuring cool collections like prized vintage comics, heirloom family items, Alexander McQueen purses, even a collection of Bob Marley records.
But that social aspect just a bonus that will or won't catch on. As for me, someone who doesn't have collections of anything more fascinating than boxes of mismatched LEGOs, being able to locate and inventory my things is reason enough for me to start using the Snupps app.
Snupps digital inventory app is available for free in iTunes.