September always brings two emotional events for me: 1) the kids going back to school and 2) Apple's annual announcement. Okay, so emotional may be an overstatement on the second event, but the gorgeousness that is the new iPhone 6 actually did bring a tear to my eye.
In true form, there were lots of jaw-dropping announcements today from phablet iPhones, mobile phone payments, wearable tech, and lots of feature improvements that Apple parents especially will love. And to finally confirm all those rumors, yes, an Apple Watch! But that's coming up in another post.
We live tweeted news from our Cool Mom Tech handle all afternoon, but for more detail, here's our rundown of the most awesome new features and products we're most excited about as parents and iPhone enthusiasts.
iPhone 6 and iPhone 6+
The next version of the iPhone has a decidedly different look and feel, with a far slimmer profile and curved edges. But what's causing the big stir is that the iPhone 6 will come in two sizes: 4.7″ and an iPhone 6+ model at 5.5″ — which is a lot bigger than the iPhone 5 which measures 4″ long. Is it a phone or a tablet? Or a phablet, a word we totally hate? Regardless of size, both models features amazing new improvements from previous versions, and as the powers-that-be told us over and over again, these are the best phones ever made….the best phones we know how to make, and the best anyone has ever seen. 
And that's saying something.
Graphics
The first thing you should notice, besides the thin profile and larger screen size, is that the iPhone 6 offers a seriously impressive retina HD display with remarkable clarity, sharpness and brightness–one tech pundit even pointed out how incredible an iPhone photo looked blown up humongous on the presentation screen. One aspect of the display we are all impressed with is the improved polarizer. You know how when you're outside in the sun wearing sunglasses and can't really see your screen? That should be way better now.
And considering how cool the new iOS8 Photos app looks, the combo of the app power and the graphics should be awesome for families.
I also love the new landscape view functionality which makes sending texts a lot easier with a single hand when you're holding a baby in the other. In fact, there are quite a few one-handed operation improvements, especially for the iPhone 6+ which will need it considering the larger size.
Speed and Power…And How About Those Battery Issues?
With a 25% improvement in processing times (fast!), we multi-tasking parents should get a huge productivity boost with the new iPhone 6. And without getting too techy, there's a new A8 chip which improves graphic performance while making the whole phone more power efficient.
Of course one of the biggest improvements we've all been hoping for is Apple to fix the ridiculous battery drainage issues that the iPhone 5s/iOS7 combo has created for tons of users. (Not that we don't love carrying around three portable battery chargers at all times.) The team is promising way longer battery life here–from 10 hours of talk time (ideally) with the 5S to  14 hours with the iPhone 6 and a full 3 hours with the iPhone 6+.  They're even promising up to 80 hours of audio with the 6+ which is double what the 5S offers.
In other words, either of these phones will outlast any Infinity Blade marathon session–or the kids' listening to Let It Go on repeat for an entire day.  If we're lucky, they won't even hand the phone back to us at the end with 4% power left.
Improved Call Functionality
The iPhones feature new LTE functionality and support more than 200 carriers worldwide, so hopefully that means no more dropped calls or Can you hear me? Hello? Also impressive:  You will be able to make calls using WiFi–fantastic when you're somewhere with terrible cell phone reception. But better yet, if you're walking out the door and suddenly your carrier's service kicks in, the call will transition to the network seamlessly.
One of the other features that is going to make an iPhone more appealing to the yet uninitiated is the new support for VoLTE, or Voice Over LTE. That means as carriers like Verizon roll out this technology, you can have access to simultaneous voice and data functionality–something only Android phones had announced up until now.
Photo and Video 
The camera on the iPhone is already great, as we all know. But advancements to the internal optics of the iPhone 6 and 6+ make the 8 megapixel camera near professional. That's so great considering how many parents are using their phones all the time (as you know if you've ever sat in a school auditorium and seen a hundred screens light up all at once).
With Focus Pixels, something only found previously on pro DSLRs, the iSight camera offers way fast auto-focus–like twice as fast than the 5S, which is a boon for those of us with kids who never sit still. You'll also get crisper shots, outstanding macros and panoramas, and the ability to take pictures in Burst Mode, which means that your kids (or you, ahem) can take up to ten selfies in one second. It's going to all make FaceTime that much better too–especially the new manual exposure control.
And speaking of faces, there's going to be more advanced face detection; not that we ever thought the current system was slow, so it will be interesting to see how that improves shots of the whole family.
As for video, Apple refers to the iPhone as the number one video camera in the world, and it's true–when is the last time you knew anyone who considered buying a digital video camera that wasn't a GoPro? So of course they've improved the iPhone video functionality with stabilization technology that was pretty mind-blowing in the presentation demo. Just think, no more shaking videos! For fun, you'll even have the ability to take a time-lapse video without a third-party app.
Pricing 
So the final question is, of course, what does it all cost? We're pretty impressed to see that the entry point is still $199 for a 16GB model. Spend $299 for the 64 GB, or get a new 128 GB for $399.
The iPhone 6+ however automatically starts a hundred dollars higher which makes sense considering the size. It will be $299 for 16 GB; $399 for 64 GB; and $499 for 128 GB.
And we had to laugh when we saw some people joke that the 5S will go down to $99…and the 5C will be free.
Pre-orders of the new iPhone 6 models will start on September 12, with sales starting September 19.
iOS 8
We know one everyone is excited to learn about the new Apple operating system. And yes, there is one. The iPhone 6 comes with the much anticipated iOS 8 platform which we have previously covered (and are wildly excited about).
What's nice is that iOS8 will be supported with iPhones 4 and up, iPad 2 and up, and iPod touch 5th gen, so you don't have to invest in a brand new phone to reap the functionality. Still, we know how borked the iPhone 4 got with iOS 7 upgrades, so we'll have to withhold judgement until we've upgraded our older phones next week.
To recap, some of the coolest new features in iOS8  include being able to add voice, video and your current location to any text message. Imagine how handy that will come in when you're late for a play group and want to share your route (something Waze already does nicely) or are wanting to send the grandparents audio of your baby's first words, almost in real time. In fact Siri is going to be able to do a lot more (and hopefully get more words correct in the process).
As I already mentioned, the Photo app is going to be awesome, with far improved search, intuitive suggestions, and more advanced editing tools you can use right in the app. Oh, and lots and lots of filters. (We know how you all like the filters.)

Continuity is also going to be a huge plus, connecting your iPhone, iPad, and Mac or MacBook through what's called Handoff. That means you can start using an app like Maps, Calendar, Keynote, or even Safari and pick up where you left off on another device.
Family Sharing functionality for calendars is another bonus for parents that we're excited about, giving parents help in determining who is taking who to the birthday party, soccer game, and piano lesson–especially when they all happen at once. You can also get group contributions to a family photo album so you can aggregate all your kids' awesome shots of the cat and the ceiling right alongside yours.
And finally (FINALLY) you'll be able to share one another's music, movies, books and apps. No trading Apple ID or passwords – just pass along your media to your other family members. That is fantastic, especially for those of you with kids who are starting to have their own devices, but you don't necessarily want to give them their own iTunes accounts.  We're especially excited for this aspect of iOS8.
Psyched to upgrade? You can download iOS8 starting September 17,  two days before the new iPhone 6 comes out.
Health and Fitness
One thing that's especially exciting about new iPhone 6 and iOS 8 is that together, they're allowing Apple to jump on the fitness tracker bandwagon, big time.  The health-related features of iOS 8 are pretty amazing. First, the Health app will contain a broad dashboard of health information — from data you enter personally, to info pulled from third party apps like FitBit and Jawbone UP. Expect to see more apps integrated in the near future too, thanks to the HealthKit open platform, which will help developers create apps that share data and work together. Of course, you'll be able to specify which information is shared between which apps.
Another cool health-related feature of iOS 8 is the emergency card, which enables you to note any health conditions, medications that you take, and your emergency contact. It's available right from the lock screen too, which is super smart. I can see this feature being especially valuable for kids with severe allergies (and their concerned parents), people with diabetes or asthma, elderly relatives, or really anyone — because accidents do happen.
Your iPhone itself will have some amazing new gauges that allow you to track your own steps and impressively, elevation. Which is so smart as more and more people are using their phones as an extension of their fitness trackers, or incorporating them into their workouts or fitness training.
In all, Apple seems to be putting together a smart way to allow users to take control of their own fitness goals–and maybe for Apple to take control of the fitness tech market? We'll see how much of this ends up being about collaboration with existing brands, and how much of it is a very big step in the direction of Apple fitness tech domination.
Apple Pay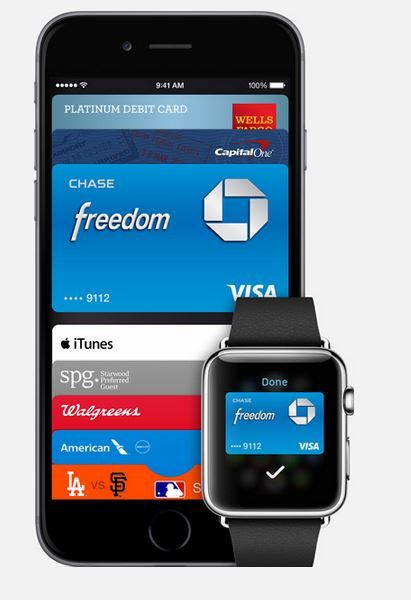 The other big news of today that affects your new iPhone 6 is the launch of Apple Pay. The image of swiping your nifty Apple Watch across a payment reader to pay for your groceries seems like something from the Jetsons-era, but Apple Pay does just that.
Apple Pay will be available for iPhone 6, iPhone 6+, and Apple Watch users, and will let you make instant and automatic payments totally securely, right from your device. My sensitive security red flag was raised when I saw the live updates about this functionality, but Apple addressed that fear by stating that payments are made through a completely encrypted and secure server, ensuring that your card information is never even visible. In fact, it might even be more safe than using a traditional credit card. It certainly is faster.
So how does it work? You can use your credit card assigned to your iTunes account or simply take a picture of another card with the iPhone camera, which stores it in what they call the Secure Element. Sounds like a sci-fi movie, but it's actually a chip in the iPhone or Apple Watch. Your number is never stored on any kind of server, which is reassuring.
To enable the transaction you just use your unique fingerprint using the phone's Touch ID which is so brilliant. No more fiddling through your purse to dig out your wallet while juggling a cranky baby or (gasp!) even going even more old school and writing a check.  Not sure any of us will immediately jump on the paying-by-iPhone bandwagon, but 220,000 retailers have already signed up including big names like Macy's, Whole Foods, Bloomingdale's, Staples and Walgreens, with many more to follow, I'm sure.
Related: What you should know about the Apple Pay shutout 
Final Thoughts
What I'm personally most excited about are all the wonderful things iOS 8 will enable parents to do even better than they're doing now. Think about your photos, texting, your shared calendar. Then think about how productive you'll be if you upgrade to an iPhone 6 considering the remarkable speed, power, and (whoo!) long battery life. Even better, it's great that the iPhone 6 is reasonably priced (at least for Apple phones), and that the rest of us can get all the great functionality of iOS 8 without dropping several hundred dollars to take advantage of it.
If you have an iPhone 5S, it's up to you whether or not you want to trade-in so soon after getting your last phone, but if you're an older iPhone user I'd definitely take the plunge. Any iPhone 3 people still out there? It's high time my friends. Especially considering what iOS 8 will do for you.
We will certainly be keeping our eye on all these Apple products and platforms as they are released with our own personal usage stories. Plus we can't wait to hear from you, any Apple early adopters, who want to share your day-one experiences with us too.
-Jeana, with contributions from Liz and Julie
Visit the Apple website for more information about these awesome new products and features.