For well over a decade, people have been talking — or more like yelling — about being hamstrung by cable companies. Some had-it-up-to-here folks have started cutting the cable cord and looking for more manageable, customized ways of watching what they want, when they want, without emptying their wallets.
But those early cord cutting options were limited. Like, you could get some of the basics from Column A, but the truly cool stuff from Column B? For a long time, those options remained off-limits, protected behind the Cable Subscribers Only velvet rope. But that was then.
Now the options for viewers who want to severe ties with traditional cable TV subscription are spilling over.
Not that everyone will want to cut the cable cord. Plenty of us are still very happy with the simplicity of a one-stop TV and movie watching solution. But if you're trying to figure out whether you're ready to cut the cord, I've put together 3 of the most popular cord cutting options  featuring the leading services out there, plus a new, breaking, first of its kind offering from AT&T that's just out.
Think of them of like smart combination platters. And good luck out there!
Related: Apple TV vs Roku vs Amazon Fire TV: A triple streaming media device smackdown
Cutting the Cable Cord Option 1:
À La Carte Premium Network Subscription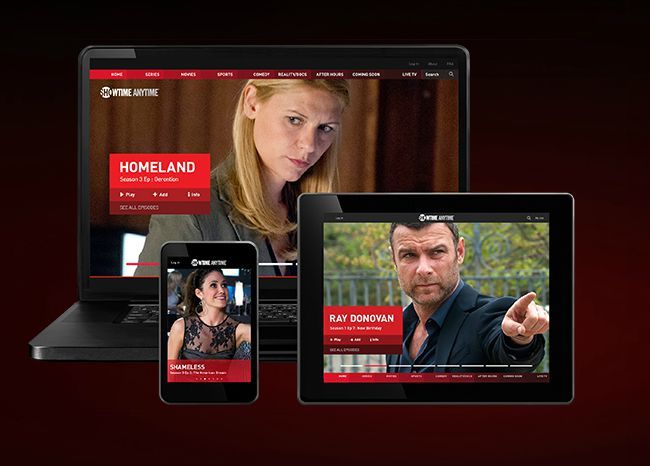 Premium channels like HBO, and more recently Showtime, have started to unbundle themselves from the almighty (and often expensive) cable packages. Instead they are offering their content via stand-alone streaming subscriptions. The big plus is that most of these services give you access to their programming on demand and a live feed, so you can watch and live-tweet through HBO's Game of Thrones along with everyone else in the Tyrion-loving universe.
The Down Low: To get in on these à la carte, single channel streaming subscriptions, you'll have to drop a monthly fee. That's $11 for Showtime Anytime, $15 for HBO Now, and $6 for CBS All Access, which offers select on-demand episodes and carries live TV in 14 American cities including LA and NYC.  You can also watch your à la carte subscriptions with streaming devices you may already own, like Apple TV, Roku, Amazon Fire TV, and Playstation Vue.
The Downside: Not all the premium networks have streaming services yet. So if you're into the big, cable network watercooler shows like AMC's The Walking Dead, you'll be stuck streaming a day late; or, in some cases like with Netflix, after the current season has had its live run. With CBS All Access,  sports like those big-money-earning NFL games are not available at all. So you can can try visiting your cousin who has regular cable on Sunday nights but if you're a parent, that may be a big hindrance.
Cutting the Cable Cord Option Option 2:
Streaming Device + Video Subscription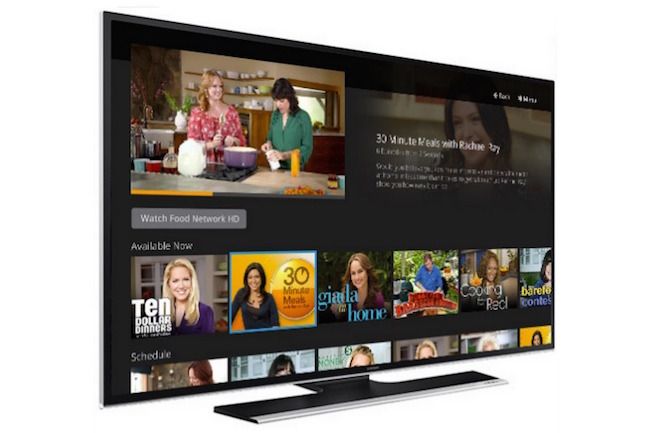 If you and your family are more about streaming movies and you don't mind catching up (fine, binging) on TV series instead of watching each episode live, this could be a good option to consider. And with streaming media devices ranging in price from $35 (Google Chromecast) to $400 (PlayStation 4), you'll likely find one that fits your budget and preferences, with plenty of options for the kids, too.
The Down Low: The devices allow you to stream live as well as on-demand shows through your TV. And there are quite a few streaming cable TV services to choose from, like Sling TV which we recently reviewed ($20 per month), PlayStation Vue ($50 to $70 a month), or Comcast Stream ($15 per month for Xfinity Internet customers).
Add a movie or video streaming subscription like Netflix ($9 per month or $108 annually), Hulu Plus ($96 annually) or Amazon Instant Video (free to Prime Members, who pay $99 per year), and you've got yourself a nice array of things — that you really like — to watch whenever you want. Or, you can opt to watch on your Mac or PC, as well as your iOS or Android devices using the companion apps.
The Downside: There are limitations to the channels you will get with this cord-cutting combo. Broadcast networks, like ABC, NBC and PBS, are not available on Sling TV. Playstation Vue doesn't get ABC or ESPN. And as of right now, you aren't able to watch Bravo, NBC, or Syfy via Apple TV which could be a deal-killer for you Real Housewives addicts. Plus, live streaming is not always reliable, though that's a smaller caveat.
Of course, the biggest hitch with media streaming is the lack of live sports, if that's important to you. And I know first hand that die-hard sports fans tend to be not cool at all with this. Also, many times when you factor in the cost of the device, the streaming services, plus paying what may be a little or a lot extra for unbundled internet (and you'll probably need to upgrade to super high-speed bandwidth to support streaming the hi-def video), it may add up to zero savings. So be sure to do the math.
Cutting the Cable Cord Option Option 3:
Smart TV + On-Demand Service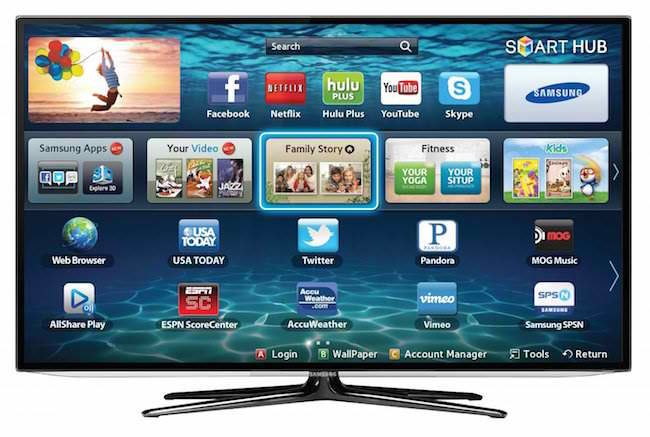 Smart TVs are essentially televisions with built-in computers, letting you access streaming media services and run social media and entertainment apps through them that should cover the entire family's needs. Should you need to see your Facebook feed in glorious 4K UHD resolution. You're essentially cutting out the "middle man" of a streaming device (like a Roku) with these televisions. Plus, there's something about the design and interface of most smart TVs that look so cool and futuristic relative to your average streaming media stick.
The Down Low: If you go for a smart TV and want to cut cable completely out the picture, you'll need a satellite service (DirecTV or Dish) or an HDTV antenna to get local channels. And you'll need internet to fuel the "smart" part of the television, though presumably you have that already.
Partner your smart TV with an on-demand service like Hulu Plus, Amazon Prime Instant Video or Netflix and you've covered a lot of screen time entertainment bases which may be plenty for you, even if one or two channels are missing.
The Downside: As with anything connected to the internet, smart TVs — and some of the apps used on them — can crash. Frustrating. And, oh, yeah, there's all that annoying buffering too. Also, none of the smart TVs currently on the market offer iTunes if that's important to you; but more important to me is that not all of them offer Amazon Instant Video. However, many sets do have plenty of why is this on here? apps that you can shake. (Do you need a dedicated Angry Birds app on your TV? Maybe not.)
Another possible negative is that smart TVs cost $100 to $150 more than your regular "dumb TV" though in fairness, if you're investing in a new TV, it makes sense to take that plunge considering the future of television. Plus, keep in mind you'll still need to add in the cost of unbundled internet when crunching the numbers.
Cutting the Cord Option 4:
The New AT&T Bundle
After the major ($48.5 billion!) acquisition of DirecTV late last month, AT&T became the largest paid-television provider in the U.S. And barely a week later,  the telecommunications giant introduces a first of its kind nationwide bundle that combines mobile and television services. Which means AT&T users can watch TV on any device.
It's TV on the go, quite literally. You can start watching Amazon Original dark rom-com series  Catastrophe (above, an all-around CMP and CMT fave!) on your telly at home via Amazon Fire TV, then pick up where you left off and continue streaming it on your iPhone as you sit in the carpool lane at pickup time.
The bundle, available starting August 10, will cost $200 a month for the first year, though no word on how much the rate jumps after that. And it will give users 10GB of sharable data and television service, with HD video and DVR service for for up to four televisions, plus — on the mobile phone —  unlimited talk and text for up to four wireless lines.
The only possible downside I can see right now is that new-to-DirecTV customers must sign a two-year contract to get in on this deal. So, be sure to read the fine print before jumping aboard this new ship. But hey, it just might be the perfect ship for you.
———-
Overall, the good news about cutting the cable cord, if you choose to do so, is that there are choices. But it's also important to note that it's impossible to find the one perfect solution. There will always be hiccups and caveats to consider with any cable TV alternatives for home entertainment, at least right now.
There's a reason cable has remained ubiquitous for so long, even if we do make fun of the 1700 channels that no one ever watches. So perhaps in the end, you may realize that sticking with whatever bundle you have is the best option for you after all. And that's totally cool.
If you have a cable cord cutting option that works for you and your family, we'd love to hear it!