If you're still scratching your head about the perfect gift for a tech-savvy dad, we've got some last minute tech gifts for Father's Day that we hope will do the trick. Things to ask that might help you out: Can I get it in a local store? Can it be emailed? Can I get it overnighted with Amazon Prime? Can I make it myself? With those criteria in mind, we present xx gift ideas for some very lucky dads and grandpas out there.
THE ROKU STREAMING STICK OR GOOGLE CHROMECAST
Also great for the traveler–or just the guy who can't stand being limited to basic cable every time he visits the in-laws, both the new Roku Streaming Stick ($49, Amazon) and Google Chromecast ($35, Amazon)are terrific options for getting your entertainment on the go. Check out both and see which you think is right for him.
A TRIP-IT PRO SUBSCRIPTION
I could not live without my Tripit pro subscription, which for a frequent traveler is like having a personal assistant, a navigator, and a Delta representative all in your pocket, let alone a guy in the airport that you slipped a twenty to get the inside scoop on when the next flight is leaving after yours was cancelled. It even once saved me over $200 by alerting me to a temporary fare drop a week before my flight so I could get a refund. Totally worth every penny. ($49/year, Tripit)
 A DIY VIDEO OF YOUR FAVORITE FAMILY MOMENTS OF THE YEAR
While there are service that can put together beautiful, professionally edited photos and videos of your family, both Magisto and Animoto allow you to do it yourself for free (or close to it) and make it super easy. You can even use the apps and edit from your phone. It's worth spending the $5 to try out a monthly membership for Animoto so your videos can go longer than 30 seconds; Magisto also has a free app and it's just $.99 to make the app downloadable. Because you know he'll want to save it.  Especially if it's filled with photos of him and the kids.
AN IPAD MINI… ON SALE
Any time is a good time for a new tablet, especially when the iPad Mini 16GB is on sale for $100 off at Target this week only. You can have it shipped rush, or hold it online and pick it un in a store near you. Bonus: Maybe he'll pass an old one down to you or the kids. Although no, this is about him. Completely. 100%. ($199 for a limited time)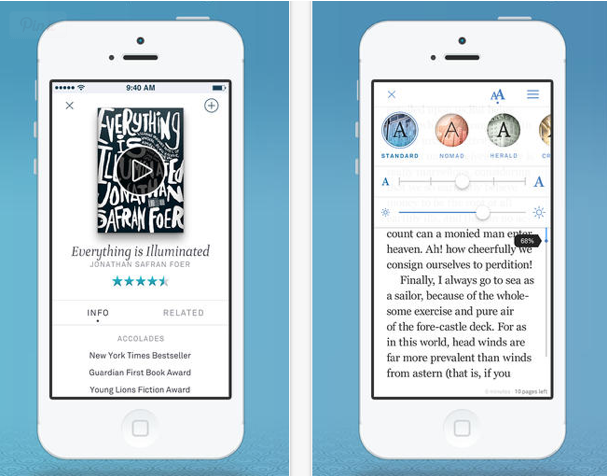 AN ANNUAL E-READER SUBSCRIPTION
Book lovers will adore the idea of  unlimited ebooks each month, whether they're to borrow or keep. We've compared the top ereader subscription services and would recommend you look at eReatah if he wants to keep your books ($14.99/mo for two books), and Oyster if he tears through them and is happy giving them back in the end ($9.95/mo for unlimited books with 30-day free trial).
A GREAT BOOK. OR E-BOOK.
A quick drive to the bookstore is easy, but for techy dads, a Nook or Kindle download may be even easier. A few favorites that are perfect for tech lovers on Father's Day: The Geek Dad series by Ken Denmeade ($9.92+ for Kindle); Steve Jobs by Walter Isaacson($9.99), Stuff Matters by Mark Miodownik ($12. 99); The Everything Store by Brad Stone ($14.99); Console Wars by  Blake J Harris ($14.99).
Or check our post on Cool Mom Picks with suggestions for 10 great books for dads on Father's Day.
A USB MIX TAPE
We love Spotify but it does have its limits. While certainly you can make your own Father's Day playlist right through your streaming services, it's more sentimental to actually take the time to upload your favorite MP3's onto a cool USB, that he can keep forever like this USB Mix Tape by Suck UK. ($30). If there's no time to get one shipped, you can always just find a cool flash drive and package it in a fun way.
Or, we're pretty impressed by this Instructibles tutorial for a DIY USB mix tape for those of you handy with
Stuck for song ideas? First, you can simply put together his favorites and call it something like 80s MUSIC WE HATE BUT YOU LOVE BECAUSE WE LOVE YOU. (Ha.) Or  try all songs with dad in them: Billboard has 25 ideas to get you started though uh, Papa Don't Preach miiiiight not be the right message from young kids. Still, Eric Clapton's My Father's Eyes? Perfect.

A GIFT CARD THAT'S MORE THAN A GIFT CARD
We've loved the Gyft app which makes it so easy to buy, redeem and (ahem) regift gift cards to all kinds of retailers like Gamestop, Best Buy, Target, Amazon, iTunes, Shutterfly and hundreds more. And now that you can include a personal video greeting with your gift card right from your iOS or Android phone,  it's a thoughtful way to turn a not-always-so-personal gift into something much more special. (Free app)
A COOL FATHER'S DAY PRINTABLE DIY CARD
There are so many Father's Day cards that now acknowledge the technological prowess of our paternal figures, and a longtime favorite is this  DIY iPhone Father's Day card printable via She Knows. If you want to make it easier on yourself, just print out the icons, skip the whole flap thing, and glue them down to make a fun iDad card.
Also check out our post on 13 Father's Day Gifts for Geeky Dads for even more ideas. You may not be able to get them all before Sunday, but sometimes a card with an IOU in it can be totally worth it when it's the perfect gift.