Sometimes I need just a little quiet at home over the holidays, you know? And since my kids are app-crazy anyway, they always think it's a treat to find cool new Christmas apps for kids that they haven't tried yet. While we have a few from years past that they still adore, here are some new ones that I think are definitely worth a look.
Related: 5 fun Christmas apps that make us feel like kids again
A Charlie Brown Christmas app: 50th Anniversary Edition (iOS and Android)
This was one of our top recos for Christmas app for kids last year, and this year it's been updated with even more ways to engage. There's lots to do in this interactive storybook: Play Schroeder's piano, finger paint, go carolling. Plus, I love the authenticity of the original illustrations, music and dialogue going back to 1965. It's $5.99 well spent, and a perfect app to get the whole family gathered together.
Favorite Christmas stories for kids app bundle (iOS)
For a real bargain, check out this bundle from one of our favorite developers, Loud Crow. You get the Charlie Brown app, an interactive Pop Out Night Before Christmas app, plus a gorgeously animated interactive holiday storybook from the Windy and Friends series (above), which we named one of our favorite apps of the year last year and one of our all-time top Android apps for kids.
Or, if the bundle doesn't appeal, just get the Mild & Mellow's Holiday Light animated story from Windy & Friends on its own (also for Android).  It's lovely.
Doodle Jump Christmas Edition (iOS, Android)
My kids can't get enough of Doodle Jump, and this version is even more fun. Your goal is to get Doodle to jump his way up to the North Pole, collecting gifts, avoiding grinchy monsters, and commandeering rockets along the way. There's a free version too but expect Master Card banners to pop up at the bottom of your screen; or if you own the original Doodle Jump, just make sure you have the latest upgrade which includes a snowy Christmas world.
Storybots Christmas: Starring You app (iOS)
From the kids' division of Jib Jab, which makes lots of great educational apps starring your own child, this super fun app lets kids…well, elf themselves and star in a music video. Only without the corporate branding. This is an especially good choice for kids in the 4-6 range, though even my girls who are a little older than that can't resist anything that begins with a selfie.
Talking Santa app (iOS and Android)
Like Talking Tom, this will probably drive you crazy, but kids will love talking into it and hearing "Santa" say it back to them. They can also poke, tickle and fete him with milk and cookies — or go naughty and run him over with a snowball. It does have video upload to social media though so be sure to check your settings.
Clumsy Ninja app (iOS and Android)
Yes there are a zillion in app purchases so set those parental controls parent! However when you do, you've got one awesome game that your kids will love if they haven't  yet tried it. And now for the holidays, there's a "holiday event" for a limited time, but since he's ostensibly wearing a Santa suit, I'll go ahead and call it a Christmas event.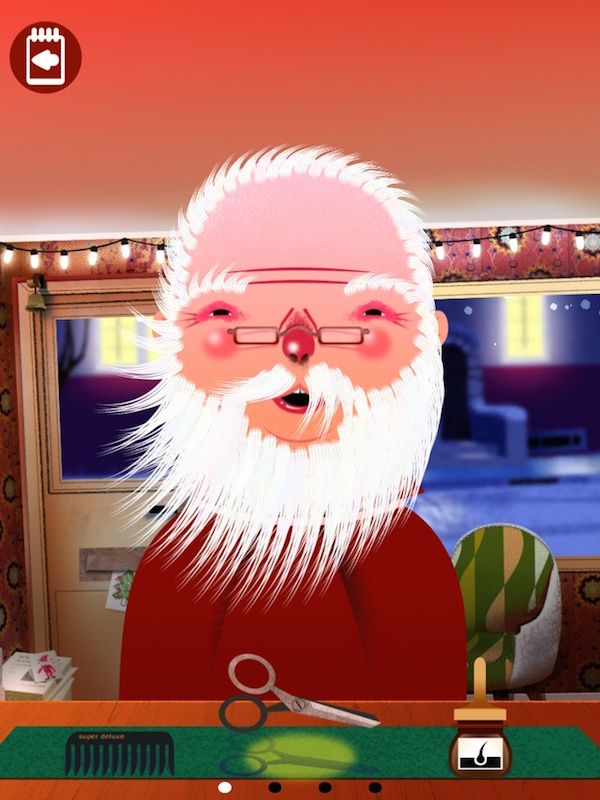 Toca Hair Salon Christmas Edition (iOS)
This is still the app our kids come back to a whole year later, and that's saying something. Because while it's fun to give any salon customer a beard trim or a pink mohawk, it's way more fun when that customer is the man with the bag. Plus, you get to "style" a Christmas tree too and that's always fun.
Toca Life: School app  (iOS)
While you're checking out Toca apps, be sure to take a look at one of their newest apps,which my kids absolutely adore — my ten-year-old says, "Even I like it!" because there's so much to do here that get little imaginations working. (This school has a serious extracurricular program!) It's not specifically a holiday app, but they have added a recent winter holiday update (video via Kids123) that gets the animated schoolkids in the spirit with Hanukkah lights, a mini Christmas tree, some seasonal costumes for dress-up, and pencil that's swapped out for a candy cane. Oh, if school were only like that every day.