There are some folks on our lists who love tech gifts, but prefer the more practical tech gifts to the gaming systems or the entertainment consoles. Or hey, maybe they love both but just have some specific needs this year. If that's the case, I've got you covered! I love all of these tech gifts which are not only practical, they're still gifts and awesome.
I mean, if you want to give someone a 48-pack of AAA batteries from the big box store, have at it. But you don't need me for that, right?
CMT is an rstyle affiliate. Shopping through some of the links here may generate a small commission that helps support our work as an independent publisher, at no additional cost to you. 
USB-C Rechargeable Hand Warmer
My life (or okay, my cold hands) were recently saved by a pair of those disposable hand warmers that are ski slope must-haves. But oof, the waste. I love the idea of this rechargeable option that heats both sides quickly, lets you choose 4 different temperatures, and stays warm between 4 and 8 hours just by pressing a button. Get one for each kid this winter!
($24.99, Amazon)
TwelveSouth AirFly Pro

This genius little device (also at top) is essentially a Bluetooth adapter that's perfect for a frequent traveler, a gym rat, a gamer, or kids who watch movies on tablets. I tried out a press sample and wow, does it beat having to bring my big old clunky over-ear headphones onto the plane.
The AirFly Pro not only allows you to connect your wireless headphones to the airplane entertainment jack, but you can connect wirelessly to the TV at the gym or a handheld gaming system like a Nintendo Switch, share audio between two headphones like a splitter, even send audio from your phone to a car speaker without the use of headphones. Sweet.
($54.99, TwelveSouth)
Great for cyclists, joggers, campers, or ultra-prepared go-bag aficionados. It charges with a USB too, which is pretty rad, and gets fantastic reviews because the hat is evidently soft and comfy in itself.
($35, MoMA Store or $28 for members)
Tapplock Fingerprint-Enabled Smart Lock
Forget keys or combinations — you can set this biometric smart lock to open with a fingerprint, via Bluetooth, or even Morse code. (Really.) It's weatherproof and waterproof too, should you want to use it for a shed, a pool fence, an outdoor storage locker, or your own front gate.
($99, Amazon)
Otterbox Figura Pop Series iPhone Case
Lots of styles for lots of different models, the next in the collection of Otterbox-PopSockets collabs, you're getting some super protection for your brand new precious — always a smart purchase along with that AppleCare plan — plus you get the convenience of a built-in pop socket.
If they already have a case? Take a look at the smart new PopSockets Pop Grip Slide that's just under $15, and snaps right on.
($59.95, Apple Store)
Ever since I saw a home contractor using one of these, I've wanted one. Turns out they're super affordable, and they work far more accurately and easier than trying to mark your place with your finger then keep adding to it with your standard tape measure.
($16.95, Container Store)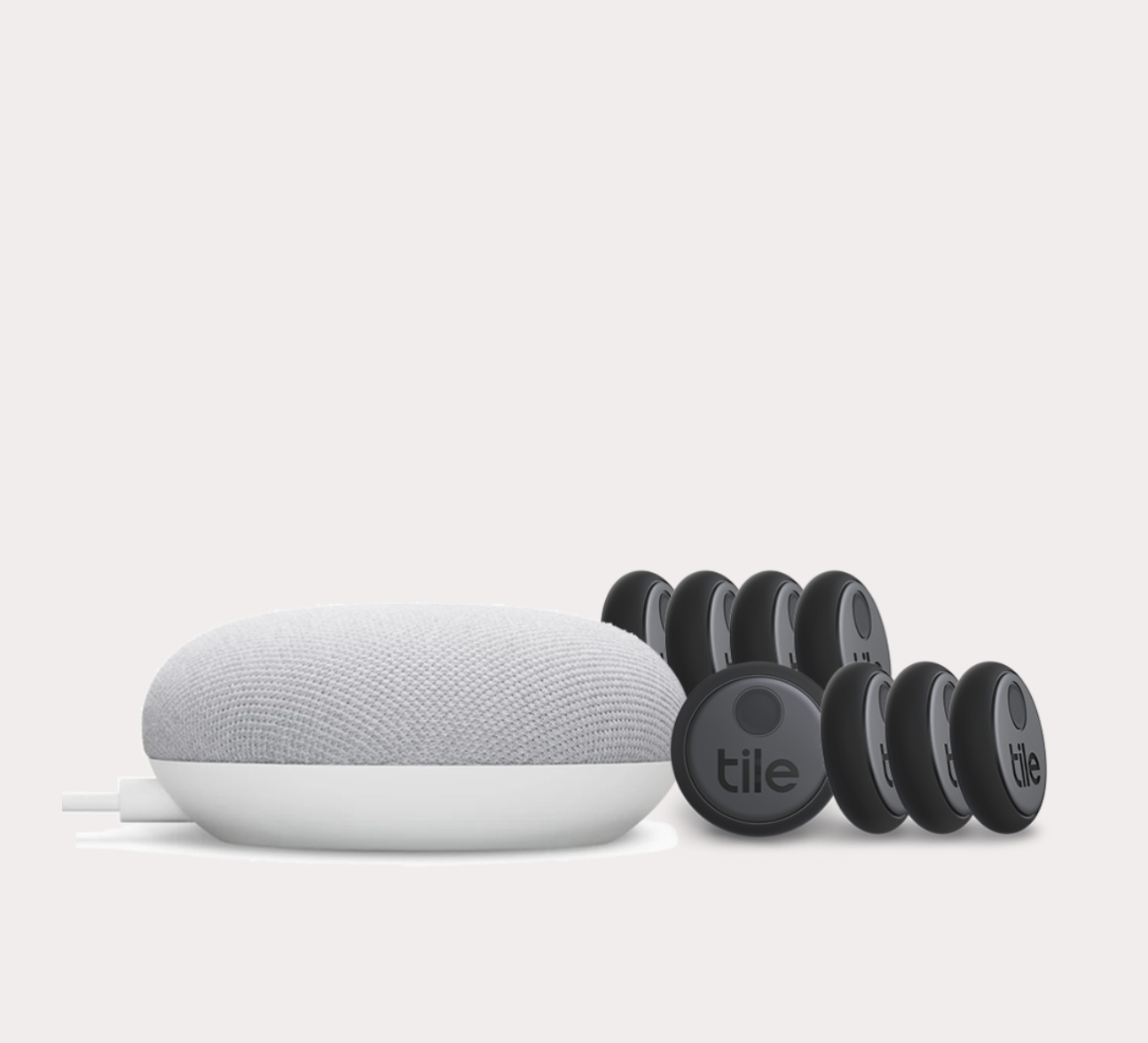 Tile Tracking Stickers and Tags
Yes, they're the sponsors of our 2019 Holiday Gift Guide, but they're some of the best practical tech gifts you can give. We all own them around here, and we love them which is why I chose to include them on this list. They're such lifesavers  if you've ever lost your keys, your remote, your sunglasses, your AirPods, your kid's lovey…you get the picture.
(Right now there are tons of deals at Tile like $29.99 for a sticker 2-pack ($10 off), $49.99 for an essentials 4-pack ($30 off), and best of all, $74.98 for a sticker 4-pack, a full year of Tile Premium, PLUS a free Google Nest Mini which would be $35 all on its own.)
Speaking of losing things…do not even laugh at the idea of a strap for your AirPods. AirPods are amazing for a lot of reasons besides the wireless aspect, and being able to hang them around your neck for a sec while you have a conversation with an actual person IRL is great. Plus, maybe you've read the articles about how many have been lost on the NYC subways alone? Yeah. Try a strap.
($35, Nordstrom in black)
SanDisk iXpand Flash Drive for iPhone
Also one of our picks this year for gifts for new dads who are filling up their phones with photos and videos, it's actually a great gift for anyone who could use a little more space — and a little more backup of their precious photos.
($59-82, Amazon, depending on GB)
SORAA Healthy lightbulbs for better sleep (item no longer available) 
Light bulbs may seem like a little more "practical" than "practical gift." But when they're specifically designed for better sleep? Whoa. They're the only LED bulb with no blue light to support a natural circadian sleep cycle. They're dimmable, energy-efficient, and fit any standard base. Maybe pair with a lavender room spray or a subscription to a meditation or sleep app.
($50.33/2-pack, Amazon)
Fitbit Inspire Activity Tracker
While we love our Apple Watches, not everyone needs more than the sleep and activity tracking features. This is a smart, practical gift for someone recommitting to their health in 2020, at a nice price, too.
($79.95 on sale, Target)
For some, this would be considered a practical tech gift. Very, very practical. Just ask your favorite tween, teen, or uh…"influencer."
($9.99, Target)
Related: 21 of the coolest tech stocking stuffers for everyone on your list
OXO Good Grips Cleaning Brush for Electronics

Amazing for keyboards and phones and electronics of all kinds — whether for the kids or for (ahem) the adults in your life. It may be pretty cheap, but it's worth its weight when someone gets crumbs on the keyboard.
($5.99, The Container Store) 
A Digital Subscription to a Favorite Service
From a new streaming service (hey, Disney+!) to digital newspaper subscriptions, streaming music, Audible audio books for a year, or a premium upgrade to favorites like TripIt Pro or the Calm app (above), there are so many ideas! In fact, we've provided 25 ideas for digital subscription gifts that aren't just practical, they're great for last-minute gifting. And that makes them practical for you, too.
(Prices vary)