Yes, we're all still getting a lot of mileage out of "there's an app for that" because…well, it's true. Especially on iOS, though Android is doing a little better keeping up these days.
Over the past year, there are a few apps that I've started using that have really had impact on my life in big ways and I thought I'd share them here.
I mean yes, I adore Waze and Slack and OpenTable and the other super popular apps you probably do too. And of course there's my longtime favorites like TripIt and Shazam and the NYT Crossword app. But these are a few that are newer to me, and that you might not have yourself. Yet.
Oh, and while we're all fans of free apps around here, some of these may require subscriptions or in-app purchases to get full functionality — and they happen to be totally worth it.
If you're hanging onto the "I don't pay for apps" attitude, you might rethink that. A few dollars spent on the right app could be life-changing for you as it has been for me.
Related:This trick might just be the best way to organize your iPhone apps
It took me a while of knowing that I should use 1Password to finally start using it, and now? Ask everyone in my family how evangelical I've become about this brilliant, safe, secure, password generation and storage app. (Answer: a lot.)
It works across mobile and desktop (with a nice Chrome browser extension that I just added), and some solid upgrades each year make the iOS app functionality pretty amazing — when you go to log into nearly any website or app, you can unlock your password with your fingerprint sensor, then watch it autofill like magic.
No more trying to remember passwords for each site (Is this the one with the capital A or the one with the 4 at the end"). No more "weak password" alerts on new accounts. And definitely no more panicking that a major password breach or even a Facebook hack might have compromised a password you use on 40 other sites too, since it's so easy to make every password distinctive and strong.
And you should! And you will.
In fact, one of my resolutions is to upgrade to a1Password family membership and get my kids in the habit of using it too. Worth every penny.
1Password for iOS, Android, Mac, Windows, and Chrome, $2.99/mo or $4.99/mo for up to 5 family members. Note that CMT is now a 1Password affiliate – but we've been recommending the app long before that!
I started using the Calm app in 2017, but with so many improvements and new features added this past year, it's really had even more relevance for me. You can do one of 100+ guided meditation sessions (or just think of them as calming, relaxing moments of quiet) or series with themes like relationships, staying on track, mindful eating, and flight anxiety.
Sometimes I click over to ambient music and just take a break from the world on the subway. Sometimes I just turn on the "breathe" function, and follow the guiding graphic while I simply…breathe, deeply, for a minute or two. I haven't yet tried Calm Body, which gives you a short session of gentle stretching, but it sounds worthwhile.
I'm a big fan of the library of sleep stories on Calm that really help you fall asleep to calming voices that range from Matthew McConaughey to Stephen Fry to Anna Acton. Newly added: Bob Ross. Just find the voice that lulls you best (I admit Tamara Levitt's reading of "The Waterfall" always does it for me) and doze off.
And parents: The new Calm Kids section is wonderful, with age-appropriate sleep stories, and short meditations by age, whether you have an anxious 5 year old or a stressed out teen. You can even do them together, which is a really nice way to connect at times of stress or anxiety.
Calm App for iOS and Android, $59.99/year with a 30-day free trial.
When my kids started commuting by themselves, I insisted that the first app they download was CityMapper. In fact, I won't even let visiting family members and friends run around NYC without it, it's just that awesome — and it's now available in 39 cities around the world, with US locations including Boston, Philly, Chicago, DC-Baltimore, LA, and the SF Bay area.
Not only does it help you figure out how to get wherever you're going, but it offers multiple routes with notes about which is fastest, which requires the most walking — even whether it's smarter to grab an Uber or Lyft in light of delays. Not bussing or subway-ing it? No worries, CityMapper offers walking and biking times and directions too, complete with estimated calories burned.
(Just for fun, it also offers estimated jetpack times).
What I like best though are the up-to-the-minute notes about delays, which I find as accurate as the MTA's own app, and often more so.
I also really appreciate that it tells you just how many stops you'll be taking on each train — and where to sit on the train so you're closest to the exit. From there, it even instructs you that the best exit for your destination is the SW corner of 7th Ave and 42nd St — then gives you walking directions. Even if you're just going a block, which makes it outstanding for kids, tourists, or even locals who pride themselves on knowing all the transportation secrets.
Whether you're traveling to London, Tokyo, Dusseldorf or Palo Alto, don't leave home without it.
Citymapper for iOS, Android and web, free . If it's not in your city yet, visit the site and vote for it! At this rate, Citymapper may add it soon.
Related: 7 fitness apps for busy parents, or anyone who doesn't have a lot of time.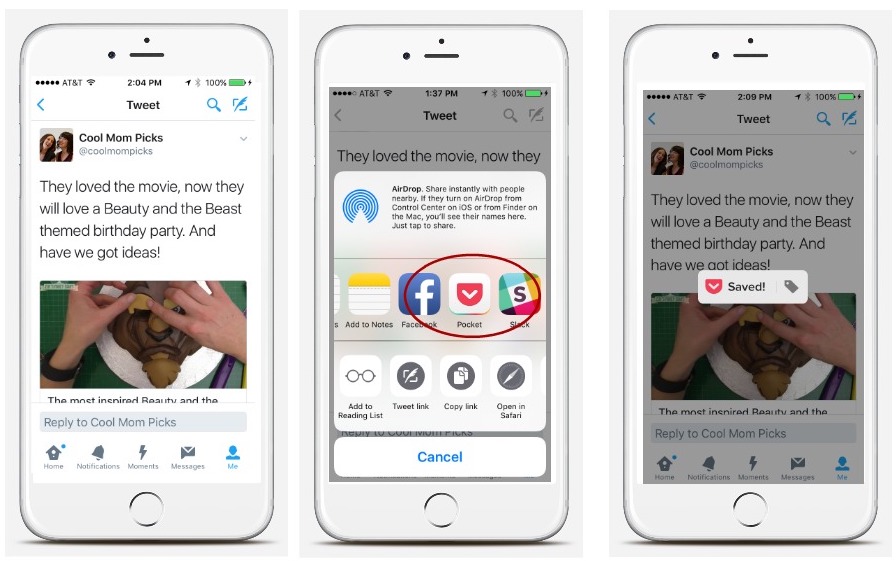 Everyone has their favorite way to bookmark or save articles, links and stories to come back to later. There's Evernote, Flipbook, Pinterest of course, Zite, and even just your basic bookmarks on your browser. For me though? It's Pocket.
It's just so easy, totally intuitive, no fuss, and best of all (for me) no strong pressure to share everything. While you can make your saves public if you'd like, I mean geez, can't I just have some things to myself?
That said, it does integrate with plenty of other bookmarking apps you may already be using.
Save articles right from your desktop or mobile device, add your own tags (think recipes, paristrip, birthdaygiftideas, politics, socialmedia, wishlist, you get the picture) then just…pocket them. You can read later, share, or save until you need to check that "birthday gift ideas" list you've been adding to all year, and be totally happy that you added that cool thing six months ago you otherwise would have forgotten.
And with a super busy year this past year, there is a lot I would have forgotten without Pocket.
Pocket app for iOS, Android, Windows, Blackberry, desktop and more, free
5. Audible
I know I know, Audible isn't a new app. And it's hugely popular. But I only started using it recently and I'm just so happy,
As someone with the commitment to read more books in the new year — I am duly impressed with Christina's reading accomplishments of 2018! — I realized I had to get over some weird, old-fashioned purist voice in my head telling me that audio books aren't real books.
Oh yes they are.
I am still getting to know a lot of the functionality (I admit the Family Library Sharing leaves something to be desired and I'll research that a bit more), but I'm happy to see lots of great features that make it easy for me to listen to favorite books while I'm cleaning up, commuting, or taking that rare extended shower. And I like the kid section, especially for car trips instead of fighting over the radio station.
My own first purchase: Michelle Obama's Becoming. The words "Read by the Author" are a deal-closer for me.
Audible app for iOS, Android, free for 30 day trial, then $14.95/mo which includes access to one book plus 2 Audible originals
So, will I add a fitness app (or two or six) to my repertoire this year? Time will tell. I'll keep you posted.