Today, we're happy to bring you some of our favorite picks in our
Holiday Tech Gifts
series–cool gifts for the audiophile. With music so much a part of our world, whether you're rocking the earbuds at the gym, starting to go wireless with your home speakers, or hooking your kids up to a movie on the iPad in the backseat, we think these gifts could make a lot of people on your list very happy. Especially when you're listening to
White Christmas
for the 900th time in a week.
[Don't miss another chance to enter our amazing tech holiday giveaway below!]
Beats "Pretty Sweet" Pill Wireless Speaker
For your favorite traveler, this is one heck of a portable wireless system with fantastic sound and a great look, all in its own carrying case. It's also got Bluetooth capability and an internal mic for conference calls that sound way better than your cell phone's speaker. ($199.95, Beats by Dr Dre)
Crosley Traveler Turntable
If you know someone who'd sooner die than toss that vinyl collection, Crosley to the rescue. While lots of their turntables cost twice as much, we love this suitcase-styled traveler turntable that places all your records (even 45s) at a decent price. ($129.99, Crosley)
deadmau5 Tracks HD Headphones by Sol Republic

You kind of figure when deadmau5 is ready to lend his name to a pair of headphones that they'll be awesome and indeed they are. The design is as amazing as the sound, and we think it could make a hipster in your life very happy.($149.95, Apple Store)
180S Urban Ear Warmers with Headphones
Yesterday we featured some adorable Kate Spade headphone ear muffs, and here's a more streamlined version especially cool for the menfolk. They're no only comfy and warm–the stereo headphones are built in. But you can detach the cord should you be (oddly) music-free. Plus they collapse so they can be tucked right in a pocket. ($35, 180S)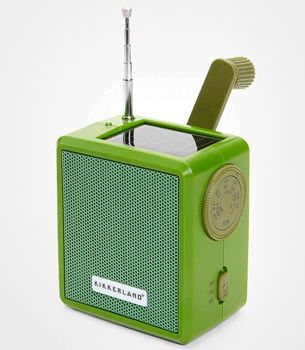 Dynamo Solar Crank Radio
AM/FM gets cool again with this small, funky, hand-cranked solar radio. 1 minute of cranking gets you 20 minutes of music. Great for camping or even the kids' rooms. And hooray, no batteries! ($34, Fred Flare)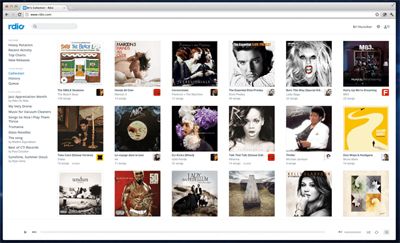 Rdio Unlimited Membership
Unlimited web streaming and mobile streaming of millions of songs? On your smartphone, Sonos or Roku? With no ads? Yes, please. We bet there are lots of people on your list who'd love this. ($9.99, rdio)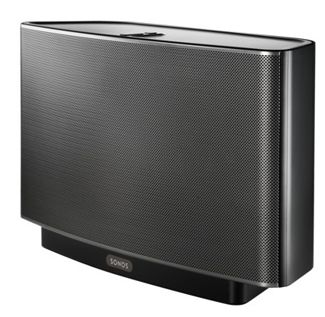 Sonos PLAY:5 Wireless Audio System
Last year we recommended the PLAY:3 sound system for Sonos, which is a pretty awesome gift on its own, but if you want to go big, the Sonos PLAY:5 has incomparable sound. Especially if you pair it with the brand new, glossy Sonos Sub, the most gorgeous–and compact–subwoofer we've ever seen.(PLAY:5 $399, Target ; SUB $699, Sonos)
Sony Kids' Headphones
Liz discovered these headphones recently, and fell in love with the kid-made size, the sound limitation, and the foam inserts that keep direct audio away from little ears. If you've got a kid 8+ who's already audio crazy, this is a choice that can make a parent feel good. And oh so grownup! ($14.99, Target)
Hello Kitty Bling Earbuds
We think tweens and teens (and probably a lot of their moms) will be happy to plug in with the kawaii cuteness of these blingy earbuds. And hey, at least you don't have to yell "turn that music down!" ($12.99, Office Depot)
Skullcandy SLYR Gaming Headphones
We love Skullcandy so much, we're even giving a pair of these sweet gaming headphones away in our Holiday Tech Gift
guide giveaway (see the details below). If you've got a gamer in the family, these headphones in each of 3 great colors aren't just a gift for them, they're a gift for you. Trust us. It's optimized just for gaming, and compatible with Xbox 360, PS3, plus PC play and even tablets and phones. ($79.95, Skullcandy)

Soundfreaq Novogratz Collection Sound Step Wireless Speaker
We love this simple little speaker even when it's plain black or red, but this "freaq of nature" design is beautiful with wood accents. Great piece for a living room, or even a dorm. ($150, Soundfreaq)
Tweed Plattan Headphones from Urbanears
We love these fun, affordable headphones in every color imaginable, but we especially love the new fabric covered styles, made with a
veddy fawcy
Harris Tweed, or an all-American denim. ($80, Urbanears)

EXTRA-EXTRA-COOL: WIN IT! We've got an amazing Tech Prize Package worth over $600 up for grabs for one lucky winner! WHOO! 
Other Holiday Tech Gifts:
Chic Tech Gifts for the Fashionista
The Coolest Games and Tech Toys for Little Kids
Tech Games and Toys for Teens and Big Kids