Each year around this time, we love sharing our favorite shopping apps with you. Because who doesn't love going shopping and landing a fab deal? Exactly. And how much do you love it when you land that fab deal in the middle of the madness that is holiday shopping season? Exactly. Good thing there's an app for that. Actually, there are plenty. Unfortunately, too many of these apps are clunky, confusing or, frankly, plain ol' crappy. So I've filtered through a sea of them to bring you 10 of the best shopping apps just in time to take advantage of all the Black Friday weekend and Cyber Monday deals, and really, to get you through the whole holiday season.
 Related: Our favorite Black Friday shopping apps you can use the rest of the year too
Best shopping app for the tech lover
BuyVia app
This handy coupon and mobile shopping app checks out the most popular shopping destinations like Amazon, Target, Dell, to give you the best and biggest deals on those hot-ticket tech toys. It remains one of our picks for best shopping apps in part because it works with every iDevice there is (even you, iPhone 4 owners!) as well as Android devices and Kindle Fire. BuyVia app compares prices across the country for you and then sends an alert when it locates it for you. Use the app in-store with its barcode scanner  to make sure you are indeed getting the bottom basement price on your geeky goods. We also like how BuyVia strips away the sometimes complicated tech talk to give you jargon-free product descriptions and reviews from real buyers. (Free on iTunes and Google Play.)
Related: The coolest tech gifts for travelers: Holiday Tech Gift Guide
Best shopping app for the stay-at-home shopper
Donde Fashion app
Though not your typical shopping app, this one is still super cool and convenient, especially for folks who are not so fond of the hassle that often comes with going to stores IRL. Donde Fashion app (also at top) lets users find exactly what they want from more than 6,000 top brands and retailers that include high end labels like Chloe and Neiman Marcus,  mainstays like J Crew and Anthropologie, and  trusty bargain brands like H&M and Express. It lets you  filter by item type, color, style, neckline, price, and more. You end up with a fantastic, Pinterest-y looking screen filled with all the different options. Plus, no lines, no busy fitting rooms, no fuss, no muss, all easy and chill. (Free on iTunes.)
Best shopping app for the local shopper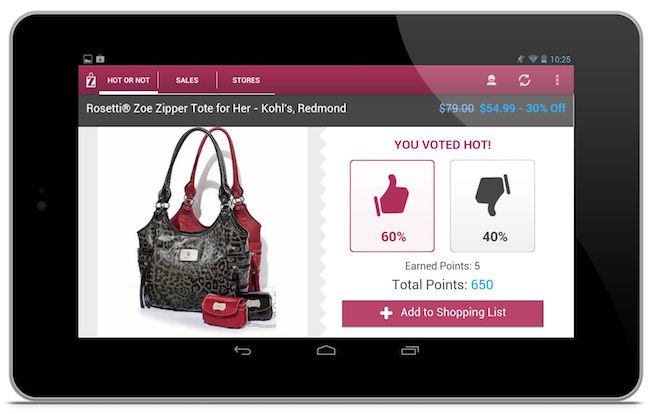 Zooming app
We've been praising this app for a few years now. It's definitely a must-have, especially when braving the stores IRL for Black Friday weekend. The free app for iOS and Android goes localvore when it comes to hunting for sales. It pulls together all the holiday offers from over 70,000 retail outlets around the US, and then it uses your zip code to track all the sales in your neighborhood. Best part is, the app keeps updating this info, so you don't have to worry about missing the most current deals. We like that it's easy to follow and you can streamline things by selecting specific stores or outlets to follow. (Free on iTunes and Google Play)
Best shopping apps for the coupon and promo code stacker
RetailMeNot app
Honestly, if you're shopping online at all without checking RetailMeNot,  friend, you are missing out on some bargoons. The promo codes alone are worth the download, which, by the way, is free anyway. This coupon app has been a fan fave for years, with thousands of daily deals and exclusive offers at tons of your top stores – over 50,000 retailers — and restaurants, too. You can also earn discounts and get "Cash Back" offers just by shopping at stores you love and will already be hitting this season. We still haven't found a better one-stop discount code destination yet. (Free on iTunes and Google Play.)
Shopular app
This free app is all about bringing the best deals directly to you and your smartphone. The cool part is the geo-targeted mobile alerts, meaning the coupons, flyers and store bargains will pop up on your phone while you're actually in the store shopping. It's like the daily-updated sales were waiting for your grand entrance. Super easy to use, too; just set your favorite stores from the 40,000-plus retail spots — from Target, Kohl's and Macy's to H&M, Old Navy and Michael's —  and watch the coupons start rolling in. Plus, there's a new section just for Black Friday and Cyber Monday deals.(Free on iTunes and Google Play)
Best shopping apps for the price-watcher
ShopAdvisor app
When it comes to hunting for bargains, you can often expect to wait and watch for prices to change. Thankfully, ShopAdvisor does the watching for you. Enter the product you're looking for and the app creates a watch list complete with notifications, offering up price comparisons from near and far. Cool points go to this one for the ability to scan barcodes in stores or from the page of magazine like Marie Claire, Real Simple and People StyleWatch.
Speaking of magazines, ShopAdvisor recently partnered with ELLE to offer its readers a curated shopping experience (above) with exclusive content and location-based deals from the mag's favorite brands and it seems they're doing more with other retailers too. So ShopAdvisor is increasingly about style as well as substance. (Free on iTunes and Google Play.)
Best shopping app for parents hunting for that toy that's high on the wish list
Shop for Kids by TTPM app
Dear Weary, Holiday Shopping Parents: this app on our list of the best shopping apps is basically calling your name. With this new app from the publishers of the Time to Play Magazine you can shop for all things kid for the holidays — toys, baby gear, sports equipment, electronics, even pet products. Get up-to-the-minute price comparison from major online stores and see where that please, Mom, please please please please, can I have it? toy is actually in stock. Even better, you don't have to drag yourself into the store to do it; just click on through and buy it directly from the online  retailer of your choice. Also handy: individual profiles let keep track of your gift-buying. (Free on iTunes and Google Play.)
Best shopping app to get you in and out of the mall faster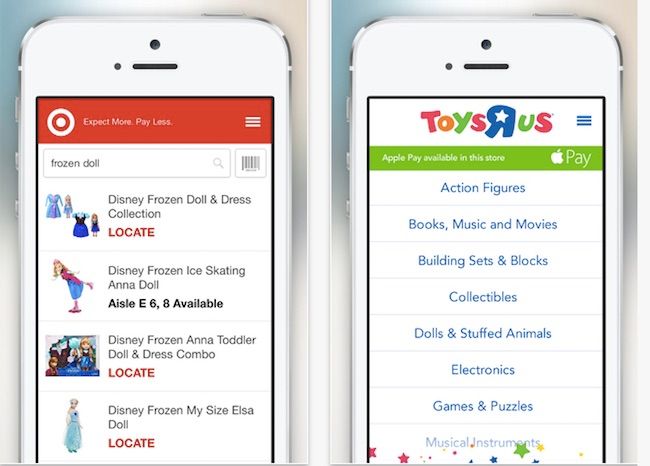 Chameleon app
For those brave enough to hit a bricks-and-mortar during the holiday shopping blitz, you probably want to get in, grab what you need and get out of there, for heaven's sake! Chameleon is here to help you do that, plus nab some savings while you're there. We call this one of the best shopping apps for its super helpful features like in-store coupons you can use from your smartphone; a barcode scanner to check the price and show you online ratings and reviews, guided mall maps including the closest restroom (whoo!), and most importantly, an aisle finder that tells you the correct aisle to find your item. You'll even get real-time inventory status of items at the shop on your holiday list which, if accurate, could be a lot faster than tracking down a sales associate during the holidays at some shops. (Free on iTunes)
Best shopping app for the holiday gift card collector
Gyft gift card app
Although I'm not the biggest fan of giving gift cards for the holidays, I totally get the convenience factor, and that some recipients really just want to pick out their own stuff from William-Sonoma or even the local toy shop in town. Still, gift cards can be too easy to lose or forget when you're shopping. This is why Gyft remains the best shopping app we've seen if you're big into managing the gift cards you get or the ones you send. It lets ditch the real card and instead makes it all mobile. You can upload, buy, send and  redeem gift cards in stores or online via your iOS or Android phone. Gyft also helps you keep track of your balances in one place. Plus, you can use Gyft to give friends and families gift cards from over 200 major brand retailers with a few taps on your phone and store any card you receive from even the local restaurant or spa. Easy-peasy. (Free on iTunes and Google Play)
Best shopping app for fans of store rewards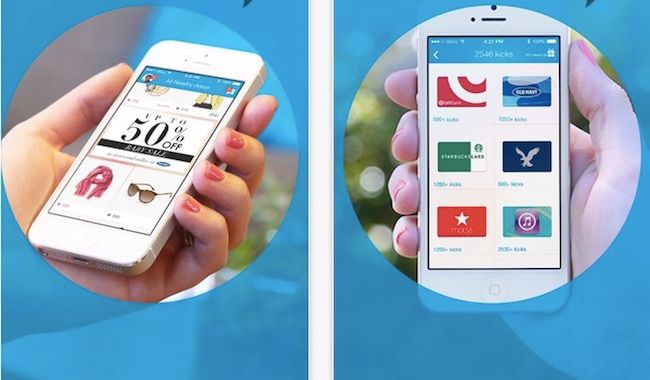 Shopkick app
We're still digging this app and how it lets you earn rewards for shopping, even when you didn't buy anything. You heard that right; Shopkick app give you points — or kicks — for doing nothing more than walking into any of the actual stores linked to this app. And, folks, the list is long and includes big brands like Best Buy, Crate and Barrel, and Toys 'R' Us. By entering the store with your phone, you're automatically credited. You can also earn more points by scanning products with your phone. Again, not buying a thing then redeem them for gift certificates at other participating stores. Way to get a kickback just for browsing, right? (Free on iTunes and Google Play)