Are your kids as smiling-face-with-hands excited to see The Emoji Movie as ours are? We've already bought our tickets for opening day tomorrow, but that doesn't mean we have to wait to start celebrating our love for everything emoji, right?
While we're baking up some poop-emoji cupcakes and heart-eyes emoji Oreos (to sneak into the theater, maybe, shh), we thought we'd share some of our favorite emoji activities and gear that will keep stoking that emoji-obsession long after the movie ends.
CMT is an rstyle affiliate 
Related: 5 emoji collections we're dying to see
If you're all about emojis in a big way, invite some friends to see the movie with you, then head home for an awesome emoji party afterward. We have tons of tips — from invitations you can send electronically (because, ahem, last minute) to easy snacks and games. You can pull them all together quickly for a festive, fun, and (most important) easy party.
Let your kids make their own emojis with this Blockly by Made with Code. Rainbow poop? Rey from Star Wars? If there's one they've been dying for, they can just make it themselves.
Download the Women of Science emoji keyboard SciMoji. Because these are the real superstars.
Related: 9 OMG emoji photo-booth props you can easily make yourself
Also, make sure you have the latest iOS update, which includes the new David Bowie emojis. Because, we seriously heart-emoji David Bowie.
Read this hilarious retelling of Pride and Prejudice, completely in text messages and emojis. Because, OMG, Mr. Darcy is sooo hot.
Start your back-to-school shopping a little early, with these awesome emoji school supplies we're clapping-hands emoji for.
Related: Think babies are too young for the emoji craze? Think again.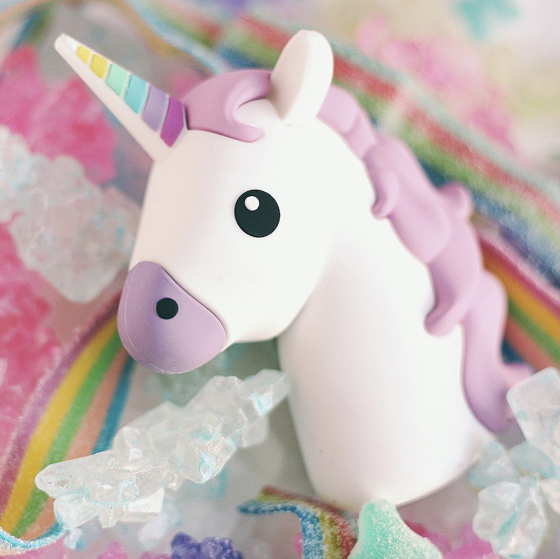 Make sure your phone doesn't run out of charge during the movie with this rainbow poop emoji battery charger or my favorite, the rainbow unicorn charger. They're so 2017.
The Emoji Movie sets off an obsession with your child (hey, it happens) then you might want to stock up on some of our favorite emoji gear for early Christmas gifts, or BTS school gifts now, if you're into that.
Our toddlers would love this custom emoji shirt from Mi Cielo on Etsy (this particular style is out of stock, but she will take custom orders to make it or any emoji your kid likes).
Related: Fun emoji gifts for kids…or kids at heart
Teens, heads up: this rainbow emoji backpack is still in stock, yay! Also, don't miss these cool emoji phone cases if you're in need of an upgrade.