"Once upon a time" gets a modern reboot in the latest digital toy from our favorite Swedish app developer, Toca Boca. It's one of those apps that our kids could hardly wait for, once they caught wind of the previews, and for good reason.
Not to mention, right now it's free!
In Toca Tailor Fairy Tales, two medieval-styled characters–a girl and a boy–are hanging out in a cozy woodland cottage, naturally, just waiting to see what kids can create from 16 different fabric patterns, 8 clothing details and 18 fairy tale-themed accessories. Big Bad Wolf mask? Robin Hood cowl neck scarf? Yes and yes. It's like paper dolls 2.0.
A built-in "fabric camera" lets kids snap a photo of anything around them to turn into a unique clothing print or pattern, as with Toca Tailor, and anything saved in your device's camera roll can be used, too. And yes, mac and cheese pants are totally a thing. In case you were wondering.
Tapping each character's tops and bottoms changes hems, lengths and styles, and once that's decided on, kids can add stitching, buttons, belts and accessories like hats, shoes and eye patches. Be sure you have a full battery charge because kids won't want to put this down.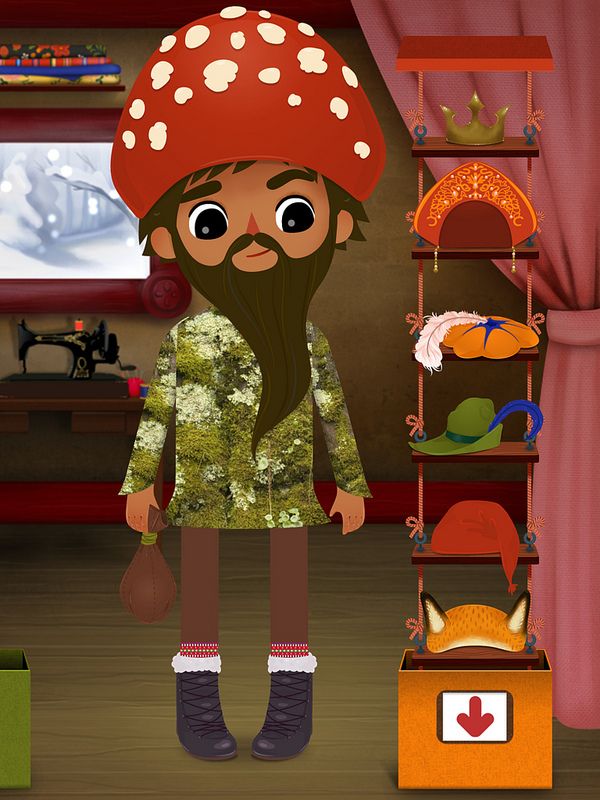 Plus, get this: A snapshot button lets kids capture a picture of their creation, with an option to use a real world background, which means you just might spot bearded gnomes in the laundry basket or crown-wearing maidens at the playground. –Pilar

Download Toca Tailor Fairy Tales, on iTunes for iPhone, iPad and iPod Touch for a magical price–free! At least for now!
For more Toca apps we love (we love them! We really love them!) check out our reviews of:
Toca Tailor
Toca Store 
Toca Band 
Toca Robot Lab 
Toca Hair Salon
Toca Train 
Toca Tea Party 
Paint My Wings 
Birthday Party Playtime
Toca Kitchen Monsters 
Toca House 
Toca Kitchen 
Toca Doctor 
Toca Hair Salon/Christmas Edition 
Helicopter Taxi