Whether you're shopping for someone who's always got her DSLR camera around her neck or the guy who's perfected the art of smart phone photography, we've rounded up 11 of the coolest photography gifts for your favorite shutterbug in every single price range (really!) as part of our ongoing Holiday Tech Gifts series.
If you've got a DSLR fan, Joby's GorillaPod flexible tripod is an accessory that often makes a photographer's wishlist. ($49.95, our affiliate Amazon) And this year, they introduced a GorillaMobile tripod for iPhonographers.($19.95, Joby)
Does mama need a brand new camera bag? The gorgeous new Charlotte Camera Bag from Epiphanie is amazing. In fact, it's so swanky we squirm a little whenever we call it a camera bag. ($154.99, Epiphanie with free shipping)
You'll make your favorite iPhoneographer even more snap-happy with this cell phone camera lens set. Oh the possibilities with a Macro, Fisheye, and Telephoto, all of which work with the new iPhone 5 too. ($49 set, Photojojo; lenses available individually too)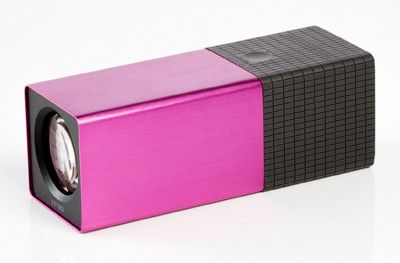 The Lytro Light Field Camera made all of us go "whoa" when we first saw it. And not just because it comes in pretty colors like pink; this revolution in photography lets you focus after you've snapped the pic. Hello, perfect parent gift? (Pink Lytro $399, exclusive to Target; other colors avail)
No matter how skilled your shutterbug might be and what sort of camera she uses, we're sure if she's got kids, she'll love Elevate the Everyday: A Photographic Guide to Picturing Motherhood by mom and photographer Tracey Clark. ($15.88 at our affiliate Amazon)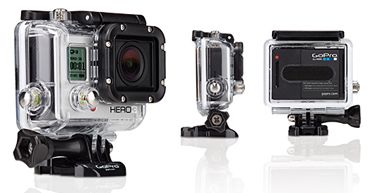 Action photographers everywhere, including parents like us, are drooling over the new smaller, lighter GoPro Hero3, which lets you take unbelievable action film. Plus, the built-in WIFI means you can upload those awesome photos and videos on the go. ($199.99, GoPro)
Who can resist a photographer with a sense of humor? Not us. This Oh Crop! shirt cracks us up every single time. ($9.99, AKA Art Designs)
For a fun, affordable stocking stuffer: The Nikon LensPen camera lens cleaner is a great little gadget for getting rid of those toddler fingerprints–or uh, yours. It's got a retractable brush on one side for dust, and a soft pad with a cleaning agent that won't dry out on the other. ($7.99, Amazon)
The Bloom Theory camera straps (above, $100+ at Bloom Theory) are more like fashion accessories than camera accessories. What a gorgeous gift for that mama whose camera reflects her personal style. If you want something more affordable but still fun, these pretty camera straps from ModStrap are a big step up from the sad black strap that comes with the camera. ($20.95+ at ModStrap)
For the photographer who takes tons of photos that just end up in slideshows and as email attachments, surprise him by turning a photograph into a canvas print, to show him how great you think it is. We're huge fans of the shop's quality and customer service too.  ($39.99+, CanvasPop)
Has your favorite shutterbug been verrrrrry good this year? Then you might want to blow his or her mind with the brand new Samsung Galaxy Camera which is like a camera-smartphone hybrid The ability to share photos instantly with built-in WIFI and 3G, and apps right on the LCD screen is pretty cool, but the fab photos and compact size make it a fantastic alternative to the big DSLR.
For more cool holiday gift ideas, don't miss our 2012 Holiday Gift Guide on Cool Mom Picks.
EXTRA-EXTRA-COOL: WIN IT! We've got an amazing Tech Prize Package worth over $600 up for grabs for one lucky winner! WHOO!
Sonos Play 3 • Kindle Fire • Design Your Own Casemate Case • SkullCandy Navigator Headphones
Update: This contest is now closed.  Congratulations to our winner, Betsy M!
Other Holiday Tech Gifts:
Holiday Gifts From Your Smartphone Pictures
Cool Gifts for the Audiophile
Chic Tech Gifts for the Fashionista
The Coolest Games and Tech Toys for Little Kids
Tech Games and Toys for Teens and Big Kids