With the iPad Air as one of our top tech gifts of the year, if you've got one coming your way–or hey, even an iPad 2, iPhone 5S or iPod–we wanted to help you out with some of our very favorite must-have apps to get you started. Here are 8 of the basic categories you want to have covered, for you and the kids, with some of our very top recos in each. Wait until you see how amazing these apps all look in iOS7 and of course, should you have that gorgeous iPad Air retina display. Drool.
We're really happy to bring you this post on behalf of our sponsor StoryBots, whose apps for children we seriously love. (Just check our own iPads.)  That's why they make our list too.
1. EDUCATIONAL APPS FOR YOUNG KIDS
Of course, you have to start with something fun for the kids. And fun can be educational in the land of apps. That's why when we first discovered StoryBots last year, we went a little crazy downloading them all for our kids. And no, they didn't "steal" JibJab's idea; they're made by JibJab. Which is why you may recognize the whole dancing-animated-people with your kids' faces on top thing, and why it's done so very well.

While there are plenty of entertaining videos, the interactive the interactive Starring You Books App makes reading more fun for early learners, considering how cool it is for a child to see himself in his very own digital storybook. Dancin' Feet is free, but there are 13 total apps and more than 175 videos, books and games available for subscribers, including holiday themed Starring You Books like Saving Christmas and Snowball Fight. Plus there's a new book added each month so there's always something new and fun for the kids to dig into.
StoryBots also has plenty of educational apps beyond the Starring You Books series. We included the Alphabet Wrangler as one of our best free educational apps for kids this year but there's also a new set of ABC Videos from StoryBots that are simply wonderful. 26 of them in total. We bet you can guess why.
In fact, with that huge library you get for your subscription, you'll wish you had splurged on that 64GB iPad.
2. EDUCATIONAL APPS FOR OLDER KIDS
While there's any number of games to download–your kids will know them all before you do–there are a few educational apps we keep coming back to.
Khan Academy for iPad is hands-down the most remarkable educational tool for kids in grade school and above. Plus it's free. When we first wrote about it, there were 2,700 videos on the app to help kids learn math, science, biology, chemistry, history and more–now there are more than 4,200!
The News-O-Matic App is a wonderful daily iPad newspaper for kids about second grade through junior high, developed by actual journalists with the help of educators and child psychologists. You can pay a weekly, monthly or yearly subscription cost, just like regular newspapers, but try the first 3 issues for free first. It's filled with content on sports, current events and more, all served up in a way that kids will love.
3. APPS FOR FAMILY ORGANIZATION
We've covered a ton of  to-do list apps and calendar apps, so you need to poke around find which seems best for your own needs. But again and again our readers come back to the Cozi app for iPad which so many swear by. And we swear by it too!
It gets outstanding ratings in part because it's so clean and easy to use, and in part because if you pay for an annual subscription, you get shared family calendar functionality so you can sync data, to-do lists, shopping lists and more with your partner, kids, and caregivers. Try the free version but trust us, you'll want the full monte.
4. READING APPS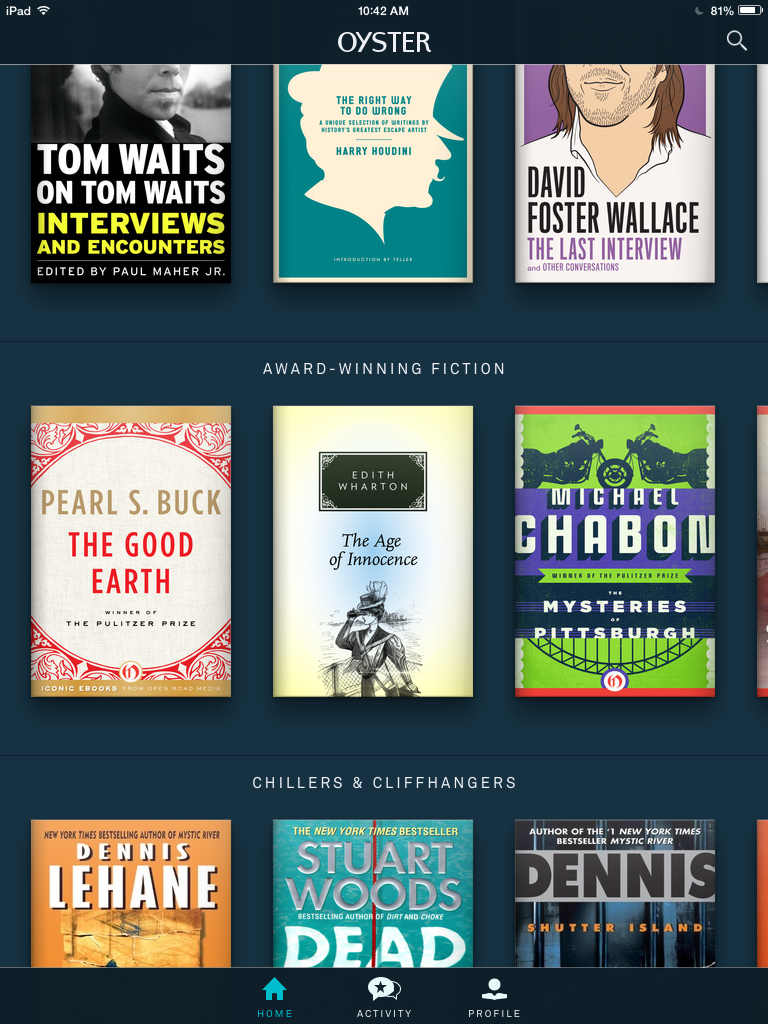 While the Kindle app has been the gold standard for a while, we are excited to have recently discovered the new Oyster ereader which is like a Netflix for books that you get to keep. The interface looks spectacular on that iPad Air screen, and for a low monthly subscription rate, you get to choose from more than 100,000 books, both new and classic–in other words, the kind you actually want to read. Should you ever get a little free time alone with your tablet. (Good luck with that one.)
You should also check out the Zite app, which is a terrific way to aggregate news from tons of different sources you select by news topic, from blogs to magazines to international newspapers.
5. MUSIC APPS
We've offered the pros and cons of the best free streaming music apps but we can safely say we all keep coming back to Spotify.
Get the free version or upgrade to premium which is totally worth it so you can sync your playlists between your iPad and desktop, and listen offline when you're on the road. Online you can stream anything at all from their music library and  wow, there's a lot to choose from. Just check out our kids' own playlists which feature everything from Taylor Swift to the Les Miserables soundtrack. And if you happen have a wireless audio system like the Sonos for streaming internet music…ooh, you're in for a treat.
As for young kids who you'd rather not be browsing the Eminem library on Spotify, StoryBots makes an iOS app called Kids Radio that's also included with a StoryBots subscription. (Though there's a free version with some samples you can listen to.) You'll get 45+ songs that are appropriate for young kids, with four new ones added each month. The music won't drive you crazy and it's a safe, ad-free environment. The app is optimized especially for iPhone or iPod Touch, but it's perfectly fine on an iPad like so many other apps (ahem, Instagram).
6. APPS FOR INTERNET SAFETY
If your kids are going to be on your iPad unsupervised (and trust us, they will), you'll want to take a good look at the various ways to make your iPad safe for kids.
One of our top safety app recos is the Mobicip Mobile App for iPad which gives you a range of options like age-based filtering and safe browsing. It also has more customization features than some of the others we've tried so it's flexible if you have kids of varying ages. And it will tell you if a page you type in is blocked by Mobicip–a nice gentle warning, whether the URL was an accident or not so much.
7. PHOTOGRAPHY APPS
You may not be taking a ton of photos with your big iPad, but it sure is fabulous for editing, viewing, and sharing. We've featured so many photo apps that are perfect for parents you should definitely download your faves, but if you need a place to start we suggest Snapseed.
It's so easy to crop, adjust brightness and saturation, add filters and more, or if you're an uber-photographer you can tweak the teeniest details. Ever wonder how some people get their Instagram photos looking so perfect? Now you know.
8. SOCIAL MEDIA APPS
Now what would your iPad be without social media? (Says the social media addicts.)
We hardly need to tell you to download the apps for the networks you frequent, like Twitter, Facebook and Google+, let alone the Pinterest app, which looks soooo gorgeous on the iPad now. In fact, feel free to pin this post. Just sayin'…
Thanks to our sponsor StoryBots, makers of some wonderful apps for kids and parents too!  Get access to a library of 13 apps and 175 videos, books, games, and activities for only $4.99 a month. Compatible with iPad, iPhone, iPod Touch, and even your own desktop right from the web.