Admittedly we spend a lot of time window shopping for our own tech gadgets, but with Father's Day coming up, we thought we'd do the benevolent thing and look for a little gadget case love for the menfolk. Should the cool dads in your life  not be into florals or chevrons, here are some cool iPhone cases that could make a nice little gift to go with a new iPhone–or just make the old one feel a little newer.
 I am so taken with the Coach leather colorblock iPhone cases that I want either of them for myself. But as I told you, I'm here browsing for the menfolk. Your menfolk. Not going to click add to cart. Not going to click add to cart. ($58, Coach)
This week we discovered these cool personalized wooden iPhone cases from mini-Fab and they're so rugged and manly and fun. Check out all the designs and even a broad selection of real wood for the veneers. ($21.99, Hatch)
The Dr Seuss iPhone Case from Shadefree Photography is so cool for a new dad, grandpa, or any dad with nostalgia for Theodor Geisel. The fact that Hop on Pop is shown among the vintage books seals it as a great Father's Day gift.
For a more sophisticated sort of fellow, this Trompe l'oeil book cloth iPhone case only looks like it's made of real cloth. Actually it's a hard shell which means it's more likely to protect your phone, and less likely to look gross in a week. Or is that just what happens to things in my bag?  ($40, Jack Spade)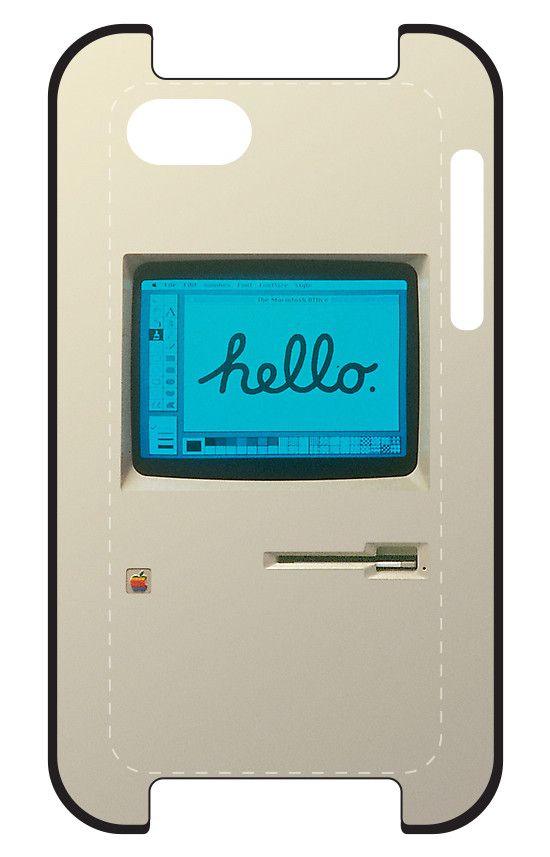 If he's less chic than geek chic, check out this Original Macintosh iPhone case, which harkens back to the days of floppy discs and the excitement of MacPaint bitmap graphics. ($37.20, Red Bubble)    
Tattoodo is a cool site for gifts based on real tattoos, and I spotted this Kintaro Wrestling Koi Fish Tattoo Case and thought it was pretty cool. Not that he wouldn't love a naked woman straddling a battleship…kidding. Or maybe he would. Just what you want the kids playing Angry Birds on, no doubt. ($35, Tattoodo)
For another case that's more than a case, we're big fans of Griffin's Beamhouse Billfold for iPhone 5, which just lets you slide your phone out when you need it. Bonus: Makes it less tempting to check texts during date night dinners. ($89.99, Griffin)
If he knows his DC from his Marvel, then he'll probably appreciate the dark side of Captain America, as captured by Purple Cactus in this Captain America iPhone Case. And yes, he's Marvel.  ($35, Society 6)    
Also from Coach, this ready-for-the-board-room leather iPhone case wallet is so handsome, but practical too. Those little slots let you tuck in a couple of credit cards or an emergency $50–as if anyone carries cash anymore. And the price: Way more reasonable than I'd have expected for Coach leather. ($68, Coach)  
We've seen a few cool mix tape cases over the years, but this Personalized Mix Tape Case allows you to write in "Dad's Lame 80's mix" or whatever seems most appropriate.  ($33.96+ on Zazzle)
When we first found the Bill Murray Replaceface Phone Case last year we called it the coolest iPhone and Galaxy cases in history, even though they're rewriting history. There are some other great forgotten military heroes too, like David Bowie and Frank Zappa.  ($35, Society 6)   Cool Mom Tech is an rstyle affiliate