I'm still trying to parse through the gads of incredible tech I saw at the International CES 2016 show last week, but one thing is for certain, wearable fitness trackers, those hot tech accessories that really blew up over the last couple of years, still take center stage. In fact, seeing companies with longevity in the timepiece world enter the wearable fitness tracker space really is a testament to the fact that they're around to stay. Even so, the new products I'm seeing go well beyond the wrist.
And sometimes even beyond jewelry.
Here are some of the most exciting, noteworthy wearable fitness trackers I came across at CES.
Related: 3 free fitness apps for the not-so fit. No judgments.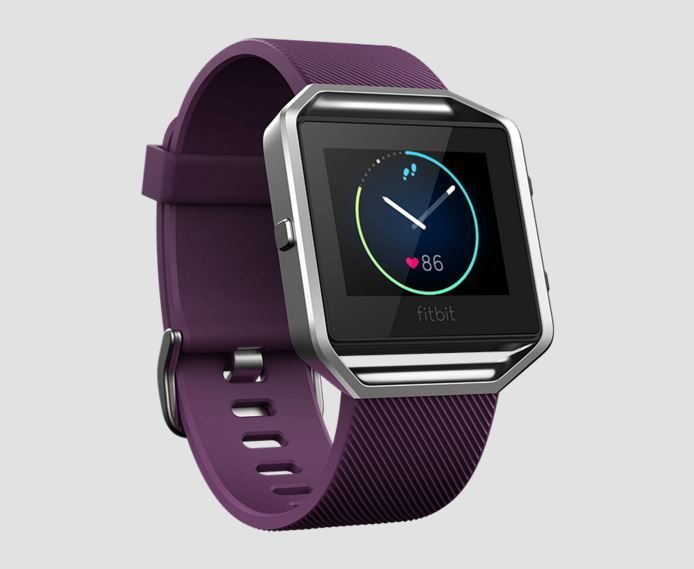 The first name that may come to mind in wearable fitness trackers is likely Fitbit. They've been on the scene since 2008 which is eons in tech years, and they're still inventing. Case in point: the new Fitbit Blaze, which takes a strong aesthetic page from the Apple Watch. It features a touchscreen interface and will track everything you want it to, including heart rate, sleep, steps, and even offers on-screen workouts. Of course it doesn't do nearly as much as an Apple Watch — it is still a fitness tracker, although it impressively offers call, text and calendar alerts  — however if tracking your exercise is the main benefit you're looking for in a wearable, this could be a great new option for you. ($199.95 on pre-order, available in March, 2016).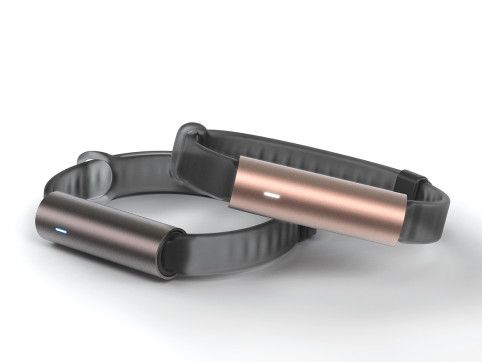 We're still fans of the original Misfit Shine, which isn't just functional, but streamlined and pretty. But I really love how slim the brand new Misfit Ray is, a tracker that takes the form of an attractive, gender-neutral bracelet instead of taking up full real estate as a standalone tracker. (Though it can be dangled from a chain and worn like a pendant.) Like the Shine, the Ray tracks steps, calories and sleep, but a huge benefit compared with other bracelet-style fitness trackers you have have tried is an impressive six month battery life and the fact that you never have to remove it for charging, something that definitely helps with sleep tracking. Oh, and you can also take selfies with it. Because there aren't enough of those in the world.  ($99 on pre-order, ships spring 2016).
From the genius folks at Withings who wowed us with their stunning wearable fitness trackers last year, I'm loving the new Withings Go that heads in the opposite direction. With sharp, retro-modern design, five fun colors, and sporty styling, this tracker tallies walking, running, swimming and sleeping on a companion app. The design is fun and functional, and can be worn either by clipping it onto your clothes or sporting it on your wrist as a watch, and it's really simple to read and use. The screen display uses something they call e-ink, which to me is reminiscent of the Kindle Paperwhite. Plus, it's waterproof and doesn't require charging for eight whole months. What's really impressive though is the price: Just $69.99. You'll just have to wait a little while for this one. (Available late 2016)
Fossil Watches previewed an entire line of wearable fitness trackers at the show called the Q series, four different styles of trackers made for both men and women. The Q Dreamer in Sand, shown here, actually launched last fall, and I think would look beautiful with anything at all that you're wearing. Not only does it include health tracking capabilities, but you can connect with your phone to receive filtered notifications from your favorite contacts and apps, making it, like the Misfit Ray and the Fitbit Blaze, even more than a fitness tracker. We are especially excited for two new designs expected for the summer: tortoiseshell and shimmer horn. Plus it's Fossil, meaning they're not skimping on the fun interchangeable watchband options. Oooooh. ($145)
Related: 4 stylish fitness trackers for men that look great out of the gym, too
We were excited about Mira wearble fitness trackers when we discovered them at CES 2015, and now we're even more pumped about their new designs for 2016.  We're really getting into fashion accessory territory here, with beautiful bangle that no one would ever realize is a handy fitness gadget housing a hidden tracker. Using Mira's complementary app, use it to measure steps, calories, distance, and even elevation, all without compromising your sense of style.  ($169, launching late 2016)
Another wait, that's a fitness tracker? product hails from Glamfit Jewelry, an extensive collection that includes bracelets, pendants and necklaces. You can track goals, monitor progress and follow activity trends over time with the corresponding app. This jewelry definitely has a more traditional, feminine, and yes, slightly fussier look than other fitness trackers out there. They definitely don't look like anything you'd wear to the gym — but that may help broaden the audience into those women who might not have considered something like a Jawbone Up or a Fitbit before.  (Bracelets start at $155)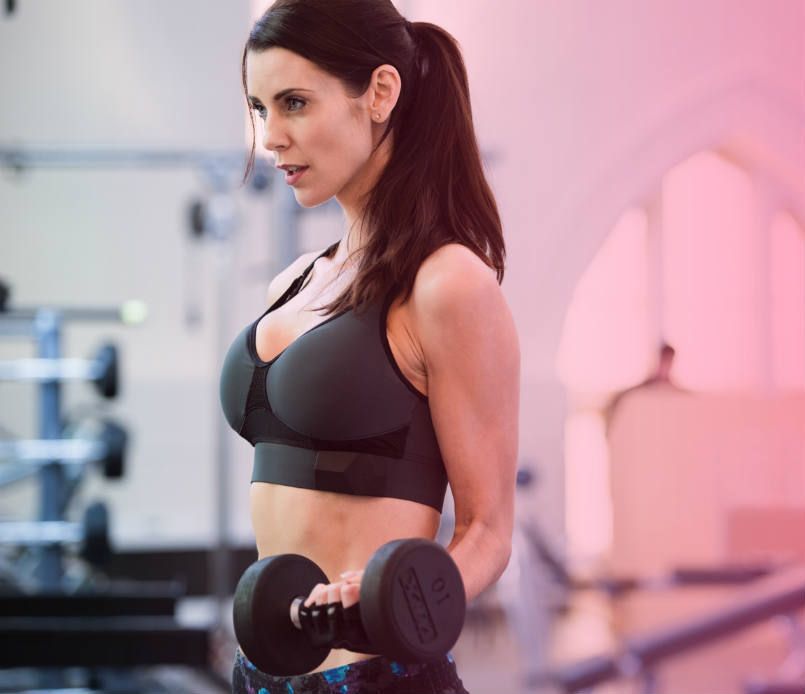 No, this isn't a wearable out of a SNL skit, though it kind of feels like one. The OMBra from OMSignal is actually the world's first "smart bra," and it's been catching plenty of attention from the tech press, not to mention a few giggles from Liz and Kristen on their most recent Spawned podcast. This wearable tracker-cum-bra is designed to measure distance, heart rate, calories and more with incredible accuracy, and keep you supported at the same time. It even has some impressive endorsements from athletes like Olympic snowboarder Caroline Calvé and competitive boxer Elena Revel. Plus it connects with apps for serious fitness buffs, like Apple Health, Nike+, and Runkeeper. But we have oh so many questions — like how the heck do you wash it? ($150 on preorder, ships spring of 2016)