We love finding cool custom photo gift, because hello, we're moms! We're sentimental like that. But also, they make great gifts because they demonstrate that some real thought and love went into creating it, even if it doesn't cost a fortune. Next up in our 2016 Holiday Tech Gift Guide series, we've got 17 really creative, cool ideas for personalized photo gifts. Just order soon! Personalized gifts do take a little longer than others.
And hey, as great as it is to put your kids all over everything, open your mind beyond family photos. Think about a great photo of your home or neighborhood, favorite travel photos, even a great still life or some favorite street photography can make custom photo gifts something special.
– Don't miss a chance to win an iPad Air 2 and designer case  from Cool Mom Tech!
Details below –
There has been no compensation for inclusion in our guide; all items are selected by our editorial team. CMT is an rstyle and Amazon affiliate.
We've loved Boomf's gorgeous, gourmet, custom photo marshmallows a while now, and we couldn't possibly offer up our favorite photo gifts without including them again. Take photos of all the students in your child's class as a fun teacher gift, send a newlywed couple a box with your fave pics from their wedding, or think of it as a grandparent gift along with a can of gourmet hot chocolate for a fun present. Also check out their brand new Mallowpops shown above, because, yum!  ($25/box of 9; $30/9 Mallowpops, Boomf)
Related: Awesome keepsake grandparent gift ideas for the holidays
This cute polka dot melamine plate, customized with your own photos, makes it clear whose seat is whose at dinner. Hey, use them to serve  Christmas breakfast, and it's one less gift you have to wrap. (from $14.39, Shutterfly)
Whoa, we're blown away by these amazing collages all made up of thousands of individual Instagram photos from your feed. And it's super easy to make them into canvases or for a bit less money, posters. What a very cool custom photo gift. (from $39, Postrgram. Use code CHEER16 for 10% off.)
For the entire mobile generation, a dead phone battery is a disaster. So we imagine everyone on our lists would be thrilled with a pocket-sized battery charger, especially when it's personalized with a photo of the kids, a favorite food (mmm…donut charger), your city's skyline, you name it. (from $39.99, Shutterfly)
If you have someone on your list who lives to skate, make up a custom skateboard just for them. Use a shot of a pet, something cool they love, them in action, or even their own original artwork that you can photograph and upload, for a truly one-of-a-kind gift. ($59.95 and up, Zazzle for just the board; this one from J Haviv Photography)
Related: 14 more custom photo gifts for everyone on your list
There are plenty of places to find photo ornaments, but this may be among the nicest we've seen. Planet Jill makes it easy, with a square image space that's perfect for your favorite Instagram pic of the year. And the result is pretty special for anyone on your list.   ($28, Planet Jill)
These personalized photo chocolate bars from Cocoagraph are a cool custom photo gift that will get a huge wow at Christmas. They are 100% delicious organic dark or milk chocolate all featuring up to 16 of your favorite photos. This would be a really creative way to remember an awesome family vacation, celebrate a new baby, just feature a favorite photo of your own holiday decorations or the star on top of the tree. Plus, yum.  ($15, Cocoagraph)
If you've got one really special photo that you've been determined to get off your camera roll and onto the wall, don't leave it to the local copy shop unless you realllly know their work. Instead, try Artifact Uprising which will print it beautifully and professionally, guaranteed, in sizes all the way up to 60 x 40. Make it a good one! ($20-149, Artifact Uprising)
We're big fans of photo calendars, because they're the kinds of cool custom photo gifts you get to gaze at all year long. But when we found the 365-day calendar from Social Print Studio (formerly Printstagram) we knew this was a winner. You can even source photos from multiple Instagram accounts, so you can pull faves from your family and friends, too. ($40, Social Print Studio)
Such a fun, fresh twist on a way to use your favorite family photos. The back of the blank journal is filled with 96 stickers that you can put on anything, but we love the idea of using them as a starting point for your child's original art — which could end becoming its own framable custom photo gift next year. ($24.99, Pinhole Press)
A nice bottle of wine is always an appreciated gift, and this is one way to make it more personal and special; and less like you just ran through the wine shop on the way over. Though we wouldn't complain about getting that kind of gift, either. ($5, iCustom Wine)
This year our editor Kate made this personalized matching game for her kids, using photos of their favorite stuffed animals on the cards. Her kids totally flipped! (Ha, get it?) Of course you can also use family vacation photos, sports shots, or just cute pictures of the kids on the cards too. ($24.99, Pinhole Press)
Since the most of the memory on our phones seems to be storing pictures and videos, why not adorn a phone case with one of your favorites? Now you can get rugged Otterbox level protection with the personalized charm of your own photo making it incredibly practical — especially if your kids are inclined to get their fingers on your phone. ($65.65, Zazzle)
Personalize your entire dinner table with these cool custom photo placemats, which can be a gift as kitschy, classy, or holiday-ish as you'd like. A shot of vintage ornaments or the local over-the-top Christmas light house would be so cool. Or, create one for each person in the family with a collage of pictures on it, to definitively mark their spot at the table.  ($13.70, Zazzle)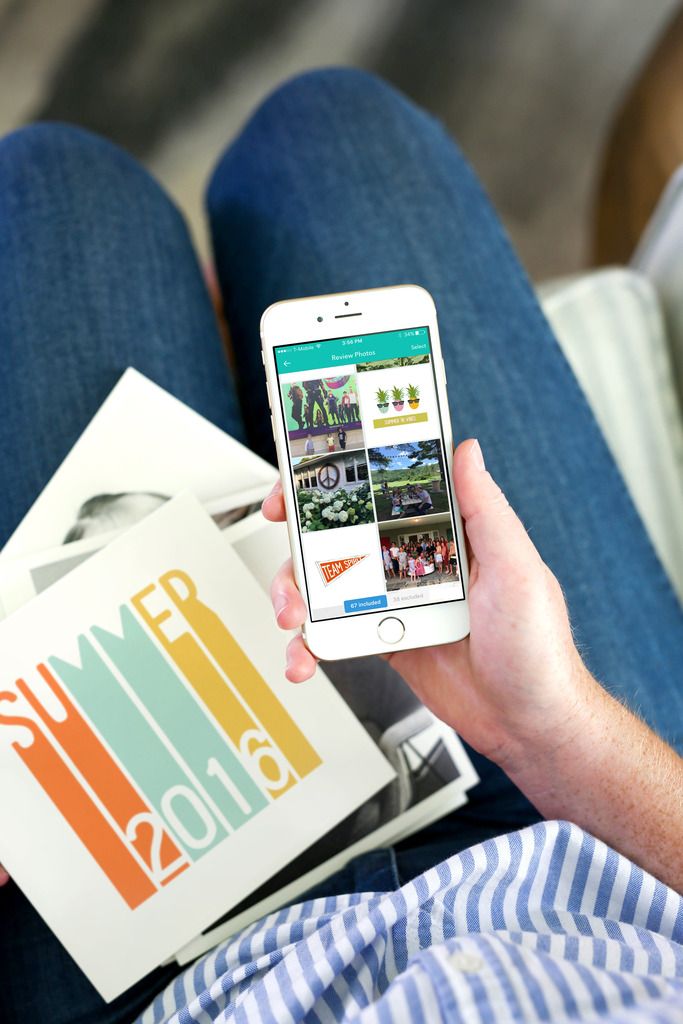 A while back, we featured a thorough comparison of 11 of the best custom photo book services, and it's worth comparing them to see which is best for you. But now we've got a new favorite for the list in Chatbooks, which are so easy to make on your phone, while you're on mute during the world's most boring conference call. (Not that we'd ever do that. Ahem.) In just 2-3 minutes, you've got a treasured and still extremely cool custom photo gift. (from $8, Chatbooks)
Related: 9 fantastic photo books all under $30
Whoo! The Cool Mom Tech Holiday Tech Guide Giveaway
We're so excited to give away a 32G iPad Air 2 (WiFi only) to one lucky winner! 
To enter for a chance to win:
1. Subscribe to Cool Mom Tech. If you're already a subscriber, leave us a comment telling us that you are. (Be sure to use the same email that you subscribed with so we can double-check. Don't worry, no one can see it but us.)
For additional entries:

1. Follow Cool Mom Tech on Twitter AND tweet a link to this post with the hashtag #CMTHoliday. Be sure to tweet something fun, like "I am LOVING this year's @coolmomtech #CMTHoliday guide LINK!" Hey, you can even share your favorite gift idea seen here. You can get up to 7 additional entries (one for every post in our 2016 Holiday Tech Gift Guide).
2. Like Cool Mom Picks on Facebook AND share a link to this post on your feed. Make sure to send your link (or screenshot if it's a private update) to info@coolmompicks.com with CMT CONTEST in the subject to be entered. You can get up to 7 additional entries (one for every post in our 2016 Holiday Tech Gift Guide).
Contest ends at 11:59 pm PST on December 26, 2016. Void where prohibited. US only please, 18+, see our general contest and giveaway rules for other details. Good luck!
Visit all our holiday tech guide posts: 
* 12 of the coolest educational tech toys for kids
* 15 custom photo gifts to make your friends and family swoon
* 15 awesome travel tech gifts for the frequent flyer or weekend warrior
* 10 stylish holiday tech gifts for the fashionista
* 24 of the coolest geeky gifts for kids and teens to keep the holidays nerdy and bright
* 28 seriously cool tech stocking stuffers for everyone on your list
* 22 fantastic holiday tech deals to reward you last-minute shoppers